Is a Different Kind of Inflation Shock Coming?
Inflation is still at a four-decade high. Every inflation report has shocked Wall Street so much that traders have been left quaking in their Gucci loafers. They're starting to anticipate the bad news, bracing for the next hit.
What if the next inflation numbers provide a different kind of shock — a DOWNSIDE surprise?
Now, considering that the latest data released July 13 showed headline consumer inflation ramped up to 9.1% — higher than the 8.8% expected — you might think I have rocks in my head.
However, that data is BACKWARD-looking. The good news is that three of the biggest inflationary drivers over the past year are cooling down. I'm talking about food, oil and housing.
Food, Oil & Housing! Oh My!
Global food prices have pulled back from their May highs, with the decline mostly due to lower meat, dairy, sugar, vegetable oil and cereal prices.
The UN Food and Agriculture Organization's Food Price Index fell 8.7% to 140.9 in July after dipping 2.3% to 154.3 in June.
The following chart shows the sharp decrease in global food prices in July, which should be reflected in the U.S. Bureau of Labor Statistics' July consumer price report: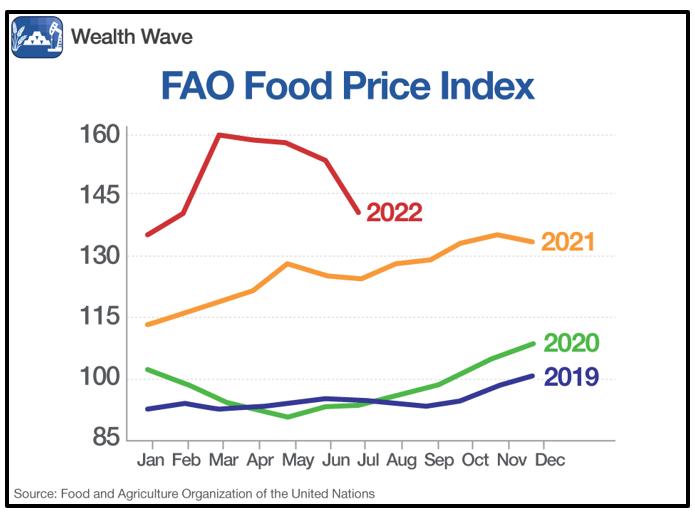 Consumers will still contend with future price uncertainty due to supply chain disruptions, increased fertilizer costs and adverse weather, but July's decreasing prices should help for now.
Oil has come down significantly since West Texas Intermediate crude peaked at over $130 per barrel in May. As it stands at $89 per barrel, oil is sitting 30% lower than its yearly high.
In June, the price of oil averaged $114.85 per barrel. That came down to $101.62 per barrel in July, which should help push the overall inflation rate down for the month.
If oil is down, what about gas prices? Prices at the pump declined for 50 consecutive days through Friday.
Last week, I mentioned several factors primed to push oil higher moving forward. Those are still intact for the long term. But there's no denying the lower prices in July.
Housing prices have also cooled thanks to rising interest rates and increasing inventories.
The average 30-year fixed mortgage rate peaked above 6% in June and while it has come back down closer to 5% since then, it's still much higher than its 3% range at the beginning of the year.
The chart below from the St. Louis Fed shows that home prices are falling at the fastest pace on record.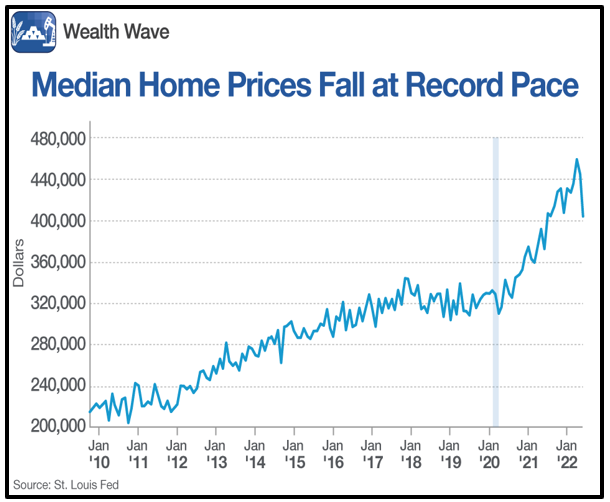 Ben Graboske, president of Black Knight Data Analytics, claims that it typically takes around five months to see the full impacts of interest rate hikes in housing prices. As markets continue digesting the previous rate increases, it should reflect in July's consumer price data.
So, add it all up, and we could see a pullback in this Wednesday's inflation report.
Sure, there are other factors that go into inflation. But it seems like the market is preparing for the worst. So, the opportunity might be in favor of a downside surprise. A POSITIVE shock.
How to Play This
One fund you can look into is the ProShares S&P 500 Dividend Aristocrats ETF (NOBL). NOBL should move higher with the broader market, but it also offers additional downside protection with quality dividend raisers.
This exchange-traded fund only holds companies that have raised their dividends for a minimum of 25 consecutive years and it requires them to maintain stable earnings, good fundamentals and solid growth over an extended period.
NOBL is plenty liquid, with an average daily trading volume of over 650,000 shares. The fund manages about $9.6 billion in net assets and its expense ratio is a manageable 0.35%. Also, its dividend recently yielded about 2%.
Looking at NOBL's chart, we see that the fund has rallied since mid-June.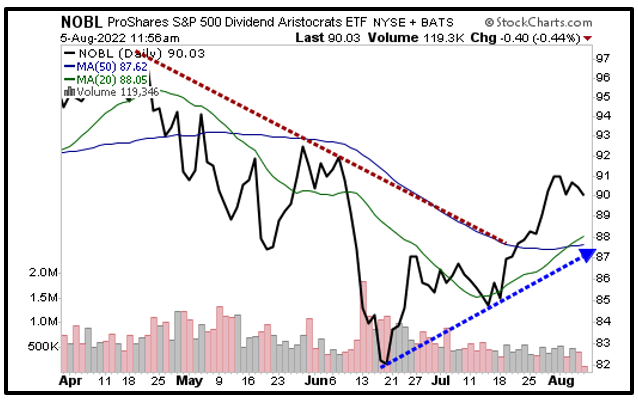 Let me point out a few things on this chart.
The downtrend — the dotted red line — was broken last month.


Meanwhile, an uptrend that started in June is holding.


The 20-day moving average (thin green line), which represents the short-term trend, just crossed up through the 50-day moving average (thin blue line). That's a bullish indicator, too.
It sure looks like NOBL is headed higher. A positive economic surprise could provide a tailwind. It'll be a shock to the system, but a positive one.
And if I'm wrong, you're paid 2% to wait!
Make sure to do your own research, but dividend raisers have an extended history of outperformance.
All the best,
Sean