Jerome Powell: 'You'll Take a Recession & Like It!'
The S&P 500 index is up over 13% from its mid-June low, but is the upward trend sustainable?
A lot will depend on how the market reacts to the Fed's policy decisions, and to Fed Chair Jerome Powell's speech at a meeting of central bankers in Jackson Hole, Wyoming, on Friday.
It's hard to imagine a more hawkish speech than the one Powell gave. According to the Fed chair:
"Reducing inflation is likely to require a sustained period of below-trend growth."
You got that?
That means Powell puts lowering inflation above everything else, even the risk of recession. And if we need a recession to bring inflation down, well, then you'll take a recession and like it.
Powell's statements were in line with the Fed's recent stance of tighten first and ask questions later.
The Fed Fund futures market is cautiously preparing, pricing in a 31.4% chance of the target rate reaching 4%–4.25% or higher by the second meeting of next year in March. For now, this is when rates are expected to peak.
The following chart breaks down the distribution of target-rate probabilities: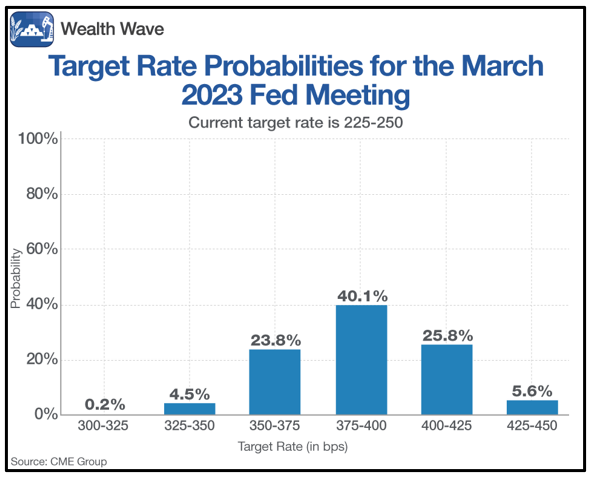 Economists and investors are similarly eyeing key inflation and jobs data for hints toward future interest rate policy.
As I predicted earlier this month, July's inflation data backed off from its 40-year high amid pullbacks in oil, food and housing.
And just yesterday, the latest data showed that July Personal Consumption Expenditures inflation declined month over month for the first time since April 2020, down 0.1% versus expectations of no change.
The Fed prefers PCE over Consumer Price Index as a broader measure of inflation pressures. So, many traders took this as a sign that the Fed would ease off the rate hike gas pedal.
Nope! Not if Powell's speech was anything to go by.
In his speech, Powell drove home the point that the Fed has an "overarching focus right now to bring inflation back down to our 2% goal."
However, the central bank still has its work cut out for it if it hopes to reach its historical 2% target.
To achieve its long-term goal, the Fed will most likely continue taking aggressive action.
Meanwhile, the economy has erased all job losses caused by the pandemic, which gives the go-ahead for more decisive action at the economy's expense.
Regardless of if the current uptrend continues, a tried-and-true strategy is to look for stocks with the strongest fundamentals.
These companies ride the wave higher, but their stability offers cushioning in case the market takes a turn for the worse.
One exchange-traded fund to consider is the Vanguard Value Index Fund ETF Shares (VTV). VTV tracks an index of U.S. large-cap value stocks, deploying most of its assets into its holdings by their proportional weightings.
The fund's top three holdings are Berkshire Hathaway (BRKB), UnitedHealth Group (UNH) and Johnson & Johnson (JNJ), which make up about 9% of its $147 billion in assets under management.
VTV trades with an average daily volume of about 2.7 million shares and its expense ratio is a minor 0.04% compared to its recent dividend yield of 2.41%.
Looking at the comparison between VTV and the S&P 500 benchmark index, the fund carries similar upside to the broader market during periods of strength: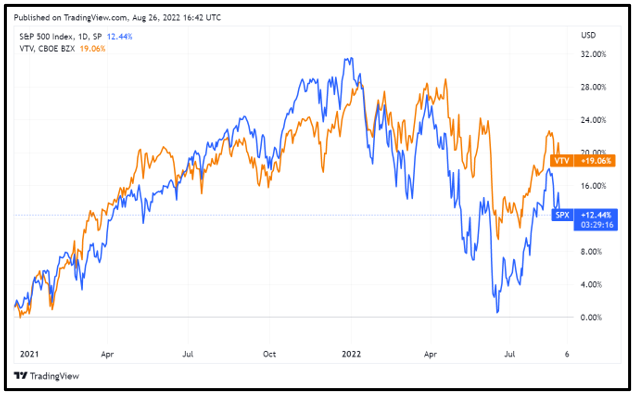 However, in case of an extended downturn, these value-oriented companies should hold their ground better than many of the riskier technology stocks trading at more aggressive multiples.
With volatile market conditions and increasing economic uncertainty, it could pay to add some extra protection. Just make sure to conduct your due diligence beforehand.
All the best,
Sean
P.S. Testing shows that the Weiss Ratings battle-tested all-weather strategy would've outperformed Warren Buffett's Berkshire Hathaway by 5.3-to-1 in both good markets and bad. Click here for access to a FREE tutorial on this game-changing strategy now.