Wow, did precious metals have a heck of a rally recently!
From Nov. 4 through the 14, gold rallied nearly 9%.
Silver rallied harder for longer. Its rally started on Oct. 27, and it racked up more than 21% gain by the 14.
Both metals rallied as the U.S. dollar deflated. Now, the dollar is rising again, and metals are headed lower.
Is the gold rally over?
Don't believe it for a second. In fact, I'll tell you how to ride the next leg of a rally that I believe has much further to go. And the deeper the pullback, the better the buying opportunity.
So, why do I think gold and silver are on the launchpad? It's a story that's part fundamental, part technical. Let's start with the technical outlook: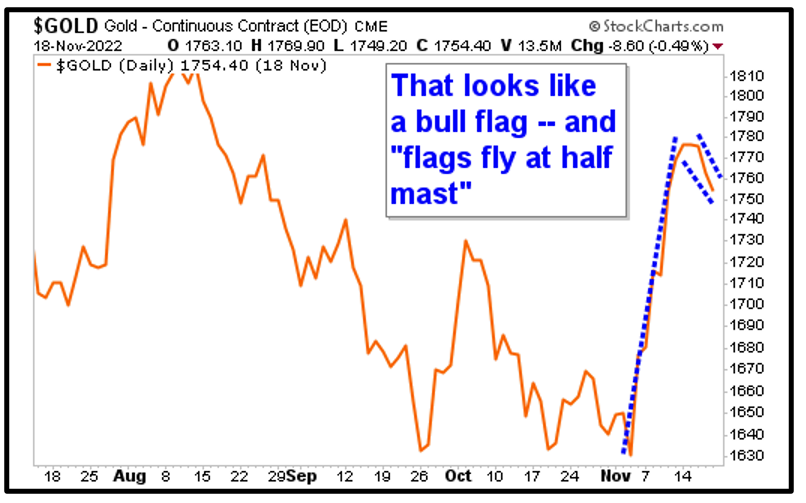 Daily GOLD chart.
Click here
to view full-sized image.
That sure looks like a chart pattern called a "bull flag."
Nothing moves in a straight line, and bull flags are a correction to the trend that usually comes about halfway through the rally.
That's why the saying goes, "Flags fly at half-mast." A successful bullish resolution gives us a short-term target of $1,965.30 on the yellow metal.
So, that's the technical outlook. This pullback is good for gold longer term, and an excellent buying opportunity for traders and investors alike.
Fundamentally, I gave you some reasons in a couple of recent columns. Now, here are more reasons to like the yellow metal …
Reason No. 1: Central Banks Are Buying
I shared this chart from Goldman Sachs and the World Gold Council with my Wealth Megatrends Members recently: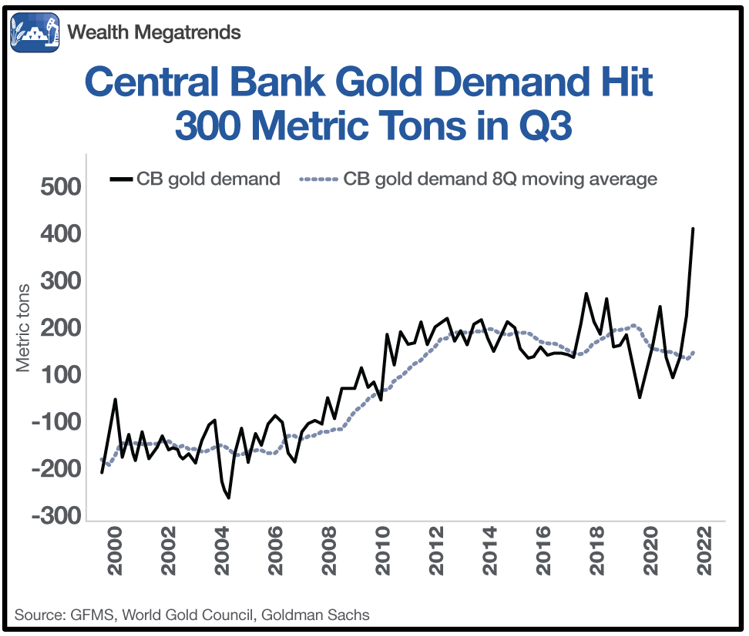 Central bank gold demand.
Click here
to view full-sized image.
You can see that central bank demand for gold is soaring. In fact, central bank purchases of gold hit a 55-year high in Q4. These factors are combining with cyclical forces that were poised to drive gold higher anyway.
Reason No. 2: Demand Is Outpacing Supply
The World Gold Council recently released its Gold Demand Trends report for Q3. Total gold supply increased marginally, up 1% year over year, to 1,215 metric tons.
At the same time, overall gold demand soared 28% higher, to 1,181 metric tons. And year to date, gold demand is up 18% versus a year ago.
You can see that supply and demand are nearly equal. If gold demand keeps rising — and I believe it will as China, a country with a cultural affinity for gold, comes out of quarantine — then demand could easily outpace supply, and prices could go much higher.
Reason No. 3: Miners Are Dirt Cheap
My favorite way to play a gold move is with miners. I'll show you why with a percentage chart showing what happened to gold and the VanEck Gold Miners ETF (GDX), the leading gold miners exchange-traded fund, during that recent rally.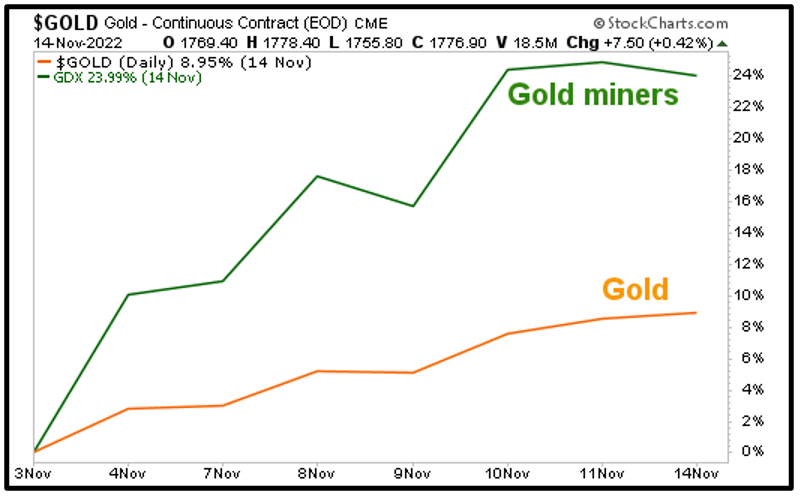 GOLD percentage chart.
Click here
to view full-sized image.
You can see gold rallied 8.95% during that time frame. But gold miners rallied 23.99% at the same time. That's because miners are leveraged to the underlying metal.
And as it turns out, miners are dirt cheap. Cannaccord reports that the average senior gold company is trading at 0.75x price-to-net asset value, which is "~1.5 standard deviations below the historical average of 0.87x".
The GDX is a perfectly fine way to play a gold rally. As it turns out, my colleague Tony Sagami recently offered up a gold recommendation in his Disruptors and Dominators service.
Nice timing, Tony!
This move in gold and gold miners looks like one of the better ideas on Wall Street right now.
I hope you make the most of it.
All the best,
Sean