Lithium is thumbing its nose at market bears again and breaking out to new highs.
The wild thing is that it probably has a long way to go on the upside. Can you ride this trend for a potentially big payoff? Yes!
Let's start by looking at a chart of lithium prices in China …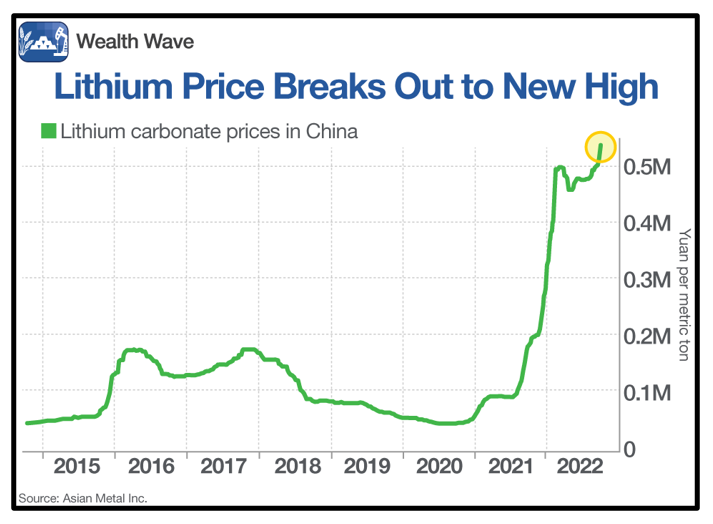 Lithium prices in China.
Click here
to see full-sized image.
In China, lithium carbonate has hit 537,500 yuan ($75,000) a metric ton, according to a report from Asian Metal. And that price is nearly double the level at the start of the year. In fact, lithium prices continue to set record highs.
After celebrating the country's National Day holiday, China's population has returned to work, so perhaps this latest move represents buying pressure that built up.
And it's also true that lithium is the only commodity not impacted by the broad selling pressure in the market. Why is that? As I've laid out in my two previous columns, (here and here), the high demand for lithium batteries for electric vehicles is shifting prices for the metal into overdrive.
If you're not yet subscribed to my Wealth Megatrends service, then you have the chance to sign up before my next issue goes live around noon on Friday to help you stay ahead of all the profitable trends. Don't miss out!
To that point, sales of electric vehicles, which China calls New Energy Vehicles, are soaring in that country. Earlier this month, the China Passenger Car Association reported that total NEV sales were around 664,000 units in September, up 87% year over year and up 5% from August.
Sales in Europe, America and the rest of the world are zooming too but still have a long way to go to catch up to China.
And many in the market are now forecasting a shortfall in lithium supply starting this year and worsening each following year, as this chart from Benchmark Mineral Intelligence shows …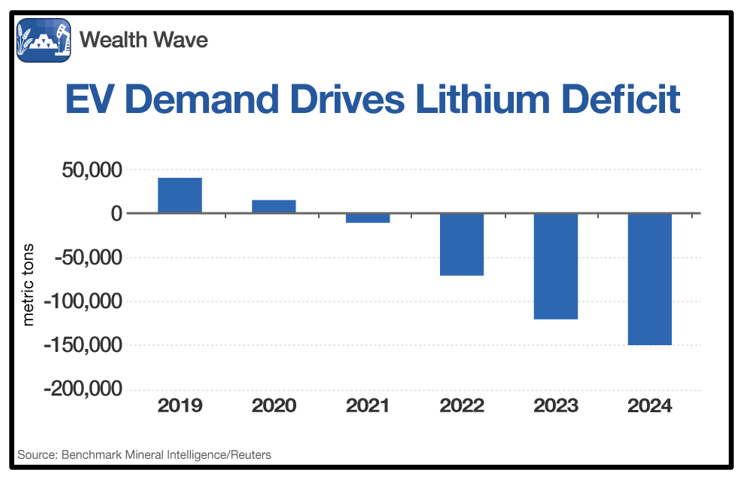 Lithium supply deficit.
Click here
to see full-sized image.
The good news for consumers is there are a bunch of big mines that will come online in 2026, meaning lithium prices may fall again. But that also means the supply and demand squeeze is supposed to get worse!
On Oct. 13, Benchmark Mineral Intelligence published its forecast that by the middle of this century, the world will need more than 20 times the amount of lithium than was mined in all of last year.
In fact …
• By 2040, all the lithium that was mined last year will meet just one month's demand for the energy metal.

• Without recycling, the world will need 234 new lithium mines to meet demand — up from 40 this year.

• And while EVs make up most of the new lithium demand now, that's going to change. By 2050, Benchmark expects about a third of battery demand will be from EVs and the rest from energy storage.
How You Can Profit
In previous columns, I've told you about exchange-traded funds that will ride the big trend in battery metals.
Today, I'm going to give you a stock. That stock is none other than Sigma Lithium (SGML). Here is a weekly chart of the stock: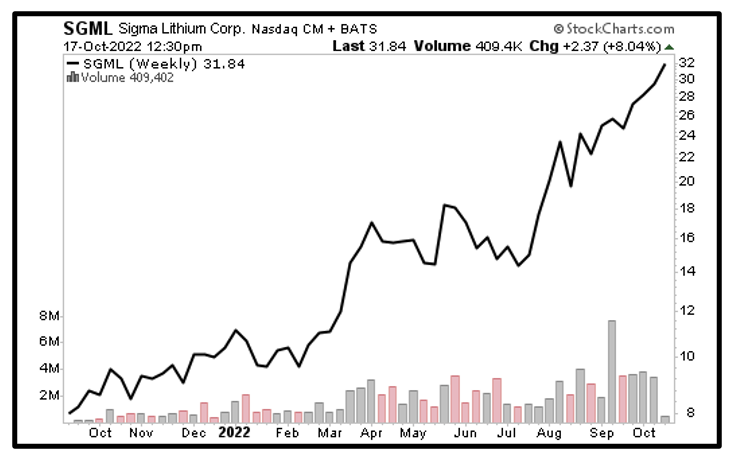 SGML weekly chart.
Click here
to see full-sized image.
You can see that Sigma has been on a rampage despite the broad bear market in stocks. Members to my Supercycle Investor publication already own it. We didn't buy it particularly early, but we just banked more than 200% gains on just part of the position. We're holding the rest for a potentially bigger payoff.
The company is a developer and will begin production in Brazil late this year or early next year. The cost of production in the first phase of mining is $340 per metric ton. Even selling at a discount, Sigma should be able to sell that for $60,000 a ton!
Here's the fun part: Sigma is only one of five promising junior miners I told listeners about at the New Orleans Investment Conference. And I'll be recommending the best of those juniors to my members very soon.
If you're doing this on your own, be careful and be sure to conduct your own due diligence beforehand. But it's nice to invest in something that's going up when the rest of the market is going down.
Plus, the EV megatrend means the supply and demand squeeze in lithium (and its potential profits) should continue for years to come.
All the best,
Sean