Oil's Dip Lower Is Your Setup
It's been a tough week in commodities, with corrections all over the place. But the hazards are short term.
Long-term forces are looking very bullish indeed.
Today, let's look at what's driving oil lower in the short term … what could shift it into higher gear longer term … and how you can play it.
The headline driving oil lower is that Russia is hinting at peace in Ukraine. The market celebrated this by pushing oil prices down the stairs.
Never mind that talks between Russia and Ukraine on Tuesday failed to even reach an agreement on a cease-fire.


Never mind that Russia keeps using more and worse weapons on civilians in Ukraine.


Never mind that Ukrainian peace negotiators say they were POISONED at a meeting in Kyiv earlier this month.
Does that sound like Russia wants peace anytime soon? Well, the speculators in the oil markets bought Russia's "peace talk" hook, line and polonium sinker. That's one reason why oil tumbled.
The other is that China announced it's shutting down the city of Shanghai due to another COVID-19 outbreak.
That's 26 million people forced to stay inside, while hazmat-suited healthcare workers come around and test everybody.
But that's not the big fear on China ... the market's big fear is that this new COVID-19 outbreak will spread to other cities besides Shanghai.
Most of the cases are asymptomatic. You might think that would reassure the Chinese government and they wouldn't overreact ... but that's China for you.
Importantly, another part of oil's decline — and it's a big part, I believe — is simple profit-taking after such a big run.
Heck, West Texas Intermediate crude — the U.S. oil benchmark — ended last Friday up a whopping 76% from a low it made on Dec. 1. Darned right that oil made a correction.
That's OK. Nothing travels in a straight line. Two steps forward, one back.
And taking those forward steps for your own investment destiny may be easier with some assistance from Dr. Martin Weiss. I highly encourage you to check out his video with recommendations on how you build and protect your wealth.
Now, let me tell you some of the bullish news — on oil in particular — that the market is ignoring, while short-term traders rush for the exits.
Russia's Oil Exports Are Swooning
Russian oil exports fell last week, with average shipments of around 3.63 million barrels per day (bpd). That's the lowest oil exports from Russia in eight months.
That's despite Russia's oil production going basically unchanged. If this keeps up — and it's likely it will — Russia will be forced to shutter oil production.
Don't Expect More Oil From OPEC+
The expanded oil cartel meets today, March 31. We'll probably see the planned 400,000 barrel-per-day increase in production quotas … and nothing else.
And while OPEC+ is raising its monthly production target regularly, it hasn't met those targets for months. Reuters reports that OPEC+ produced about 1.05 million bpd below its agreed targets in February. When the March numbers come in, the gap between the target and actual production will probably yawn even wider.
But how can that be? Didn't President Biden ask the Saudis to please crank up oil production?
"Saudi Arabia and the U.A.E. have chosen to severely weaken their ties with Washington. They are explicitly linking a threat to withhold production increases to demands for U.S. policy changes on other issues in the Middle East."
In fact, Saudi Arabia just raised the price of oil it exports to Asia by $2.15 per barrel.
This is the second time in a row that the "central bank of oil" has done this. Iraq followed suit and raised its prices. Our so-called friends in OPEC+ have no interest in lower oil prices.
U.S. Oil Inventories Are Falling
The U.S. Energy Information Administration (EIA) reports that U.S. commercial crude oil inventories decreased by 2.5 million barrels per day last week from the previous week.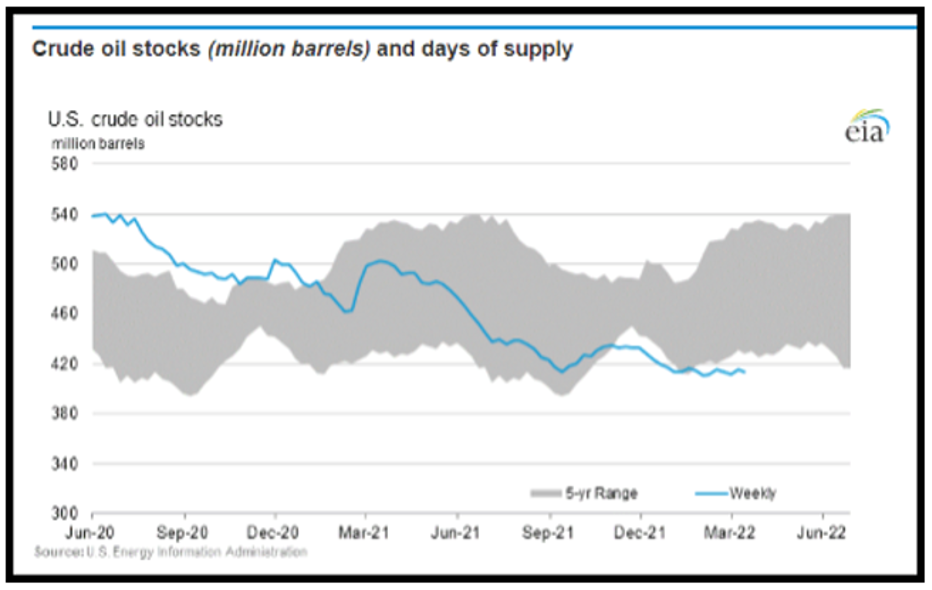 At 413.4 million barrels, U.S. inventories are 13% below the five-year average for this time of year.
And this is with the summer road trip season around the corner. America should be building oil inventories at this time of year, not the other way around.
Global Deficit Looms
Well, higher prices will slow demand, right? Except the production gap is growing faster than demand destruction, according to the International Energy Agency (IEA).
The IEA said last week that the oil market was set for a 700,000 bpd supply deficit in the second quarter. And every report seems worse than the last one!
Add it all up … and I expect more tightness in supply, which is supportive of higher oil prices.
And remember, things ALWAYS go wrong in global oil production. For example, it's amazing we've gone this long without horrible news out of the Middle East —the kind that can send oil prices surging.
So, the pullback we're seeing this week? I'm not sweating it out too much.
In fact, I expect prices to turn higher again.
Grab Your Own Piece of the Pump
When I talked about oil in the Dec. 30 issue — very close to oil's recent bottom — I recommended two funds.
One was the Energy Select Sector SPDR Fund (XLE), which holds the biggest energy names.
The other was the SPDR S&P Oil & Gas Exploration & Production ETF (XOP). It holds more second-tier names than the XLE.
Let's see how those funds have done since I talked about them: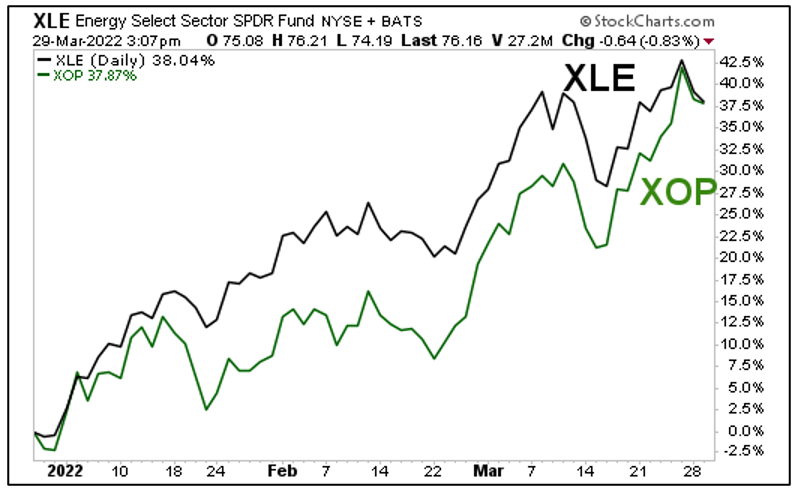 You can see that both funds have racked up roughly 38% gains. Compare that to the 3% LOSS in the S&P 500 over the same time.
Either of these funds looks like a strong way to play the next move higher in oil. And that move is coming.
After doing your own research, whether you buy one of these funds, or buy something else, be ready for it.
All the best,
Sean