The Possible Road to EV Riches
I recently got back from the New Orleans Investment Conference, where I gave a presentation on profiting from the electric vehicle (EV) megatrend.
And it's never been clearer: The most likely road to EV riches is paved in lithium and battery makers.
No sooner than I got back did I start to receive a bunch of news in my inbox I WISHED I'd had before the conference. And I'll share those with you in a bit.
First, let me share a story I learned on the way from the airport to the conference. It explains why EV sales are about to shift into overdrive.
My Uber (NYSE: UBER) driver drove a new Toyota (NYSE: TM) Sienna hybrid electric vehicle (HEV). He explained that his HEV saved him a lot of gas compared to the non-HEV van he used to own.
How much gas? About $600 a month.
"It's my car payment," he said.
• That hit me like a ton of bricks. If rideshare drivers — or anyone — find it MORE economical to drive some sort of EV, they will.
And there are lots of people who drive for a living out there. I believe EV demand is about to ZOOM!
Before I delve into how you can play this megatrend, I want to discuss the three kinds of EVs you should become familiar with.
1. Hybrid Electric Vehicle (HEVs): HEVs have an electric motor that assists an internal combustion engine (ICE). When you use the brakes, it recharges the electric motor. Think of Toyota's Prius or its new Sienna. My driver said his Sienna was getting 38 miles per gallon … in a big ol' van on the city streets of New Orleans!

2. Plug-In Electric Vehicle (PHEV): PHEVs have an ICE motor, a larger electric motor and need to plug in to recharge. BMW (OTC Pink: BMWYY) sells five different PHEV models, while Ford (NYSE: F), Toyota and a bunch of other automakers all offer two … for now.

3. Battery Electric Vehicle (BEV): BEVs run on electricity, no internal combustion required. Think of Tesla (Nasdaq: TSLA) A bunch of automakers are rolling out new BEVs right now.
Sure, there are speed bumps on the road to an EV future. I gave you the scoop on that in my Oct. 2 issue. But there are also a bunch of positive surprises coming down the pike that may accelerate the EV megatrend!
Then all that news I talked about started hitting my inbox:
• Hertz Is Buying 100,000 New Teslas: You may have seen this news, but it's worth repeating. On Monday, rental car company Hertz (OTC Pink: HTZZ) said it would buy 100,000 vehicles from Tesla.

Basically, Hertz wants the largest mainstream EV rental fleet in North America. The company's getting an enormous tax incentive to electrify its fleet … something that could cause other companies to do the same. But can Hertz rent out all those EVs? Here's where it gets interesting…

• Uber Will Offer Hertz Teslas to 50,000 drivers: Many Uber drivers rent the cars they drive. And it turns out that Hertz is going to turn around and rent 50,000 of its new Tesla EVs to Uber drivers in major U.S. cities.

Caterpillar Is Transitioning to Electric Vehicles: The big equipment maker is already developing all-electric vehicles for the Nouveau Monde Graphite mine in the Congo. Caterpillar (NYSE: CAT) says it's positioning for a "green future" and is going to introduce other all-electric construction equipment.

• European EV Sales Soar Past Diesel: According to an article in CleanTechnica, "plugin electric vehicles climb above 20% share for the first time in Q3 2021, up almost 2x year on year. Plugin shares also overtook diesel's falling share (15.4%) for the first time."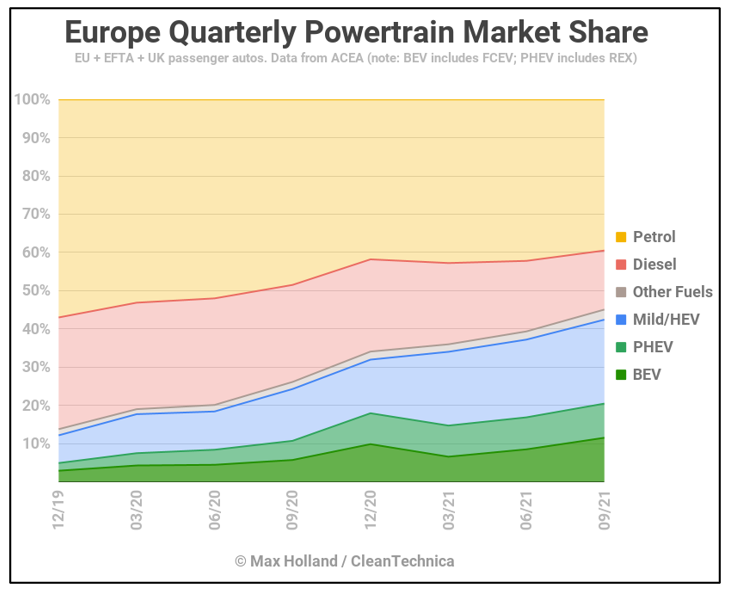 It sure looks like EV sales are accelerating in Europe … while diesel has turned onto a dead end.
Add all this news up and it sure looks like EVs are about to make the turn from fascinating new tech to the American mainstream.
Will Rising Lithium Prices Slow This Megatrend?
With more and more demand for lithium-ion batteries, the price of lithium has been rising. For years, technology advanced fast enough that the cost of batteries went down, even as the price of the lithium and other materials went higher.
That's changing.
Chinese EV and battery maker BYD (OTC: BYDDY) — a company backed by Warren Buffett — just announced it will raise the cost of its lithium battery cells by at least 20% beginning Nov. 1. I can't blame them. Just look at this lithium price chart:
This chart — which uses data from Benchmark Mineral Intelligence — shows the price of lithium was up 172% at the end of September compared to a year ago. October data isn't in yet … but I bet it's going to be even higher.
The cost of the battery is only part of the cost of the car. But other inputs are rising as well. Will this detour the EV megatrend?
I don't believe so. It may slow it down for a bit, but the forces driving this megatrend are massive.
How to Consider Playing the Megatrend
One way is with the Amplify Lithium & Battery Technology ETF (NYSE: BATT). The exchange-traded fund (ETF) has an expense ratio of 0.59% and includes top companies like Tesla, EV battery giant Contemporary Amperex Technology, BHP Group (NYSE: BHP) and BYD. And it's breaking out right now.
You can wait for a pullback to buy, but I believe this kind of breakout after such a long consolidation could be followed by MORE acceleration.
The road to the EV future lays before us. You can come along for the ride or potentially be left in the dust.
But whatever you do or don't buy, do your research first, as always. This is a tricky market, and you don't want to end up owning a lemon.
All the best,
Sean