Profit From the Biggest Oil Bull in Years!
Yee-haw!
Crude oil closed out April by galloping to a 6% gain. That's good. What's even better: This makes five months in a row that the price of crude oil has run higher.
It's the best bull run in Texas Tea since early 2018 — five years!
Here's a chart using NYMEX data that shows the performance of West Texas Intermediate (WTI), the U.S. crude oil benchmark, since December of last year: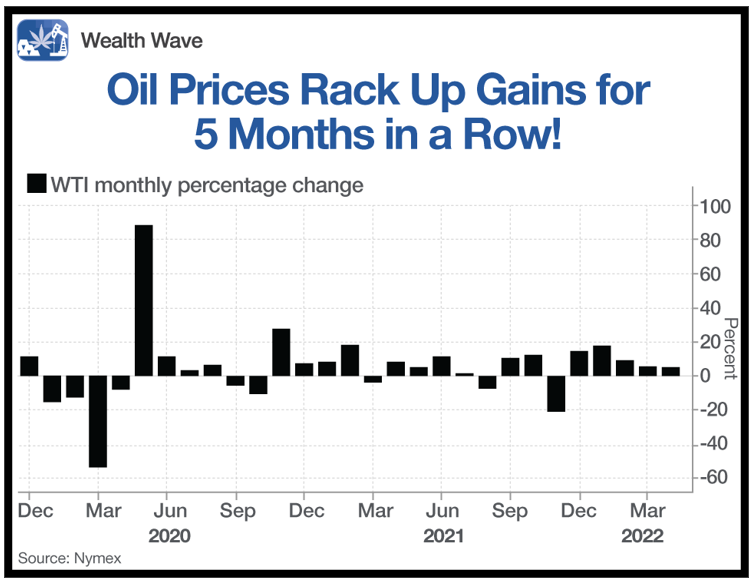 Now, nothing moves in a straight line, so I expect to see a correction in oil sooner or later. But in this kind of bull market, a pullback is just an opportunity to buy more shares of the best stocks.
What's driving this?
Russia's invasion of Ukraine is a large reason. That's taking a lot of Russian oil off Western markets.
Sure, Russia can still sell its oil to countries including China and India ... but significantly, one Western company after another is canceling oil projects in Russia.
This has investors eyeing future supply … and thinking a supply squeeze will support higher oil prices going forward.
There's another, more immediate supply issue. OPEC+ boosted output targets by 400,000 barrels per day (bpd) each month since August 2021.
So, we have a lot more oil on the market, right? Nope.
OPEC keeps MISSING its target because members of the cartel simply don't have the oil to pump.
OPEC Can't Keep Up
In March, OPEC pumped UNDER its allowed quota by 1.45 million bpd.
That's worse than February, when it missed its output target by a little over 1 million bpd. In fact, OPEC has missed its raised targets every single month since September 2021.
Why is this happening?
Because OPEC spreads the hikes in production targets around the cartel, and some members hit their production limits last year.
They're tapped out! And the fat cats that could raise production — Saudi Arabia and the United Arab Emirates — are enjoying high oil prices way too much to want to pump more oil.
On the demand side, the International Energy Agency (IEA) now projects global demand to hit 99.7 million bpd in 2022, an increase of 2.1 million bpd from 2021. The IEA and others are lowering estimates due to a combination of high prices and resurgent COVID-19.
HOWEVER, they're probably underestimating. Maybe by a lot. And we know this because prices were high in February, and total world oil demand surged to 101.4 million bpd. That's according to a report from McKinsey & Co.
Then there's the fact that the U.S. economy is red-hot. I know … I know … a lot of people in the media keep warning that we're entering a recession.
Maybe someday.
But right now, jobless claims are at a 52-year low. That's not what you see in a recession.
To me, the most bullish thing is that oil freaked-out over initial reports of China's locking down cities due to spreading COVID-19 outbreaks. Then a few days later, crude just shrugged off that bad news and started heading higher again.
Result: My price target on the U.S. crude oil benchmark remains $138. That's about a 30% climb from recent prices. And the accompanying move in select oil-leveraged stocks could be extraordinary!
How You Can Aim for Oily Gains
You may remember that back on Dec. 30, I talked about the 56% rally that oil enjoyed last year.
I also said you should "Pump Up Your Profit Potential in 2022." My pick at that time was the SPDR S&P Oil & Gas Exploration & Production ETF (XOP).
This fund has a net expense ratio of 0.35%, and its top holdings include companies like Callon Petroleum (CPE), Devon Energy (DVN), SM Energy (SM) and Diamondback Energy (FANG).
XOP is up 42% since my recommendation … so far. Guess what? I think it has a long way to go.
I've been recommending hot energy gains to my Wealth Megatrends subscribers. If you'd like to see more of my double-digit gains on energy picks, click here now.
Let's look at a recent XOP daily chart: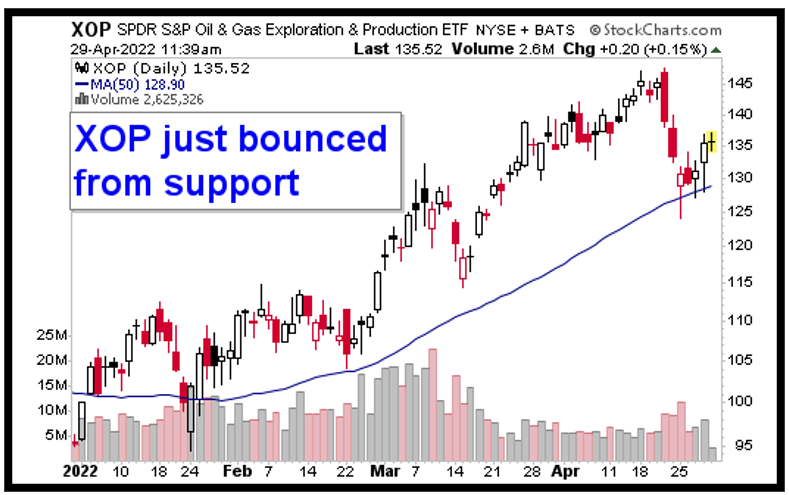 It sure looks like the XOP just bounced from support and is poised to try to push through its recent high. If it can break out, I believe this exchange-traded fund (ETF) is on its way to $188 a share.
The XOP is an easy way to play the next leg of oil's big rally. Drilling down to the individual stocks inside it carries more risk but outsize reward potential. The choice is yours.
Remember to always do your own due diligence.
If you aren't already riding this oil bull, there's plenty of room to climb on!
All the best,
Sean