Profit on the Booming Demand for an American Staple
Last week, we looked at how we "ordinary" investors can get exposure to corn prices in our overall investment strategy — without trading risky futures contracts — via the Teucrium Corn Fund (NYSE: CORN).
Today, let's look at an easy way to invest in another important grain: soybeans.
Soybeans were first cultivated as far back as 2800 BC but weren't introduced into the U.S. until the 1800s.
And now, America is the world's largest grower of soybeans, harvesting over 118 million metric tons per year ... and exporting about 45% of that.
In fact, the "soybean belt" overlaps much of the corn belt.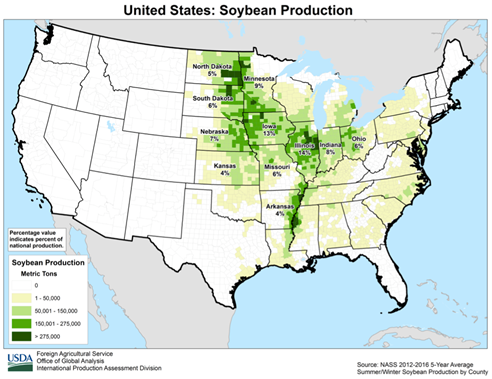 Soybean futures started trading at the Chicago Board of Trade — now part of CME Group Inc. (Nasdaq: CME) — in 1932.Futures on its by-products followed, with soybean oil in 1946 and soybean meal in 1947.
As the world's largest source of animal feed — and the second-largest source of vegetable oil — soybeans and soybean by-products are the most traded agricultural commodities worldwide, making up more than 10% of the global agriculture trade.
About two-thirds of the soybean crop is processed (or crushed) into soybean oil and soybean meal.
Soybean oil is used in cooking oils, margarines, mayonnaise and salad dressings, and certain industrial chemicals.
"Crude" soybean oil is also used in the production of biodiesel, which I've covered in a previous article.
Soybean meal is a primary ingredient in animal feed for poultry and livestock. It's also processed into human fare like soy grits, flour and various prepared foods. And it's a key component in meat and dairy substitutes like tofu and soy milk.
U.S. soybean exports have increased significantly since 2000 as carnivorous activity has risen in Europe, Asia and developing economies.
Like corn, the price of soybeans is affected by patterns of supply and demand ... especially "seasonality."
Old Crop vs. New Crop
During spring planting, the grain available for sale is from the previous harvest — the so-called old crop. Supply is typically lower, so the grain price tends to be higher.
Harvest of the new crop begins in September and continues into mid-November. Prices begin a decline in July or August and continue through the February break before reaching their seasonal highs again in the summer.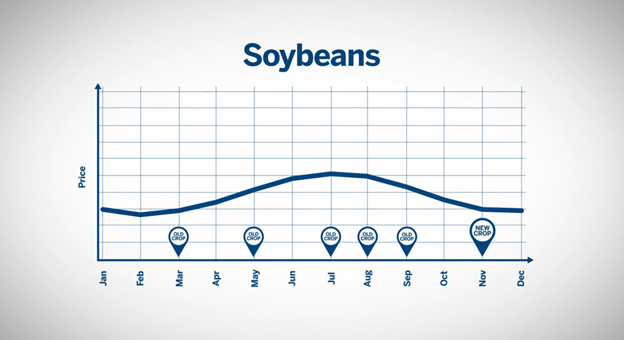 The Teucrium Soybean Fund (NYSE: SOYB) provides investors an easy way to gain exposure to the price of soybeans futures in a brokerage account.
Plus, soybeans seem to be breaking to the upside early this year ...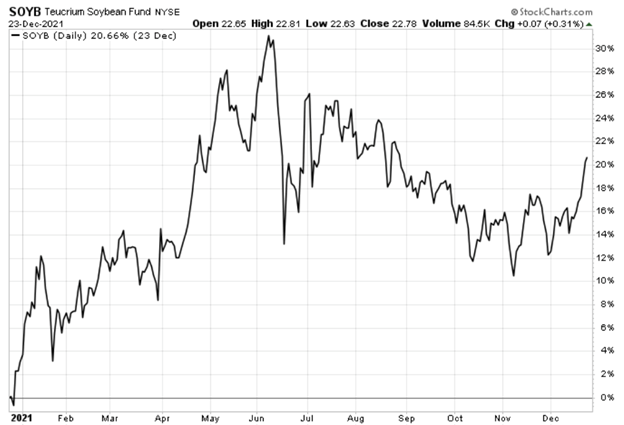 And like CORN, SOYB is a potentially attractive option for portfolio diversification.
All the best,
Sean