I'm sure you've noticed how expensive everything is getting.
Between higher gas prices, food prices and housing costs, it's clear that Americans are spending more to support themselves and their families.
In April, both the consumer price index (CPI) inflation of 8.3% and the core CPI increase of 6.2%, which excludes food and energy, were higher than expected.
CPI remains around multi-decade highs, as producers pass higher raw material costs on to buyers. When May's data is released this month, I expect more of the same.
Not long ago, I said we were on the cusp of what could very well be the greatest gold bull market in 100 years. But it doesn't stop there.
Right now, dozens of forces are converging to create one of the biggest commodity bull markets of all time.
This wasn't just my opinion. This is what my cycles research told me.
Precious metals are, and will continue to be, big beneficiaries of safety-seeking investors amid U.S. dollar weakness, sliding stock prices and cold wars heating up geopolitical hotspots.
I expect them to take off as investors seek safe havens, but in the meantime, there are many other commodities making major moves.
Everything from meat to wheat to lithium for electric vehicle (EV) batteries is in short supply.
I recently talked about how wheat shortages were shooting prices higher — and the possible gains if you bought after my recommendation in January.
Over the past several months, I've been adapting to this expanded commodity bull market.
It's the biggest reason I changed the name of my Gold & Silver Trader service to Natural Resource Trader, where I've steered subscribers to many gains — in natural gas, uranium, steel, oil and even energy infrastructure.
We're in the midst of a commodity supercycle, and there's still plenty of room to run. This is a trend I expect will continue for at least the next two years … and perhaps much longer.
I'm not alone in this prediction, either. Goldman Sachs (GS) called that the building commodity supercycle could last up to a decade.
And it's important to point out that …
Commodity Prices Are Still Low Historically
Since the pandemic began, commodity prices have sharply pressed higher. Even after this decisive move, prices are still relatively muted compared to historical levels.
The chart below tracks the price movements of the Bloomberg Commodities Index since its inception in 1991: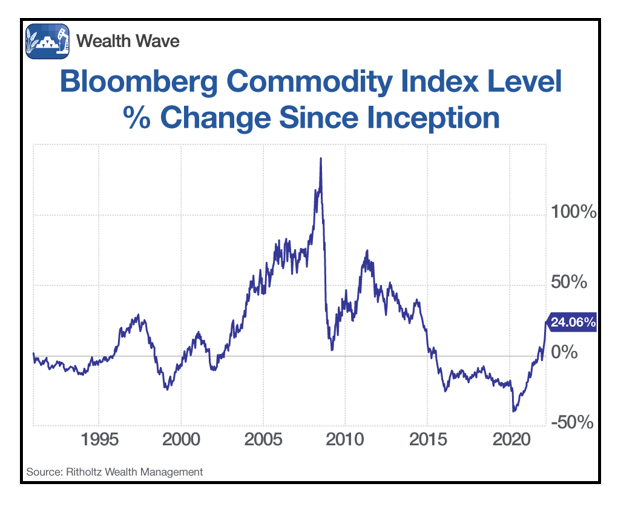 As of March, the index tracked a 24% gain since its inception. That's well below its pre-2008 financial crisis peak gain of near 140%!
With a long runway and prices aided by persistent supply, demand and geopolitical factors, there's a tremendous opportunity to ride the wave.
One exchange traded product that looks ready to capitalize on higher commodity prices is the First Trust Global Tactical Commodity Strategy Fund (FTGC).
FTGC owns a basket of commodity futures spanning many industries including agriculture, energy, livestock and precious and industrial metals.
It offers broad exposure to a variety of commodities primed to move higher as inflation and supply-chain disruptions disturb markets.
The exchange-trade fund (ETF) targets strong returns with a stable risk profile. Its top three holdings include cotton, soybean, and gold futures. As they near expiration, contracts are rolled over into new contracts expiring later.
FTGC trades with a liquid average volume of over 2 million shares per day. The fund manages nearly $5 billion in assets. Its expense ratio is 0.95%.
Looking at FTGC's weekly chart, we see that the fund could be gearing up for a major breakout: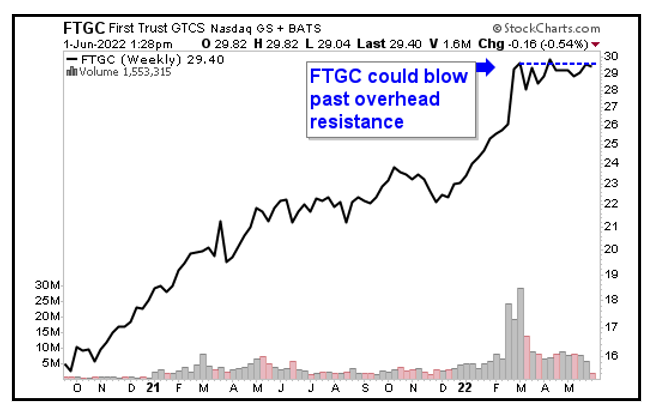 Over the past few months, FTGC has consolidated following the sharp rally on high volume during the beginning of the year.
Always do your own research, but I expect that the longer it consolidates, the bigger the move on the upside. With commodities riding strong tailwinds, it could make its move quickly.
All the best,
Sean