The Crisis in Your Cupboard
There is a crisis brewing in your pantry, and it could hit in the next 60 days. It is a global supply shock that could leave millions starving and squeeze the wallets of every American.
I'm talking about what's going on with wheat. The price of this essential grain is already up over 65% in the past year. But it could get a lot more expensive.
In fact, the United Nations just warned that millions of people could die in a global food crisis unless Russia unblocks the ports that Ukraine uses to export its grain.
But that's only part of the problem. Here's a chart of the world's major wheat exporters: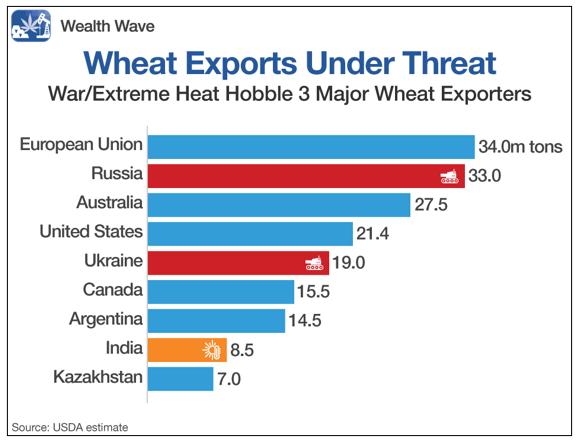 Three Sources of Trouble for Wheat
There are three sources of trouble on this chart.
1. Russia invaded Ukraine. Russia is a major wheat exporter. Now, most Western ports won't accept its shipments. Russia is still shipping grain to other parts of the world that aren't as choosy. But that's only one problem.
2. Ukraine, known as the breadbasket of Europe, can't ship wheat out of its ports due to the Russian blockade. This prompted David Beasley, head of the U.N.'s World Food Programme (WFP), to plead with Russian President Vladimir Putin: "If you have any heart at all for the rest of the world, regardless of how you feel about Ukraine, you need to open up those ports."
Beasley, a former Republican governor of South Carolina, warned that Ukrainian ports must be operational within the next 60 days to avoid disaster.
Good luck with that one. Putin isn't known for kindness.
Also, agricultural products accounted for 41% of Ukraine's total exports last year. Putin is obviously trying to choke the country into submission.
And there's also the fact that the ongoing war is raging in Ukraine's wheat fields. As a result, Ukraine's wheat production is forecast to fall by one-third this year.
3. The third problem is India, the world's second-biggest grower of wheat.
The country's getting baked by a blistering heat wave so intense that birds are falling from the sky. That heat is scorching wheat fields and withering crops before they have a chance to grow to harvest.
Recent estimates are that India's wheat crop will slump 10%–50% this season. That's a huge range, and the outcome could make the difference between higher prices and outright famine.
A World Full of Woe
These are just the three biggest problems facing the world wheat crop. There are others.
Depending on where farmers are, it's too wet, too dry or too hot. Weather is lowering crops in big food-producing countries like Brazil, the U.S., Canada and France. Analysts expect the global wheat crop to shrink for the first time in four years.
And global wheat stockpiles are already shrinking, down 17% from a peak hit two years ago.
According to the WFP, 193 million people worldwide already suffer acute food insecurity, due in part to pressures on global food markets that have been building for some time now.
A rise in the price of wheat could tip a good portion of those people into starvation.
Some might say that's not our problem, though. That's not only heartless … it's wrong. If people can't get food where they are, they'll try to move to where there is food. Here!
And there are …
More Risks for Americans
There are two other risks for Americans. One is that spiraling wheat prices will add to the burning inflationary fires that see prices rising at the fastest rate in 40 years. This makes the Fed want to raise interest rates, which weighs on the economy.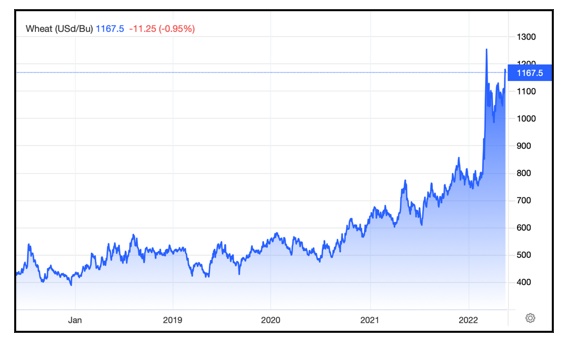 As wheat prices go higher, soybean and corn prices move higher in sympathy. That's more inflation fuel.
The other is that wheat is in so many things we use. Per capita consumption of wheat flour in the U.S. runs about 131.1 pounds per year! In other words, higher prices will take bite out of YOUR wallet.
How You Can Play This
I have an easy way you can ride this trend. Members of my service Gold & Silver Trader already own it, but it's still a good buy now. I'm talking about Teucrium Wheat (WEAT). I previously recommended this exchange-traded product (ETP) in January and again last month.
Since I wrote those articles, the outlook for wheat has turned more bullish.
If you bought WEAT on my January recommendation, you'd be up 58.46%! We're still holding this one, as I expect a breakout to the upside soon. Look at the daily chart: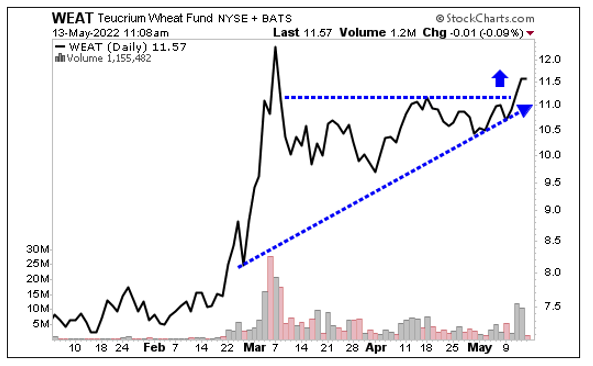 See how the bullish volume is surging? WEAT just pushed above recent overhead resistance. It still needs to take out the March high, but I expect that to happen sooner than later. It recently traded at $11.52 a share. My price target is $27!
Should you panic? No. You live in America, the land of abundance.
But spare a thought for the millions of people around the world facing the threat of going hungry.
And if you want to protect your own finances, WEAT or other select agricultural investments are good additions to your portfolio.
As always, remember to do your own due diligence.
Best wishes,
Sean