Going to Hell in a Shopping Cart
You've seen what's happening with the staggering price of groceries.
Food prices at U.S. supermarkets jumped 7.9% in February, the latest month available.
The March numbers are probably going to be even worse.
Hang on to your shopping carts … because food prices are headed MUCH higher.
Let's start with what's already going on. It's not limited to America.
Global food prices are surging at the fastest pace ever, according to a new report from the United Nations. A UN index of world food costs soared another 13% last month.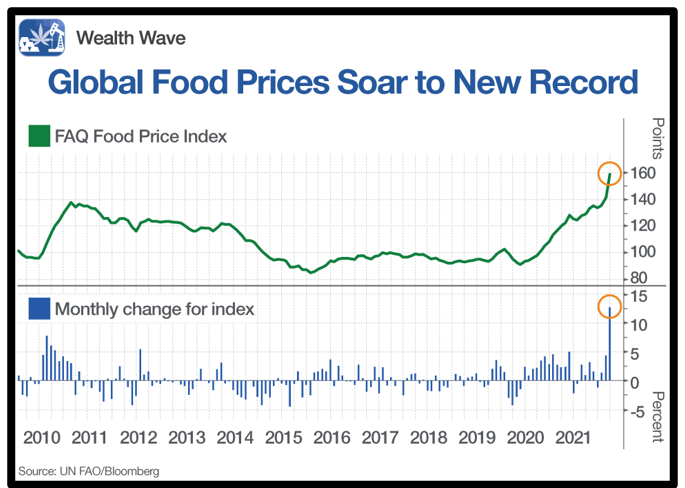 In fact, the UN's Food and Agriculture Organization reports that its gauge of global prices is up about 75% since mid-2020. This threatens to inflict hunger on another 40 million people.
Part of this is the fact that Ukraine — known as the breadbasket of Europe — is busy fighting instead of farming.
Another part of this is sanctions on Russian food and fertilizer exports. And still another part of it is that this is a massive crisis that has been building for years.
In my emergency Zoom call with Dr. Martin Weiss, I cover how this new war is part of historic cycles that can help you protect and grow your wealth if you understand them. If you'd like to check that out, click here now.
The United States Department of Agriculture (USDA) predicts that food prices will rise another 3% to 4% this year. As with the government's assessment of inflation — the new Consumer Price Index (inflation) numbers come out today, by the way — I believe this is wildly optimistic.
Why?
China Is Hungry
China's grain production was already under threat due to a 1-2-3 whammy of climate change, COVID-19 restrictions and pollution controls. That means China needs to import more food.
China must feed 20% of the world's population with only 7% of the world's arable land.
It already imports more and more grain every year. And it's not about to slow down. President Xi Jinping has famously said, "The Chinese people's rice bowl must be firmly held in their own hands."
China's agricultural deficit ballooned to US $94.8 billion in 2020 and a record high of US $133.5 billion last year.
What did that pay for?
China imported 165 million metric tons of grain in 2021, including 9.7 million tons of wheat, 4.47 million tons of rice and 96.5 million tons of soybeans.
China's wheat imports are soaring — up 17.9% since 2008. Rice imports are surging even more, up 53% over the same time.
Li Guoxiang, a fellow at the Rural Development Institute at the Chinese Academy of Social Sciences, said in press reports that "China has no grain surplus. The domestic supply and demand are tight."
It's not hard to see that there is a food crisis brewing in China, and that's going to squeeze global grain prices higher.
And we're already seeing prices react. For example, the price of wheat soared to a record on news of Russia's invasion of Ukraine, then backed off.
Now, it's starting to perk up again.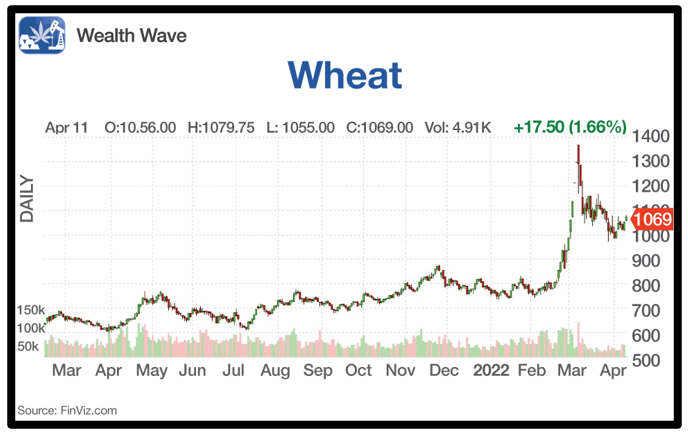 As an investor, you should be asking yourself how high wheat prices can go.
I think it's going back to its March high of $12.78 per bushel — just for starters!
Prepare Yourself for Hunger Pangs
I've been writing about food insecurity for a while.
In January, I explained there is an easy way for ordinary investors to invest in wheat: Teucrium Wheat (WEAT).
That's an exchange-traded product (ETP) — a commodity pool regulated by the Commodity Futures Trading Commission.
If you bought WEAT when I talked about it on Jan. 4, you'd currently be up 46.35%. That compares with a 7% loss for the S&P 500.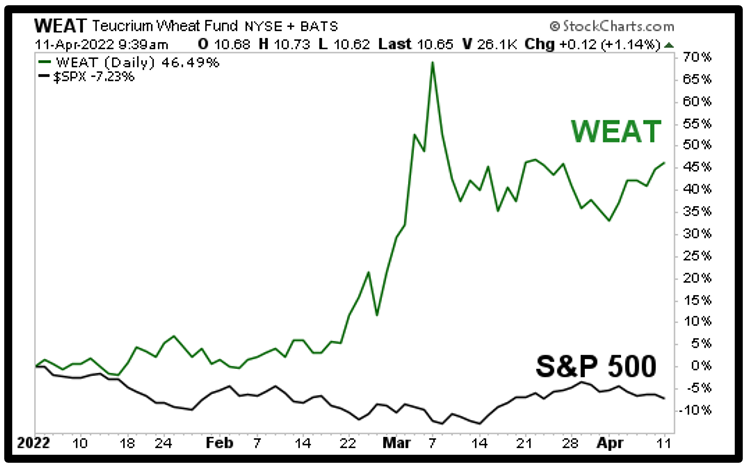 The old saying is "going to hell in a handcart." Now, the world seems to be going to hell in a shopping cart.
But WEAT gives you an easy way to play what comes next in the global grain markets, both to potentially profit from and to cushion yourself against rising food prices.
Just like going to a grocery store when you're hungry, always remember to do your own due diligence and research before buying anything.
Best wishes,
Sean Brodrick