3 Reasons Silver Is About to Soar
On Oct. 25, I wrote an article, "Silver Rally in 3 … 2 … 1!" Since then, silver is up about 20%, and silver miners are tracking the metal closely.
But buddy, you ain't seen nothin' yet! When silver blasts off, it can run to the moon.
Heck, just back in 2000, silver rallied by 126%. And that's not even one of the big rallies. From 2003–2011, we saw the metal surge more than 955%!
In my previous article, I gave you three reasons why silver could rally much higher: (1) rising industrial demand, (2) investment demand and (3) peak global silver production. Here are three more …
Reason No. 1: Demand Is Outstripping Supply
The Silver Institute says that in 2021, year-over-year demand increased by 19% versus a 5% increase in supply. This year, it hasn't been as big of a gap, but demand is still outpacing supply.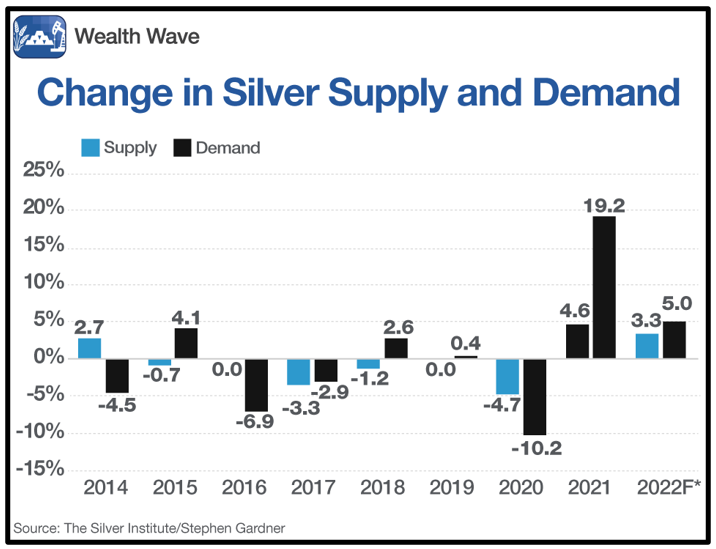 Silver supply and demand.
Click here
to view full-sized image.
In fact, global demand for silver is forecast to rise to a new record high this year of 1.21 billion ounces.
Reason No. 2: We Produce Less Silver with Every Ton of Rock
This is related to peak silver. The fact is, grades at silver mines have been declining for nearly a decade now. CPM Group published data showing that grades of mined silver ore are down 55% since 2005.

While prices are up 184.71% since 2005, the price hasn't changed that much since 2010. In fact, silver was recently quoted at $22.60 an ounce. Meanwhile, the grades dropped from 9.4 grams per metric ton in 2010 to 5.8 g/t in 2020.
That's a 38% decline. And with prices about the same since 2010, that's not much incentive to find more.
Reason No. 3: The U.S. Dollar Is Poised to Slide
The U.S. dollar soared compared to other currencies during the pandemic. This is partly due to cyclical reasons founder Dr. Martin Weiss and I have discussed in great detail, but the Federal Reserve hiking interest rates certainly helped.
Now, though, Wall Street believes it sees the beginning of the end of interest rate hikes. And this is weighing on the mighty greenback.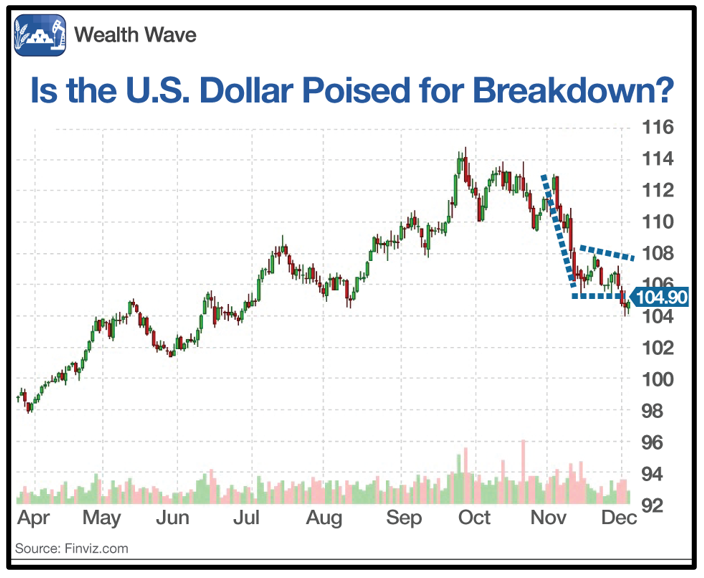 U.S. dollar chart.
Click here
to view full-sized image.
Looking at the above chart, you can see the U.S. dollar index — which measures the greenback against a basket of leading currencies — started tumbling in November. It hit support for a while, going sideways in a pattern that looks like a "bear flag." And it broke down from that flag on Friday.
The saying on Wall Street is, "Flags fly at half-mast." That gives us a target on the dollar of 98.4. And that kind of move to the downside would propel precious metals — gold and silver — higher.
That's because the metals are priced in dollars. As it goes down, they tend to move higher.
How Investors Can Play It
Last time I wrote about this, I recommended the Global X Silver Miners ETF (SIL) as an easy way to play a silver rally.
It has an expense ratio of 0.65%. Top holdings include Wheaton Precious Metals (WPM), Pan American Silver (PAAS) and SSR Mining (SSRM).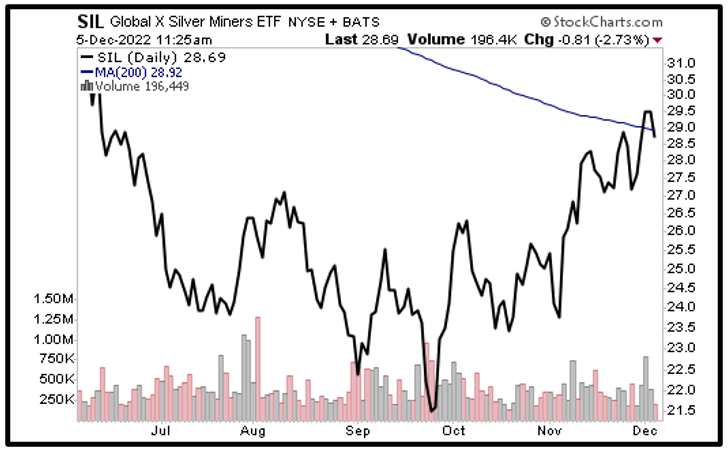 SIL price chart.
Click here
to view full-sized image.
You can see that the SIL has zigzagged higher off its lows. It is now testing overhead resistance at the 200-day moving average. This should resolve to the upside and open the door to much higher prices.
My working target is $43. That's a 50% rally from recent prices. A heck of a nice move.
And it might only be the beginning. If this is a multiyear rally like we saw start in 2003, the sky's the limit. You'll want a silver rocket ship for the trip to the moon.
If you're looking for similar plays in that space, consider joining my friend and colleague Tony Sagami's Disruptors & Dominators. Members are currently enjoying open gains of 41%, 34% and 23%!
All the best,
Sean
P.S. If you like these kinds of picks, consider tuning in for my presentation for the Money, Metals, and Mining Virtual Expo. It takes place TODAY, at 11:50 a.m. Eastern. You can register for FREE and attend from the comfort of your own home. There are a LOT of great speakers and plenty of actionable ideas. To find out more, CLICK HERE.