Start Making Your Shopping Lists in Gold!
I strongly believe gold is inching closer to a major bottom. So, it's time to start looking at what you want to buy when the bottom comes.
I have just such the idea for you today.
Why do I think gold is bottoming?
Partly for cyclical reasons. I'll show you those charts in future issues.
Also, I believe it's partly because of price action. This past week, we saw gold slump to its lowest level since March, only to then turn around and make its biggest weekly gain since early June.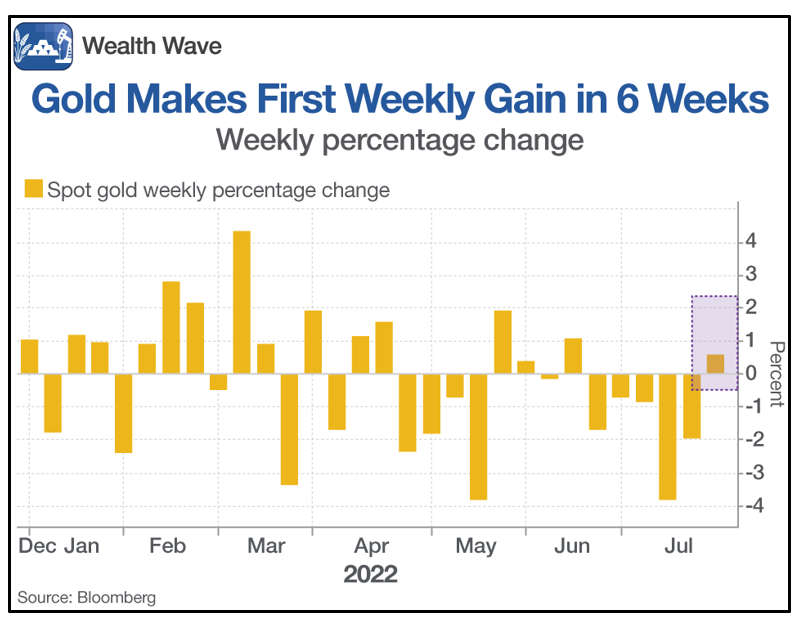 That kind of turnaround looks bullish to me!
Fueling gold's potential rally are the cycles, and we also may be seeing the rally in the mighty U.S. dollar run out of steam.
Why is that happening? Because as recession fears grow, the market is starting to price in Fed rate CUTS next year.
Then we have the three major fundamental drivers of higher gold prices:
1. Peak gold: New discoveries are going down, and grades are falling fast.

2. A growing middle class: In countries with a cultural affinity for gold, the middle class is growing. China and India come to mind.

3. Ballooning government debt: This is a global issue. To that last point, you can print fiat currency from here to Mars, but you can't print gold.
So, for all these reasons, I'm looking at gold stocks again.
A Golden Idea
Let's start with a revisit to a tantalizing little gold explorer I've told you about before: Cassiar Gold (CLGCF).It also trades as QX on the OTC market and GLDC on the TSX Venture Exchange in Canada.
Cassiar has market cap of $33 million and is exploring for gold in British Columbia, Canada, a gold-rich region.
Since I wrote about it last time, Cassiar has raised the size of its resource to 1.4 million ounces grading 1.14 grams per ton at its Cassiar North project. That's not even including the high-grade, visible gold at its Cassiar South project, which grades 10–20 g per ton of gold! And it has a third project, Sheep Creek, with even more high-grade potential.
If Cassiar is like most gold explorers, we'll start to see the big dogs show an interest when the resource hits about 2 million oz. To be sure, the company thinks they're sitting on a lot more gold than that.
Cassiar is currently doing a 20,000-meter drill program. We should see results from the program all summer.
I recently interviewed Cassiar's CEO, Marco Roque. In this video, Marco gives us the scoop on what the company is doing and hopes to accomplish.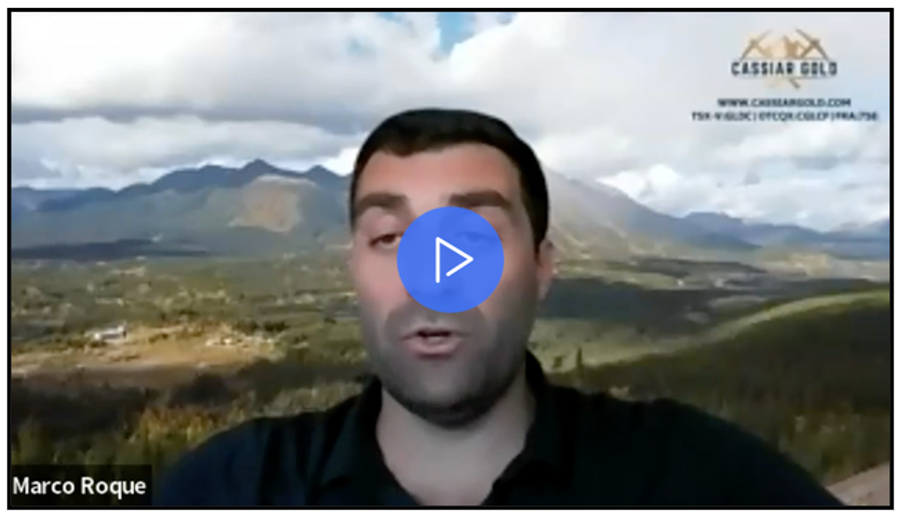 Full disclosure, I own Cassiar in my own portfolio. However, I'm not recommending Cassiar today. For one thing, it's very small. For another, while I think we're close to a big bottom in gold, we probably aren't there yet.
So, what I'm doing is making a shopping list of companies I find interesting. If you like gold — and if you think gold could blast sky-high, as I do — then you should be making your own shopping list, as well.
I'll be giving my paying members the signal when I think it's time to buy. If you're doing this on your own, complete your own due diligence and be careful.
After years of low prices, there are some amazing bargains in the precious metals space.
I strongly believe gold and silver are going to blast off. And select stocks are the tickets you need to ride that rocket.
Best wishes,
Sean
P.S. We're about to make the biggest change in our 51-year history: expanding our research to lucrative Alpha Round deals. Discover how to seize these profitable pre-IPO opportunities, including FIRST ACCESS to one deal for Weiss Ratings Members, by clicking here.