Strap In for the Cannabis Boom
Cannabis stocks are looking like sleeping green giants as sentiment shifts into higher gear.
I recently mentioned that one of the biggest days of the year for cannabis is approaching. Yes, TOMORROW is 4/20, the international cannabis holiday, which brings strong sales as people celebrate the occasion and great deals on products.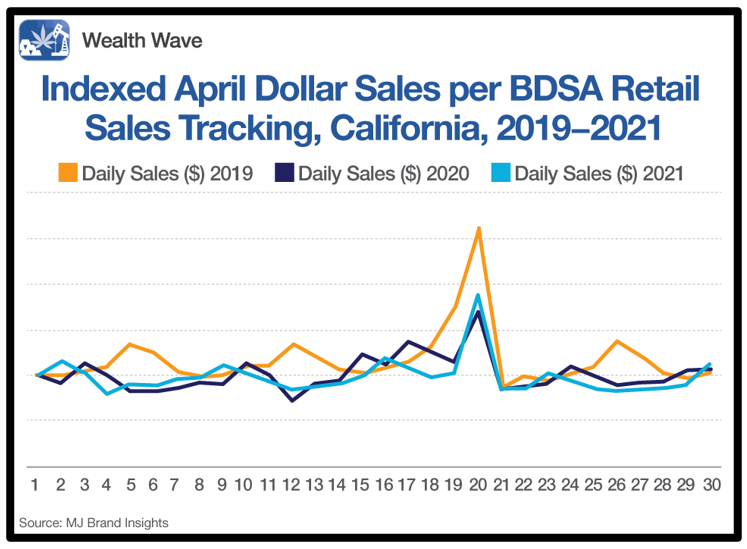 Source: MJ Brand Insights
As you can see from the chart, California experiences a massive rise in cannabis sales on the holiday.
I expect this year to be no different.
Sales are poised to boom, with experts predicting a major 100% jump this year!
Strong sales figures should get the ball rolling, but there are major drivers primed to send cannabis stocks barreling higher.
The Economic Benefits Are Compelling
The cannabis industry has worked wonders for legal markets, creating over half a million jobs while supporting agricultural, manufacturing and retail industries.
That figure could balloon to over 800,000 jobs in four years!
That's not even considering the tax revenues used to support public health programs, schools and state governments.
The cannabis industry is forecast to have a tremendous impact on the U.S. economy moving forward.
This year, it's projected to boost the economy by $100 billion! Its impact should jump to nearly $158 billion by 2026.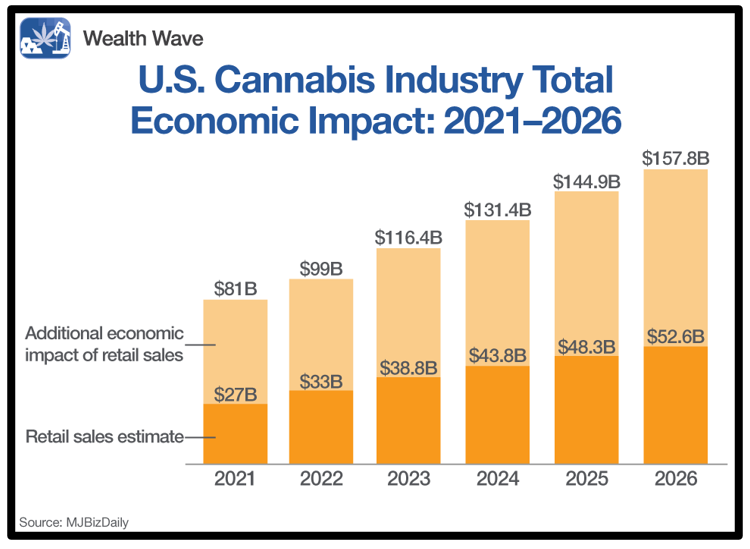 Source: MJBizDaily
Sales are only part of the equation, with positive spillover effects eclipsing sales volumes by 3 times. As state governments struggle to balance their budgets, the cannabis industry should act as a lifeline.
Legalization Is Coming … Eventually …
The cannabis industry is building momentum as both Democrats and Republicans push initiatives forward in the U.S. House and Senate.
With 91% of Americans in support of legalizing marijuana to some degree, the change is inevitable. The following chart breaks down the survey results by legal status: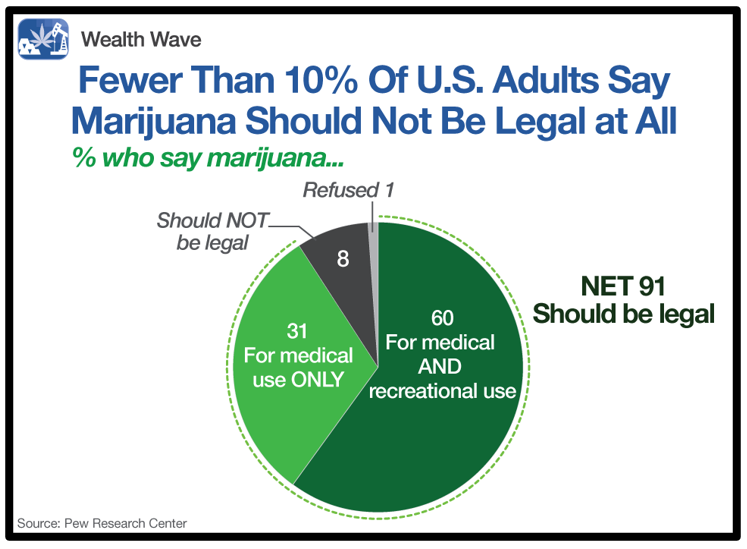 Source: Pew Research Center
Earlier this month, the House passed the MORE Act, which would broadly legalize marijuana and promote social justice.
Meanwhile, the Senate is reaching for the same goal, spearheaded by Sen. Majority Leader Chuck Schumer. He'll unveil a landmark legalization bill of his own this summer.
The biggest question is whether lawmakers take smaller steps first. If they're unable to pass sweeping reform, banking reform is the most likely outcome as advocates continue attaching it to other spending bills. Of course, state governments will create new markets in the meantime.
The effects of ending federal cannabis prohibition would be enormous, sending the industry into overdrive. With these powerful drivers, I expect the cannabis industry to recapture the spotlight.
Recently, I showed you one of my favorite ways to play the trend with AdvisorShares Pure US Cannabis ETF (MSOS), which targets U.S. multi-state operators (MSOs).
Now, I have another fund for you with the potential to ride the industry's growth to the stratosphere …
A Slam Dunk With MJ
ETFMG Alternate Harvest ETF (MJ) was the first to capitalize on the global cannabis industry, focusing on global legalization initiatives. Notably, this fund includes Canadian producers that are preparing to enter the U.S. market when the timing is right.
MJ offers diversified exposure with 35 holdings including cannabis operators, pharmaceutical companies and other key stakeholders for legalization efforts.
The fund's top three holdings are Tilray Brands (TLRY), Canopy Growth (CGC) and Sundial Growers (SNDL).
MJ's top five positions make up 35% of the fund's assets. The exchange-traded fund (ETF) trades with a liquid average volume of over 1.4 million shares, while it manages about $650 million in total assets.
Looking at MJ's weekly chart, the stock appears to be forming a bottom. Like MSOS, MJ trades close to where it was before its massive rally began in October 2020.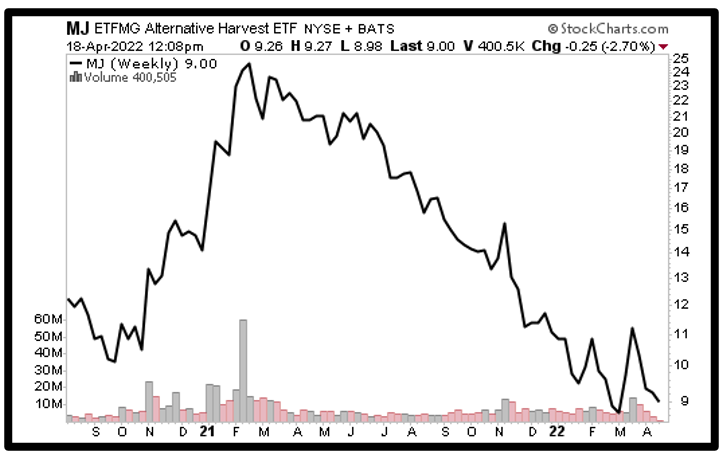 Sentiment cooled off for a while, but I expect a flurry of investors to clamor for cannabis exposure as the industry heats back up.
Cannabis stock prices soared on positive industry news in the past. Now, imagine their reaction after actual reform.
For the latest on my favorite weekly cannabis picks, make sure to follow along with my service, Marijuana Millionaire, where I cover the industry more in-depth and provide members with specific stock picks that are based heavily off the Weiss Cannabis Stock Rankings. If you'd like more info, check this out.
All the best,
Sean