The Energy Bull Hiding in Plain Sight
Energy was the best-performing sector in 2021 and 2022. That makes many on Wall Street believe that its bull run is over, and that the sector will underperform in 2023.
And sure enough, perhaps expecting bad news, we saw oil slide more than 40% from its peak earlier in 2022. That plunge dragged energy stocks down the stairs, too.
Well, hold on to your 10-gallon hats! Despite the recent bearish outlook, this sector is set up for a great year to come. And I'll name an exchange-traded fund that can do extraordinarily well during the next upswing.
One important reason why is China reopening after a long series of lockdowns due to its strict zero-COVID policies. While more people are going to get sick, the lockdowns choked economic activity.
As long as China doesn't re-enter lockdown, China's economy should heat up, and with it, that nation's oil demand.
Also, the U.S. Strategic Petroleum Reserve was a seller of oil throughout 2022 — a whopping 180 million barrels this year. Take a look …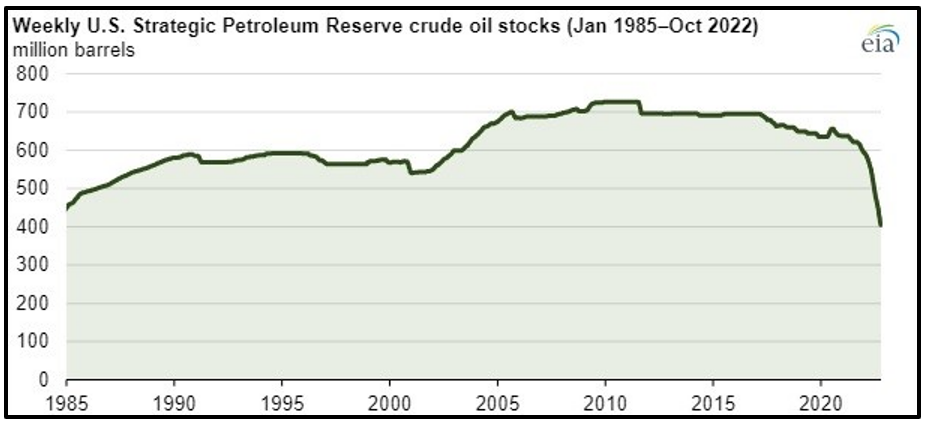 U.S. Strategic Petroleum Reserve.
Click here
to see full-sized image.
Those oil sales weighed on prices. Now, though, the SPR is about to switch from a seller to a buyer.
President Biden's administration outlined a plan in October that the U.S. Department of Energy could buy oil at fixed prices in a range of $67–$72 per barrel to restock the SPR, which is at its lowest levels since the Reagan administration in 1984.
In early December, Biden's energy security adviser Amos Hochstein added that the DOE would solicit for those barrels when oil prices were trading "consistently" around $70.
Oil prices are many things, but consistent isn't one. Nonetheless, considering that with prices so cheap, the DOE could buy a lot more oil than what it sold at higher prices, I believe the White House will feel pressure to buy.
Also, dire warnings that demand was about to fall off never materialized. In fact, the International Energy Agency recently raised its forecast for oil-demand growth for 2022 by 140,000 barrels a day to 2.3 million barrels a day.
For 2023, the IEA again lifted its demand growth forecast by 100,000 barrels a day to 1.7 million barrels a day.
There are many reasons to be more bullish on oil, including easing inflation, as measured by the Consumer Price Index. If the Fed becomes less aggressive about raising interest rates, then that could cushion whatever economic downturn is coming our way, in turn boosting oil demand.
But what it boils down to is that the fundamentals haven't really changed much, and both oil and oil & gas stocks sold off hard recently. That makes them buying opportunities.
How to Ride the 2023 Oil Bull
For diversified exposure to oil's next bull run, one ETF to consider is the Vanguard Energy Index ETF (VDE). I recommended taking a look in September, and it's already up 20% since then, despite lower energy prices.
The fund mirrors the performance of stocks in the energy sector. It holds companies involved in exploration and production of oil, natural gas and coal.
VDE's top three holdings are Exxon Mobil (XOM), Chevron (CVX) and ConocoPhillips (COP). They account for about 46% of the fund's $11 billion in net assets under management.
VDE's expense ratio is a minimal 0.10%, but its dividend recently yielded 3.1%. It averages daily trading volume of about 818,000 shares.
Looking at VDE's weekly chart, we see that it's shown considerable strength despite oil's recent slide.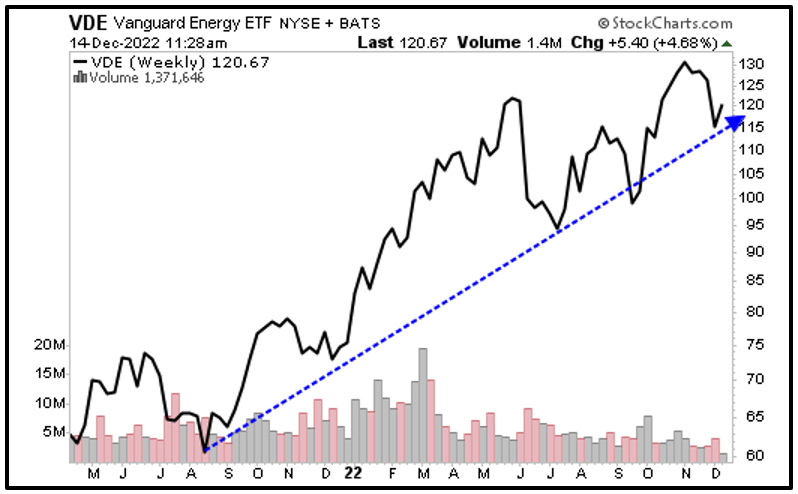 VDE weekly chart.
Click here
to see full-sized image.
Oil demand should be resilient as China eases its lockdowns and the Fed takes its foot off the gas. This ETF should continue outperforming the broader market as prices rebound.
I predicted that VDE would bounce off of support at $100 per share in September, and it rode that wave to a new yearly high. It's consolidated since then as prices fell, but the sky is the limit once it retests overhead resistance.
Make sure to conduct your own due diligence before entering a position, but it could be an excellent opportunity to load up on energy while prices are low.
All the best,
Sean
P.S. If you still haven't joined my friend and colleague Tony Sagami's Disruptors & Dominators, now is the perfect time. You can grab some end-of-year gains, just like members of his service who are currently sitting on open gains of 39%, 30% and 18%!