What to Buy as Fed Ups Pressure
The Fed raised interest rates by 75 basis points on Wednesday, causing the market to tumble as investors cope with the reality of no near-term pivot.
The move was the U.S. central bank's third consecutive hike of the same amount and a 2.25% increase in the target rate since mid-June. That's the swiftest action since the early 1980s, when Paul Volker was chair.
The extent of Wednesday's rate hike was fully priced in, but Fed officials raised their peak interest-rate target to 4.6% from 4.2%. That startled the market and caused greater volatility.
The Fed is forced to keep its foot on the gas because investors were skeptical that it would be willing to risk the health of the economy.
Raising rates is supposed to curb overheating demand, but it doesn't happen if the market isn't buying what the Fed is selling.
Now that investors know the Fed isn't messing around when it comes to fighting inflation, the tightening effects should magnify.
The action comes during the first month of the Fed's accelerated balance sheet roll-off of $95 billion per month in Treasury and mortgage-backed securities, draining liquidity further.
Stocks Should Retest June's Lows
The S&P 500 looks ready to retest its mid-June low as investors brace for more aggressive action against inflation. The Fed's 4.6% target for early next year means rates should move up another 150 bps.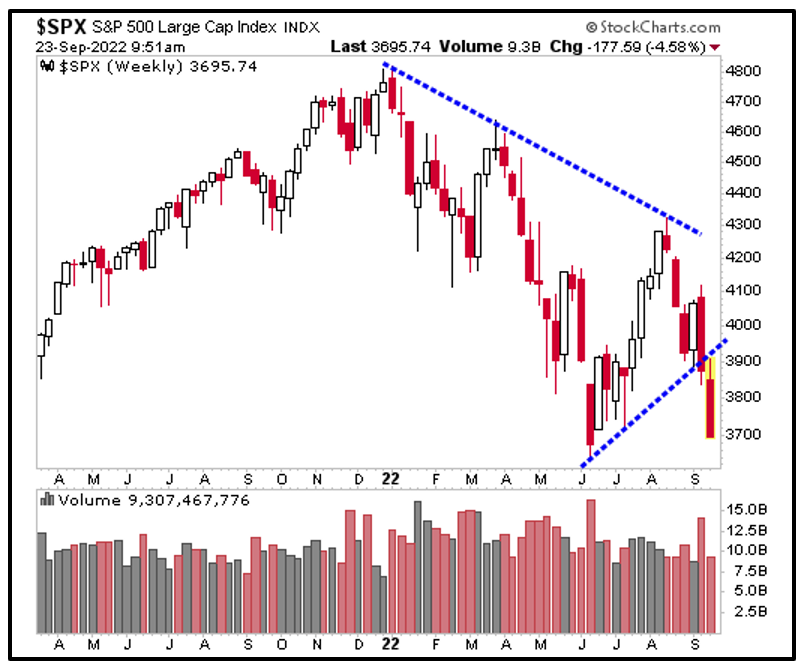 Weekly chart of the S&P 500.
Click here
to see full-sized image.
The broader market should retest its lows soon, but from there a lot will depend on if the bulls can stage a bounce of support. That would require a concession from the Fed that it will ease up its tightening cycle.
Either way, volatility is here to stay for now as changes in interest-rate expectations cause bigger swings.
Energize Your Portfolio
Historically, energy stocks significantly outperform the broader market as rate hikes take effect.
The following chart shows the performance of stock market sectors one year after the first hike in a new cycle. The first hike in this cycle came in March, so you have plenty of time to see the effects play out.
Energy prices may remain lower for now, but I've recently talked about several bullish tailwinds for the sector moving forward.
With demand resilient, supply tight and war raging on in Ukraine, I expect oil to reflect its strong fundamentals soon. After all, prices remain artificially low since the U.S. continues releasing inventory from its Strategic Petroleum Reserve.
As uncertainty builds and the Fed continues raising interest rates, one fund to investigate is the Vanguard Energy Index Fund ETF Shares (VDE).
The VDE tracks an index composed of oil and gas companies involved in exploration and production; equipment and services; and refining and marketing as well as storage and transportation.
The fund manages about $10 billion in net assets, and its top three holdings are Exxon Mobil (XOM), Chevron (CVX) and ConocoPhillips (COP). Together, they account for over 45% of its total assets.
VDE's expense ratio is 0.10% while its dividend recently yielded a solid 3.3% annually. The fund averages about 920,000 shares in daily trading volume.
VDE's weekly chart shows that it has mostly traded resiliently:
Despite its recent weakness, VDE tracks a 41% year-to-date gain compared to the S&P 500's 23% decline. It has mostly traded back and forth between $100 and $125 per share.
The fund has consolidated since the strong rally at the beginning of the year, but it could decisively bounce off support near $100 per share.
Always do your own independent research, but it helps to invest in sectors with positive tailwinds.
All the best,
Sean
P.S. Dr. Martin Weiss and a special guest expert who picked the last bottom are getting ready to show our members how to spot the NEXT bottom. Not only is it coming our way, but the list of winners will look VERY different from the last. Get that list and more Wednesday, Sept. 28 at 2 p.m. Eastern. Click here to get your free ticket.