Opportunities Abound in Energy
The wild swings in the market finally spilled over into energy, capping a recent rally off of multi-month lows.
But the doom and gloom on oil stocks I'm hearing from market pundits doesn't line up with reality. Let's start by looking at the recent action in West Texas Intermediate, the U.S. crude oil benchmark: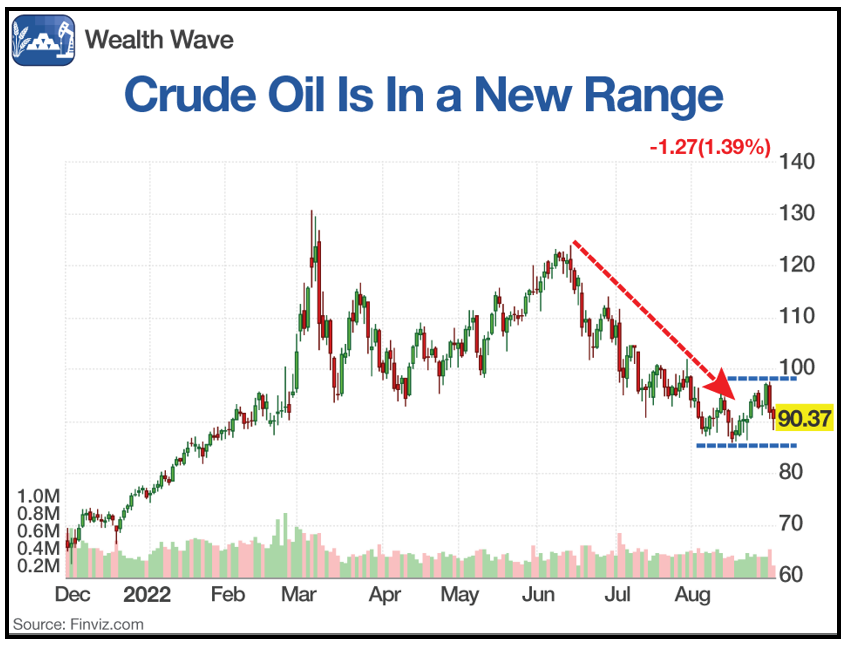 You can see that crude was in a downtrend that started in June. Then it bottomed in August. It tried to bounce, but Fed Chair Powell's hawkish words last week made traders worry about economic growth, and capped the oil rally.
We saw a sharp pullback in oil this week, and that sent stocks leveraged to oil swooning. But you know what? Oil is now in a trading range between $86 and $97. And there are some great companies that make a lot of money in that price range. A HECK of a lot of money.
In fact, the seven supermajors — ExxonMobil (XOM), ConocoPhillips (COP), Chevron (CVX), BP (BP), Shell (SHEL), TotalEnergies (TTE) and Eni S.p.A. (E) — have so much cash on hand that they're buying back a whopping $38 billion of their own shares this year. That's according to data from Bernstein Research.
Sure, concerns about tighter economic policy and economic slowdowns in China and Europe are real. We could also see more supply from Iran. But it's also true that:
• Supply is skin-tight. The Energy Information Administration reports that crude oil stockpiles fell 3.3 million barrels in the most recent week, putting inventories near the bottom of their five-year range.

• OPEC+ is talking about production cuts. Saudi Energy Minister Prince Abdulaziz bin Salman Al Saud pushed that message by saying oil producers could respond to volatile oil prices, "including [by] cutting production at any time and in different forms." And OPEC President Bruno Jean-Richard Itoua said he could back such action.

• U.S. exports hit a record. The U.S. exported more than 5 million barrels a day of crude oil in August — a new record. Those shipments will fluctuate but are expected to average more than 4 million barrels a day into next year. This is bidding up U.S. oil prices, so much so that in a letter sent Aug. 18, U.S. Energy Secretary Jennifer Granholm begged refiners to NOT increase exports further.
To all this, let's add that the war in Ukraine showing no signs of subsiding, the rapid rise of costs in the global energy market continues to be a great opportunity for investors.
Russia's left a big hole in the natural gas markets by cutting off supply to Europe, and the country also cut down their oil exports due to sanctions from the West.
Gasoline prices have come down in recent weeks as inflation and demand for gas cools, but they're still higher than usual, and the U.S. Strategic Petroleum Reserve will need to be restocked at some point.
These are all nice drivers for the energy market, and investors shouldn't be taking a break from buying up high-dividend yielding energy stocks and exchange-traded funds. Here are some of my recent columns about energy … and about those investment opportunities.
The Bonus From America's Oil Boom
Recently, sentiment in the oil markets has cooled as the national average price of gasoline dropped below $4 a gallon for the first time since March. I can't blame investors for being less bullish on oil … but this is a buying opportunity as demand isn't going away, especially globally.
Natural Gas' Explosive Profit Potential
I'll bet you dollars to donuts that natural gas prices here in America haven't peaked … and companies leveraged to it stand to reap windfalls of profits. The U.S. still has more liquified natural gas export capacity and Europe is going to need it with no signs of Putin backing down in Ukraine.
Oil and natural gas continue to be pulled in two directions, but I think a rip higher is coming for oil and gas stocks. Even better, it's easy to screen for energy stocks that pay hefty dividends, which will cushion your portfolio in a rough market and provide plenty of upside. Here's how to do it.
As much money as there is in oil now, there's a heck of a lot more opportunity in natural gas. The price of natural gas in Europe is now trading over nine times the price here in the U.S. I recently explained that the price in Europe was 7.5 times the U.S. price. Since then, U.S. natural gas has rocketed to a record high, but the price in Europe keeps outpacing it.
All the best,
Sean