The Next Gold Boom Is Here
Gold's had a pretty good 2022 … but it's going to get a lot better. I told you I was turning very bullish on gold in a column on March 26.
I'm even more bullish now!
My intermediate-term target for gold is $2,400 an ounce! I'll show you why.
Longer term, I strongly believe gold could be going to $7,000 an ounce! That would be more than TRIPLE recent prices.
Let me share a couple charts with you. They're from the presentation I'll be making for the MoneyShow's Money, Metals and Mining Virtual Expo on Wednesday.
First, let's look at how gold performs during Federal Reserve interest rate hike cycles. We're in one now —the Fed just hiked its benchmark interest rate at the last meeting of the Fed Open Market Committee (FOMC) … and is telegraphing that a series of hikes is coming.
Many investors think that's bad for gold because gold doesn't pay interest. Therefore, they believe this makes gold less attractive compared to other investments.
They couldn't be more wrong.
What they forget is that interest rate hikes don't happen in a vacuum. They happen when inflation is heating up. And right now, inflation is on fire! Prices are surging at a rate of 7.9% year over year — a new 40-year high!
And gold is a historical hedge against inflation.
Jeff Clark at GoldSilver.com crunched the numbers recently on what happens to gold during interest rate hikes. Take a look: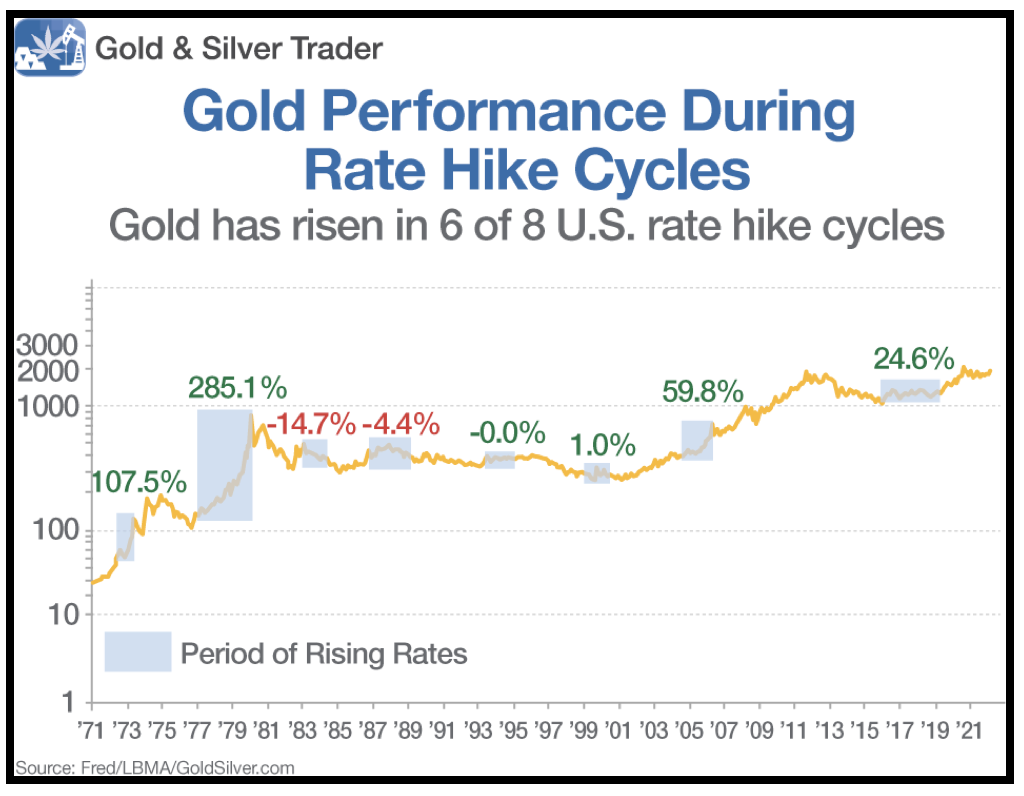 Jeff writes:
"Of the eight hike cycles in the U.S., gold has risen in six of them. And in more than one case, substantially. In fact, the average of those six gains is 79.6% (the average of all eight is 57.3%)."
Wow!
That's a pretty good case for owning gold during an interest rate hike cycle — like now.
And my Gold & Silver Trader subscribers are well aware of the gains that everyone's yellow friend can provide.
In my service, I dive into hot resource trends and help my subscribers achieve their precious metals investing goals on a more tailored basis. If you'd like to learn more, check this out.
Next, let's look at the technical setup in gold. To be sure, charting metals — or stocks, bonds, anything — is an art, not a science.
The old saying on Wall Street is "every sunken ship has a chart." But the kind of breakout we're seeing in gold now really raises the odds that gold's next big move is higher.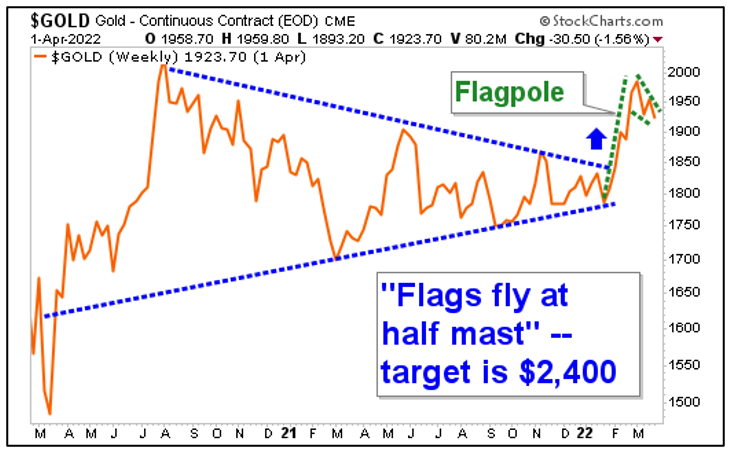 It sure looks like gold is forming a pattern called a "bull flag." Another saying on Wall Street is "flags fly at half-mast."
And in fact, statistics from Thomas Bulkowski, author of the book entitled, "Encyclopedia of Chart Patterns," show that bull flags meet their upside targets 64% of the time.
That makes bull flags one of the most successful technical chart patterns in the market. Nice!
This chart pattern gives us a target of $2,400 on gold.
What would $2,400 mean for gold miners who are leveraged to the price of the yellow metal? I can think of a bunch of miners whose share prices are on the launchpad.
Many of them are tracked in the VanEck Gold Miners ETF (GDX). To be sure, select individual stocks will likely outperform the GDX by a wide margin.
I name a bunch of them in my presentation for the MoneyShow's Money, Metals and Mining Virtual Expo on Wednesday.
Should you attend this presentation? Yes!
Heck, you don't even have to leave the comfort of your own couch. And, I'm telling you about a list of potential winners as gold breaks out to the upside. You do need to register.
The opportunity is here. It's your turn to take your shot. I'll give you plenty of ammunition in my MoneyShow presentation. I'll see you there.
All the best,
Sean Brodrick