The U-Boat Is Setting Sail for Profits
I've told you a couple times this year that uranium miners are ready to ride a rising tide of demand to enormous profits.
It's happening right now.
Are you onboard the uranium boat yet? Or are you going to be left on the dock as the rest of us sail uncharted waters to potentially enormous wealth?
I have three charts for you to make my case.
First, uranium prices just surged to a six-year high.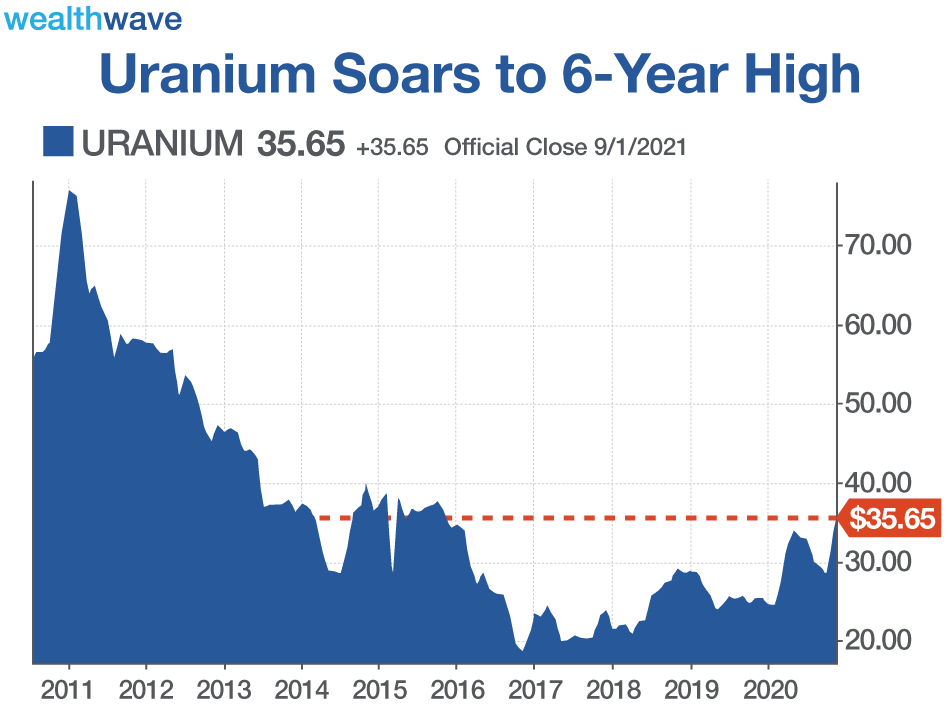 It may not look like a lot compared to previous peaks, but uranium closed at $35.65 on Wednesday. That's the highest level since November of 2015.
Sure, it's nowhere near the January 2011 peak of $67. What you can't see on this chart is an even earlier peak of $137 in 2007!
•  The point is, uranium just made a six-year high, but it can go a lot, LOT higher.
So, what's driving this?
The most immediate force seems to be funds that hold physical uranium. They are buying like mad.
For example, last week Yellow Cake Plc (OTC Pink: YLLXF) — a Britain-based fund that holds physical uranium — signed an agreement with the world's biggest uranium producer, Kazatomprom, to purchase an additional 2 million pounds of triuranium octoxide (U3O8) at a price of $32.23 per pound. That will raise Yellow Cake's total holdings to 15.86 million pounds of U3O8.
But the biggest driver is a Canadian fund, Sprott Physical Uranium Trust (OTC Pink: SRUUF), which took over stodgy, old Uranium Participation (another Canadian uranium fund) and converted it from lumbering delivery truck to a sports car. Metaphorically speaking.
Sprott just issued 1.56 million physical uranium trust units raising $14.6 million, which it's using to stack another 400,000 pounds of U308. This is on top of Sprott's already aggressive uranium purchasing strategy, which puts it on a path to buy more than 20 million pounds of U3O8 this year, or about enough to fuel 40% of America's nuclear reactors.
Why are Sprott, Yellow Cake and other funds buying so much uranium?
Because they can read a chart, too.
Specifically, this chart:
This chart is a forecast of the growing supply/demand gap in the world's uranium markets.
You can see that gap is widening like the Grand Canyon. The guys who run Sprott are pretty sharp, and they know an opportunity when they see it. The rest of the world will catch on soon enough.
So, what is this doing to the share prices of companies that mine uranium or are developing uranium resources? They are on fire!
Let's look at a year-to-date performance chart of the Global X Uranium ETF (NYSE: URA) and the NorthShore Global Uranium Mining ETF (NYSE: URNM) compared to the S&P 500 …
It's been a wild ride, that's for sure. That's why I wanted to show you year to date so you can appreciate the volatility of these stocks. You should go into this with eyes wide open. But oh, how that volatility has paid off in the past month. Uranium stocks are soaring and these exchange-traded funds (ETFs) are blasting off.
Can they go higher? Sure they can. The uranium supply/demand squeeze is real. The price of this energy metal is so far below its historical highs. The profit potential is enormous.
For ordinary investors, I would recommend sticking with these ETFs. They're very liquid. If you can stomach more risk for potential return, drill down to the individual stocks in each fund.
But those two physical funds I mentioned are really only for experienced investors, and it's much better if you buy their Canadian or British listings, which are much more liquid than the OTC Pink versions.
The uranium ship is sailing. I hope you're onboard already. If not, there's still time — but get your ticket soon.
All the best,
Sean
P.S. Speaking of energy metals, the New Orleans Investment Conference is coming up next month, and believe me, you'll kick yourself if you miss it. I'll be there speaking about The Winners of the EV Megatrend, and the massive supply/demand squeeze this is sparking in lithium, rare-earths, copper, nickel and more.
It's also a great opportunity to support a community that'll be coming out of a very serious natural disaster.
I'm only one speaker. Doug Casey … Rick Rule … Dave Collum … Grant Williams … Dominic Frisby … Peter Boockvar … Mark Skousen … The Real Estate Guys … Gwen Preston … Brien Lundin … Bill Murphy … Chris Powell … Brent Cook and many more will be there. It's going to be awesome. You can find out more — and register — by CLICKING HERE.
I'm not planning on speaking about uranium this time. But if you attend my live presentation and ask me for my favorite uranium stocks, I'll name names. So, keep that in mind, too. Space is limited, so HURRY. I'll see you there!