2 Imminent Trends in Crypto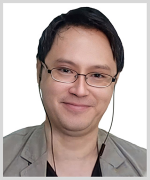 By Bruce Ng
Narratives are stories people tell each other as to why certain sectors will outperform. And crypto runs on narratives. The most recent example being memecoins, of which Pepe (PEPE, Not Yet Rated) was the most prominent.
A variety of factors can feed a narrative, with fundamentals, hype and community being a few.
But narratives come and go. In crypto, they hardly last a few weeks. Strong ones will last maybe a month at most.
So, identifying narratives before they take off can be really difficult. That's why at Weiss, we identify multiple possibilities instead of one single narrative.
Here are two narratives we think will feature prominently in the coming weeks.
Narrative No. 1: Layer-2 Scaling Solutions
All the memecoin trading activity has caused Ethereum (ETH, "B") transaction fees to skyrocket from $6 to $50.
The narrative that Ethereum is expensive to use is re-emerging despite all its recent upgrades. That means the scaling solutions offered on Layer-2 networks are needed.
As a reminder, a Layer-2 solution is any blockchain that is built on top of a base chain to scale it. Examples of these include Arbitrum (ARB, Not Yet Rated), Optimism (OP, Not Yet Rated), Metis (METIS, Not Yet Rated), Polygon (MATIC, "B"), zkSync and StarkNet.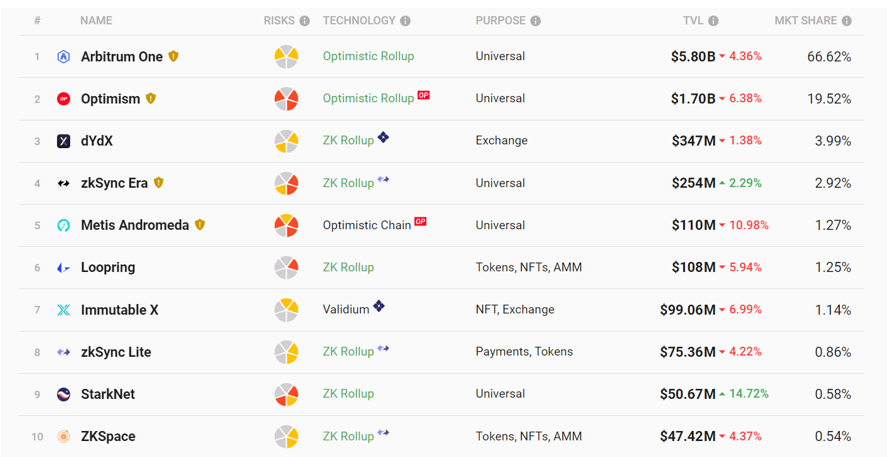 TVL for the top 10 Layer-2 solutions.
Source:
L2Beat
.
Click here
to see full-sized image.
Layer-2 solutions make transactions cheaper and faster by settling transactions off the base chain. Then, they record those transactions on the base chain at regular intervals.
For example, it only costs 10 cents to send a transaction on Arbitrum vs. $6 on Ethereum. And this difference is attracting users.
We can measure usage by the Total Value Locked, or TVL. This is a measure of how much adoption each L2 chain has. And looking at the chart above which ranks the top 10 L2 solutions, it is obvious that Arbitrum leads the pack by a wide margin.
In terms of the number of applications built, Arbitrum blows the others out of the water. Its closest competitor, Optimism, supports only 113 applications compared to Arbitrum's 287.
More applications mean more usage. And we think Arbitrum's ARB token represents a promising opportunity … especially considering the expensive transaction fees on Ethereum.
However, I caution you not to dismiss new L2s like zkSync and StarkNet. Both have yet to launch a coin or a mainnet, but we will keep a close eye on them for upcoming developments.
Narrative No. 2: Liquid Staking Derivatives Protocols
Ethereum's Shanghai upgrade finally unlocked liquid staking on ETH, also known as Liquid Staking Derivative, or LSD.
Typically, how it works is that instead of staking ETH on Ethereum — which requires 32 ETH and a lot of technical know-how — you stake however much ETH you want on an LSD platform like Lido DAO (LDO, Not Yet Rated), Rocket Pool (RPL, Not Yet Rated) or Frax Share (FXS, Not Yet Rated).
LSD platforms work by allowing you to stake your ETH with them for a yield. In return, you get a 1:1 claim on the staked ETH in the form of another token called stETH, which is liquid.
You can earn interest on the staked ETH with no lockups and without having to maintain your own technical infrastructure.
Additionally, you can use the stETH tokens for other purposes like lending and trading since they are liquid.
Here's a more detailed comparison between staking directly on Ethereum yourself vs. staking with an LSD:
The most obvious advantage is that you do not need to foot a minimum stake of 32 ETH. So, LSDs can be used by small and large holders alike.
Also, most users do not have the technical infrastructure to properly maintain a server 24/7. So, LSDs can be used by those with less technical knowledge as well.
In addition, you can get boosted yields by staking on LSDs.
For example, Lido provides a yield of 10% vs. a yield of 8.5% from staking on Ethereum. The extra yields are obtained from LDO token rewards.
Navigate to the Lido staking page to take a look: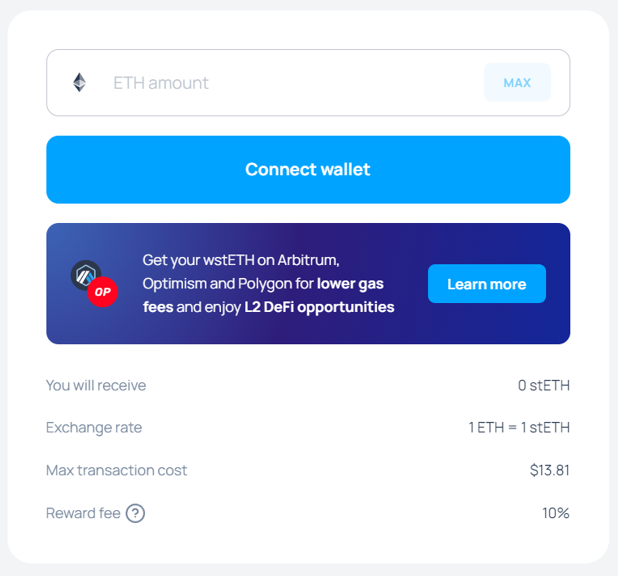 Overall, we think Layer-2 solutions and LSDs will be strong narratives in the coming weeks.
But please keep in mind that all the coins mentioned above are not recommendations per se. They are merely being used as examples.
For instance, LDO has experienced major price appreciation since its launch two years ago.
If you would like to find out which coins have more profit potential as well as the ideal time to hop on these opportunities, I encourage you to subscribe to my colleague Juan Villaverde's Weiss Crypto Portfolio.
Best,
Bruce