5 Ways Crypto Is on the Front Lines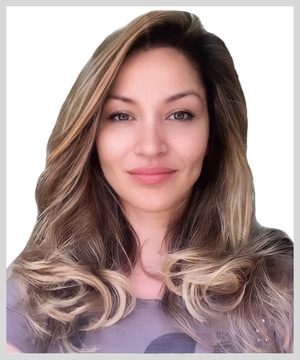 By Marija Matic
A drop in crypto prices coincided with the start of Russia's invasion of Ukraine five days ago.
Since then, Bitcoin (BTC, Tech/Adoption Grade "A-") has rallied on a few occasions. We think it's fair to say that it looks very strong right now, jumping over 5% during today's peace talks.
Meanwhile, all sorts of unexpected things have happened since the war started. And crypto found itself at the forefront in five surprising ways.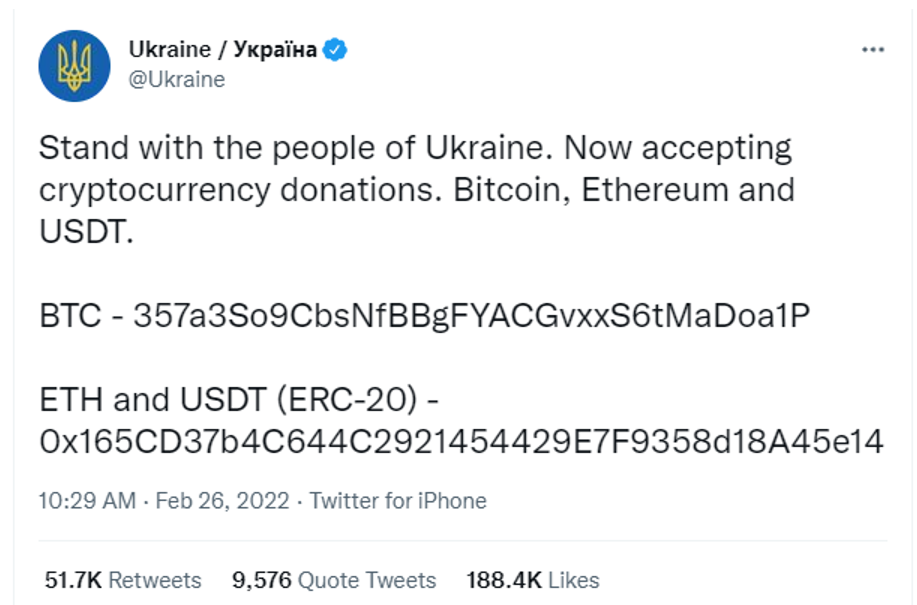 First, Ukraine has raised $13 million in crypto after crowdfunding appeals on social networks. Ukraine's ministry of digital transformation said that Bitcoin, Ethereum (ETH, Tech/Adoption Grade "A") and Tether (USDT, Stablecoin) will be used "to destroy as many Russian soldiers as possible."
Second, Mykhailo Fedorov, Ukraine's vice prime minister and minister of digital transformation, has asked exchanges to freeze Russian and Belarussian crypto accounts. He said it's important to "sabotage ordinary users'' as well.
Third, Kraken and Binance have reacted by explaining why they won't freeze the accounts.
Binance wrote:
We are not going to unilaterally freeze millions of innocent users' accounts. Crypto is meant to provide greater financial freedom for people across the globe. To unilaterally decide to ban people's access to their crypto would fly in the face of the reason why crypto exists.

However, we are taking the steps necessary to ensure we take action against those that have had sanctions levied against them while minimizing impact to innocent users.
The founder of Kraken said that they "cannot freeze the accounts of Russian clients without a legal requirement to do so," but "Russians should be aware that such a requirement could be imminent."
(Our) mission is better served by focusing on individual needs above those of any government or political faction.

The People's Money is an exit strategy for humans, a weapon for peace, not for war.
Fourth, Ukrainian-based exchange DMarket has frozen accounts from all Russian users. It also moved their 100 employees to Montenegro three weeks ago.
Fedorov has commented that "funds from these [frozen] accounts could be donated to the war effort. Nowadays Robin Hoods."
Fifth and finally, when it comes to potential SWIFT sanctions that could have direct implications on crypto — there is no full cutoff yet.
As the situation stands, only select Russian banks are cut off by the U.S. and European Union, but this is subject to change.
The head of the Central Bank of Russia, Elvira Nabiullina, believes that the bank's financial messaging system designed to compete with SWIFT will be able to replace it. This, in turn, would enable the Russian financial infrastructure to work smoothly.
Whether that can or will happen remains to be seen.
In the meantime, it has become clearer than ever that crypto is and will be extremely important to both sides and the whole of Europe.
As I wrote last Monday, in a piece named "Should Bitcoin Fall with the Rise of Geopolitical Tensions?":
[The Ukraine] situation shows the need for crypto ... and [is] exactly why [Bitcoin] should reduce its correlation from the S&P 500 and the Nasdaq.
And I will repeat one more time the words of former fund manager James Lavish:
"If you are selling Bitcoin here because of fears of war and civil unrest, you have absolutely no idea what you own and why it is so vitally important for the world at this very moment."
BTC/USDT daily TradingView's chart shows BTC rallying today and hitting its 50-day exponential moving average (orange line) at $41,343: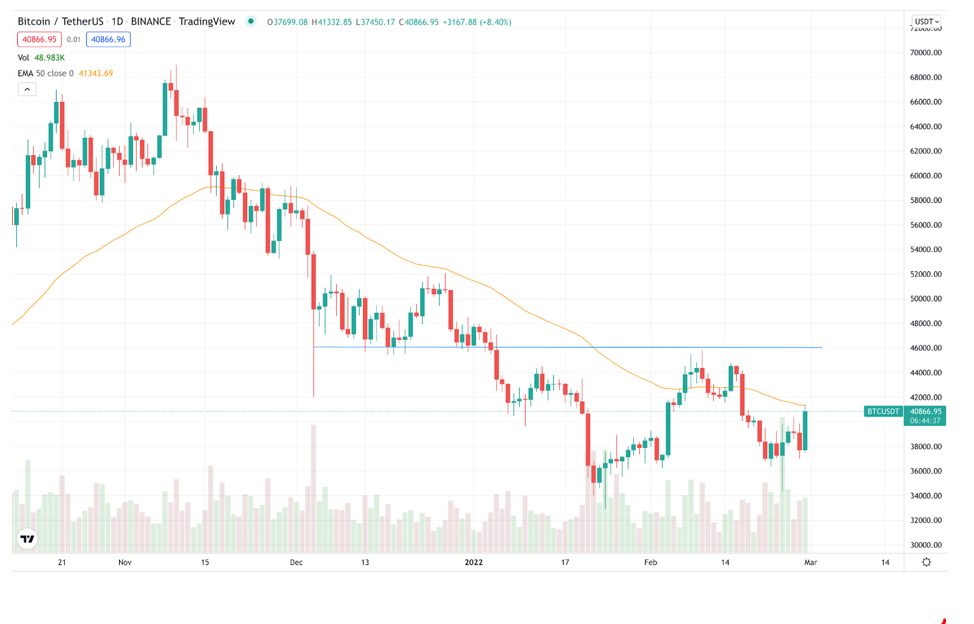 Notable News, Notes and Tweets
What's Next
Bitcoin is trying to break through overhead resistance at $41,500. The pump higher was extremely strong and is riding on the waves of peace talks.
There is a high chance that it breaks above that level, which would be bullish for Bitcoin.
But as with all things right now, much depends on the ongoing geopolitical situation. So, continue to HODL and check in for the latest updates before making new moves.
Best,
Marija Matić