A Contentious Week in Crypto Quiets Down
Just a few days ago, Bitcoin (BTC, Tech/Adoption Grade "A-") entered yet another correction period. Some saw the dip and were quick to jump into bear mode, pointing out that we're "entering the bear market for sure."
Of course, we're not. But for these traders, every pullback is a change in the trend and every surge is the start of the next parabolic rise.
Even those looking for bullish signals for their favorite cryptos are just as sensitive, attacking anyone pointing out any downside action. This is exactly what happened to Peter Brandt after posting this tweet: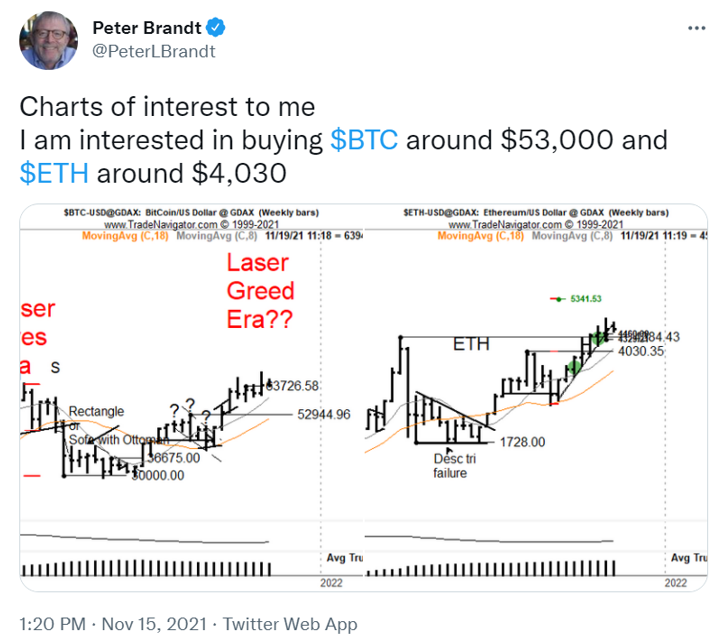 As you can see, his ratio is simple: He says he's buying these cryptos if they reach the prices he outlined.
Sadly, this message has been misinterpreted by several hundreds of inept and highly vitriolic crypto enthusiasts who have failed to see the message for what it really was: a simple statement about the current market situation and price points Brandt is interested in buying BTC and ETH. After stating he's not trying to short the market or predict the future price action, Brandt did what any mature person would do: He took a break from the Twitter CryptoSphere ... and from trying to reason with irrational and emotional newbies.
I can't say I blame him. Our analysts also pitched their own thoughts on Brandt's "controversial" tweet: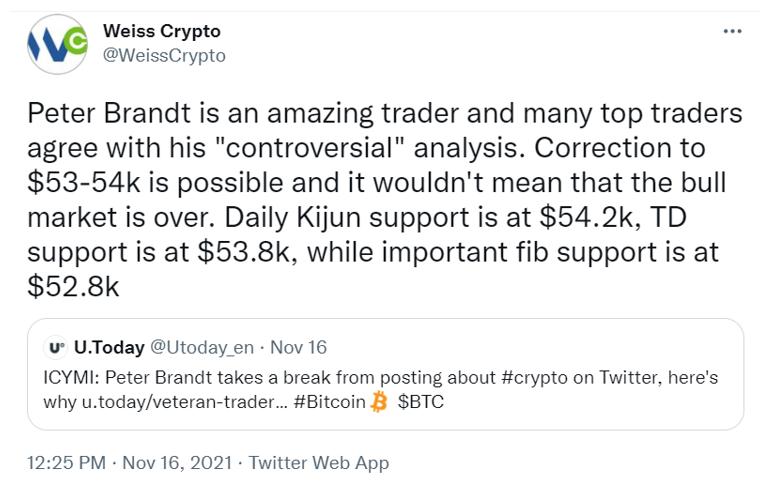 It's sad to see newbies dissing the legendary trader because they don't have his level of knowledge and experience.
It's just as sad — or maybe even more so — to watch "no-coiners" resist crypto adoption that could be a pretty big deal for Web 3. I'm talking about Discord's (now scrapped) plans to integrate MetaMask and ETH-based non-fungible tokens (NFTs).
It's not a solid plan. Ethereum is neigh unusable due to its outrageous fees. Still, these NFTs could be made available to the masses via another network, which is the exact point we made in our own Tweet about the event: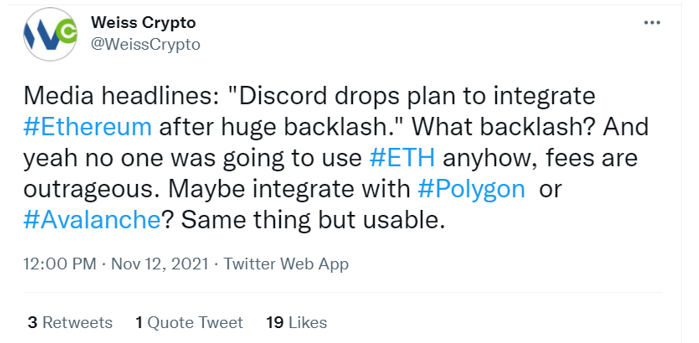 However, crypto skeptics wanted none of it. Instead, they equated NFTs to a Ponzi scheme and blamed them for damaging the environment ... due to the amount of energy consumption used to mine cryptocurrencies.
Again, misunderstandings like this are simply due to the lack of information and unbiased education.
Even though these loud no-coiners bear much of the blame, a part of it is on Discord's CEO, Jason Citron, because he didn't do the groundwork. If he had done his research, he would've known that this was the best time to introduce NFTs to Discord's ecosystem: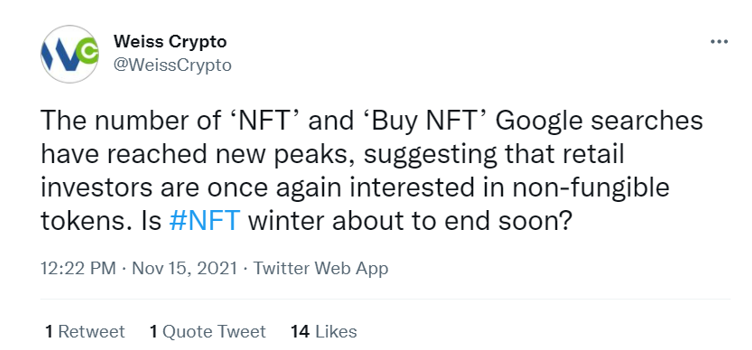 But the ignorance doesn't stop there. Even the Indian government can't wrap its head around the proper crypto terminology, going as far as equating cryptos — which are not private, i.e., not owned by one authority — with central bank digital coins (CBDCs) —which are private. This fundamental misunderstanding led them to say they would ban all private cryptocurrencies: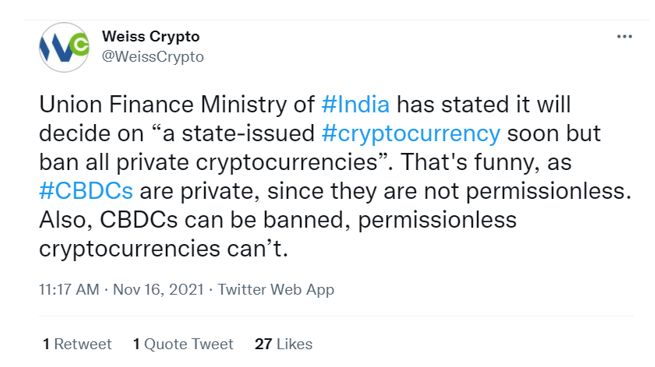 Speaking of CBDCs, the European Central Bank is itching for a digital euro ... and the centralized oversight and control it brings.
CBDCs are bad for multiple reasons. But there is hope to be found in the lack of competence and speed these bureaucrats are well known for: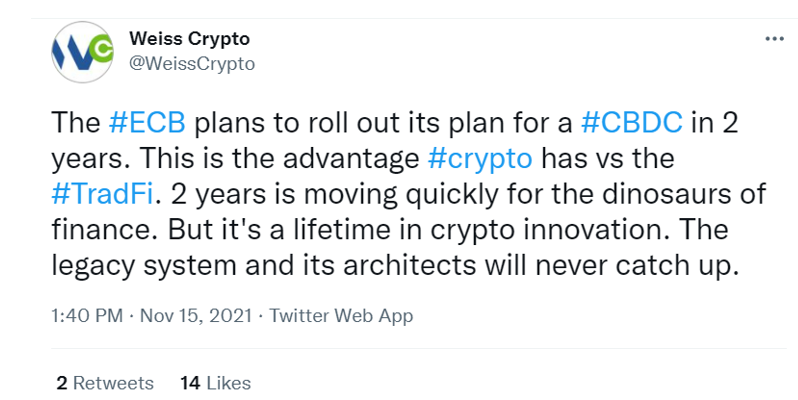 But there has been other news beyond the widespread misunderstanding and rejection of cryptocurrencies this past week. The Polkadot (DOT, Tech/Adoption Grade "B") parachains — or parallel blockchain — auctions have started, and Bitcoin launched its Taproot update, the first significant upgrade in four years.
These — and many other developments over the past week — are a testament to the truly forward-looking crypto industry. It's this breakneck pace of development and the daredevil mentality of innovation that separates crypto from the slow-paced mastodons of traditional finance (TradFi), drunk on bureaucracy and overregulation.
Hopefully, this innovative pace will continue to set crypto apart from TradFi ... and allow it to outperform and outlive all centralized pretenders to the throne of global finance.
Until that day comes, stay safe and trade well.
Jurica Dujmović