Altcoins on the Move Once More
Bitcoin (BTC, Tech/Adoption Grade "A-") is attempting to break out above $50,000.
Polygon (MATIC, Tech/Adoption Grade "B-") has been continuing to climb its upward trading range.
Avalanche (AVAX, Unrated) continues its climb, as well.
It would seem that Bitcoin has established a bottom for this latest correction.
On Monday, my colleague Marija Matic noted a falling wedge pattern appearing on Bitcoin's chart.
In her own words, "This pattern is considered to be bullish since it usually breaks upward."
And break upward it has. Yesterday Bitcoin was able to block out the bearish headlines and rise from the mid-$48,000 range to knock on the door of the $50,000 level.
While this push didn't have the strength to break through that resistance level, it did allow Bitcoin to establish what looks to be new support near $49,000.
If it can breach $50,000, Bitcoin's next target will be to overtake its 21-day moving average near $51,000, shown in red in the chart below.
But BTC needs more support from the bulls to close above that metric.
Here's BTC in U.S. dollar terms via Coinbase Global (Nasdaq: COIN):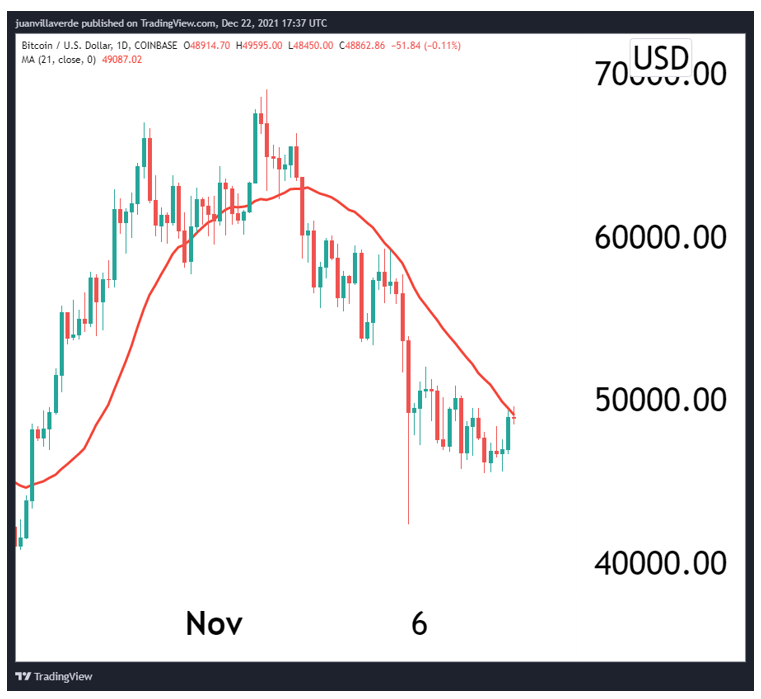 We've always stated that sideways BTC trading allows altcoins to diverge away from BTC ... and that's exactly what we're seeing so far this week!
While Bitcoin isn't quite in the clear just yet, this bullish move has given certain altcoins the push needed to mount comebacks of their own.
Altcoins like MATIC, which was one of the best-performing altcoins in November.
Polygon has continued to show improvement and has been handing out grants left and right to gaming and non-fungible token (NFT) projects on its network.
The team is clearly betting on the future of their ecosystem and investors are catching notice.
MATIC has been in an upward-facing channel. With the boost from Bitcoin, it's now threatening to break above that channel, which would likely spur a race to new all-time highs.
Things could get very exciting for MATIC in the near future.
Here's MATIC in U.S. dollar terms via Coinbase: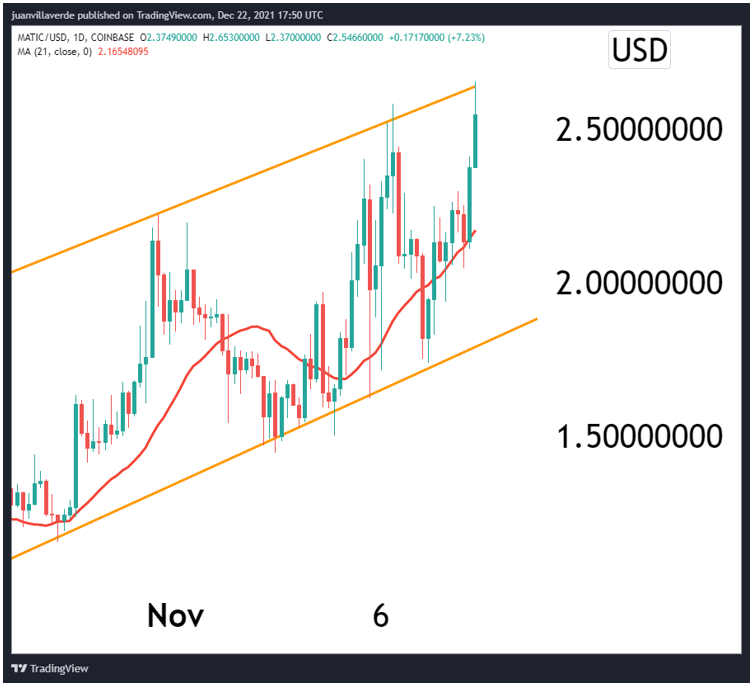 Another crypto breaking out is Avalanche, another smart-contract protocol that hit a new all-time high just before the early December market crash.
With both MATIC and AVAX making such bullish moves, we have reason to believe the breakout of smart-contract protocols we saw in late summer and early fall is not over yet.
Remember, in crypto the trend is your friend.
AVAX is back above $100 after falling as far as $75 in the latest correction and is now creeping closer to its all-time high of $146.
Here's AVAX in U.S. dollar terms via Coinbase: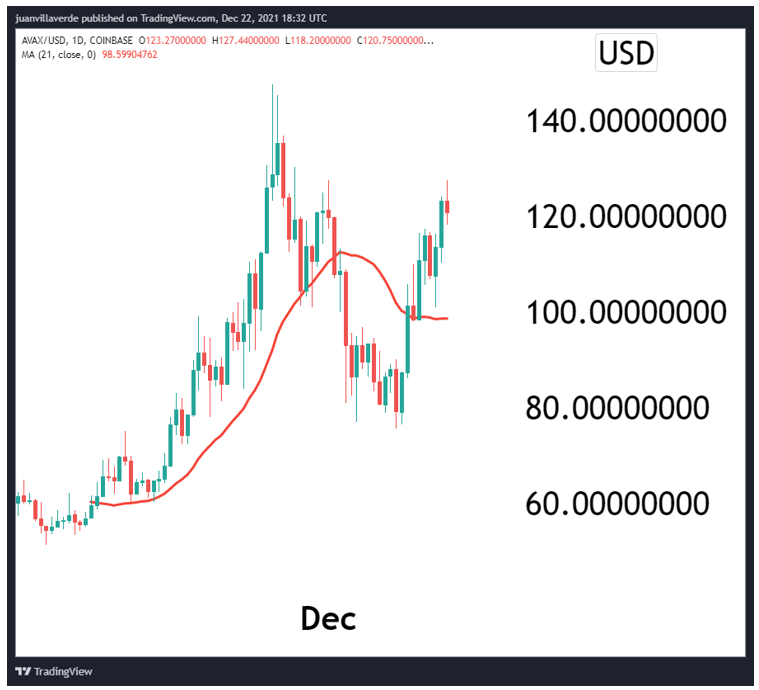 Notable News, Notes and Tweets
What's Next
We know how boring the market can be when both Bitcoin and Ethereum are stuck trading sideways. It can suck the fun out of this usually exciting marketplace.
However, during times like these, there are always opportunities popping up in the altcoin sectors.
Both Polygon and Avalanche are examples of how altcoins can break out even when the market leaders are sitting still.
This market will inevitably heat back up. In the meantime, blue-chip altcoins should begin to move again soon.
For now, take the time to enjoy the holidays and wait for the market to correct itself as we close out the year.
Best,
Alex