An Urgent DeFi Feature Is in the Works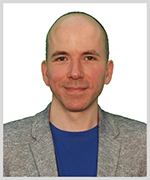 By Chris Coney
How long have you been in crypto?
Has it been five years? Are you just starting out? Or have you not started yet?
Whatever stage you are at, I am willing to bet there is one feature of DeFi blockchains that we all want: the ability to pay transaction fees in any token.
This is a feature so necessary it is hard to believe we don't have it yet.
And as a world leader in crypto and DeFi education, this is a problem that has plagued me for years.
In my view, this can serve as an obstacle to new crypto users.
For example, in my Crypto Yield Hunter service, the first step is explaining to my new members that they need to convert their dollars into crypto.
Then, I have to clarify why they need a few hundred bucks of Ethereum (ETH, Tech/Adoption Grade "B") withdrawn to their private wallet in order to pay fees.
But it gets worse.
When it is time to teach my new members about a supercharged DeFi network like Polygon (MATIC, Tech/Adoption Grade "C+"), I have to explain why they need a pool of MATIC tokens in their wallet to pay transaction fees on that specific network.
Now you may be wondering, "Why can't I just pay transaction fees in whatever token I have available in my wallet?"
Well, this would certainly make paying fees a much more intuitive process. And it would make the accounting easier on a U.S. dollar-denominated basis.
Oddly enough, it is not as if we lack the technology to implement this. We have dozens of decentralized exchanges offering to swap any token for pretty much any other token.
While this feature remains elusive, there is hope for a fix in the future. Namely, a new project in the works from Uniswap (UNI, Tech/Adoption Grade "C") developers is an innovation along these lines.
Buy NFTs with Any ERC-20 Token
Uniswap recently entered the non-fungible token realm by expanding its web app to offer a range of new features to NFT investors.
Since Uniswap is in the business of helping you swap one asset for another, I would say this is perfectly in alignment with its earlier offerings.
The previous problem was that if you wanted to buy an NFT through a marketplace like OpenSea, you had to pay in ETH.
This is similar to the transaction fee problem I described above.
So, what if I do not have enough ETH in my wallet to cover the price of the NFT?
I would first have to swap some of my USD Coin (USDC, Stablecoin) — or some other asset in my wallet — into enough ETH to pay for the NFT.
But not anymore.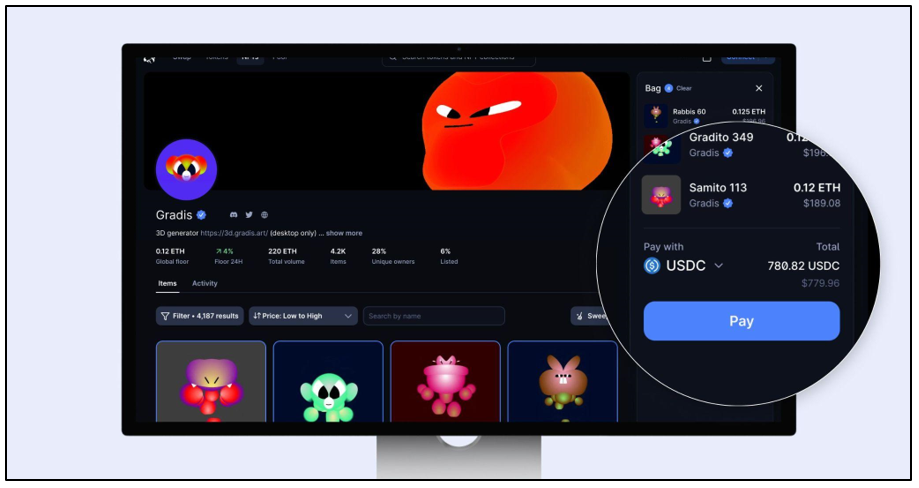 Uniswap allows you to purchase multiple NFTs with any ETH-compatible token, such as USDC.
Click here
to view full-sized image.
Using the Uniswap web interface, you can now purchase a whole shopping cart full of NFTs with any Ethereum-compatible token.
This is not a new feature of the blockchain, though. It is simply some automation that is done for you by the Uniswap web app.
How does this work?
When you opt to pay for your NFTs — with USDC for example — Uniswap will simply swap your chosen token in the background for ETH. Then, it will use that ETH to pay for your NFTs.
Conclusion
While this is an incredibly welcome feature, it is not ideal … especially on the selling side.
If you are an NFT seller, you still have to receive the proceeds of your sales in ETH, even if the buyer just used this Uniswap feature to pay with USDC.
The next iteration of this feature could be a similar tool for NFT sellers that automatically swaps the payment into the seller's preferred asset.
However, this is just a wild guess. I do not know for certain what Uniswap will build next.
As for the idea of paying network transaction fees in any token, this was discussed by Ethereum core developers some time ago but has never been implemented.
I suppose the transition from Ethereum 1.0 to 2.0 took priority.
As a final note, the Sequence web wallet claims to allow you to use many different DeFi blockchains — including Ethereum and Polygon — and pay transaction fees in any token you have.
This is yet another retrofitted wallet feature rather than being a feature of the blockchain itself.
I have also not tested the Sequence wallet myself, so if you decide to try it, proceed entirely at your own risk.
I am still hopeful that the ability to pay transaction fees in any token will come sooner or later despite the current lack of technology to do so. And these third parties building in that direction are a good sign that there is a demand for such a feature.
But that is all I have got for you today. Let me if you have come across any solutions to this transaction-fee problem by tweeting @WeissCrypto.
I will catch you here next week with another update.
Until then,
Chris Coney