Bear Market Trend Brings Crypto Clean Up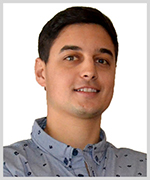 By Alex Benfield
We saw the continuation of a typical bear market trend today — one that purges weak projects and poorly-run crypto companies before the next bull market.
The latest casualty of this trend is crypto lender Voyager, which filed for Chapter 11 bankruptcy today. But this round of pain can be traced back to the collapse of the Terra (LUNA, Unrated) ecosystem. Since then, most platforms that have failed have been third party, interest-yielding lending platforms. Though notably, crypto hedge fund Three Arrows Capital was caught up in the mess as well, mostly due to its exposure to Terra.
We never like to see projects fail. But this domino chain has given the industry a chance to learn an important lesson about this type of platform: they have inherent risk and aren't as safe as we were led to believe.
That's because most of these platforms used the liquidity provided by lenders to yield farm for themselves. That's not a bad idea … unless their positions get liquidated as the broad market gets squeezed. That pain is then passed on to their users.
Now, let me be clear. These yield-generating lending platforms still have their place in this industry. But they shouldn't be seen as a completely safe place to store your crypto. They still offer an investment opportunity … and all investments come with some degree of risk.
If you're still using a lending platform to generate income — a savvy strategy that my colleague Marko Grujic uses to help his Crypto Yield Hunter Members make the most out of this tough market — then you should take a hard look at your platform so you can better understand the risks you're exposed to.
Ultimately, this culling will be a net good for the crypto industry and the market. Just like the Dot-Com burst in 2000, this will weed out the weak projects and give more opportunity to the ones strong enough to survive the bear market. And it removes any remaining leverage in this market.
Perhaps when the last of these lenders goes bankrupt and we've seen the true extent of the Three Arrows Capital blowout come to light, this market can start to break through resistance and confirm a low.
Until then, we'll continue to highlight any new updates on these ongoing situations and look for any opportunities that might pop up in the meantime.
For now, the trading action in the crypto market has been relatively flat over the past three weeks. Bitcoin (BTC, Tech/Adoption Grade "A-") has continued to trade right around $20,000 ever since mid-June. It's also trading below its moving average and its recent downtrend line.
Bitcoin still needs a significant rally to confirm a local low here, and until that happens there is still risk of a slide further down the price charts.
Here's BTC in U.S. dollar terms via Coinbase (COIN):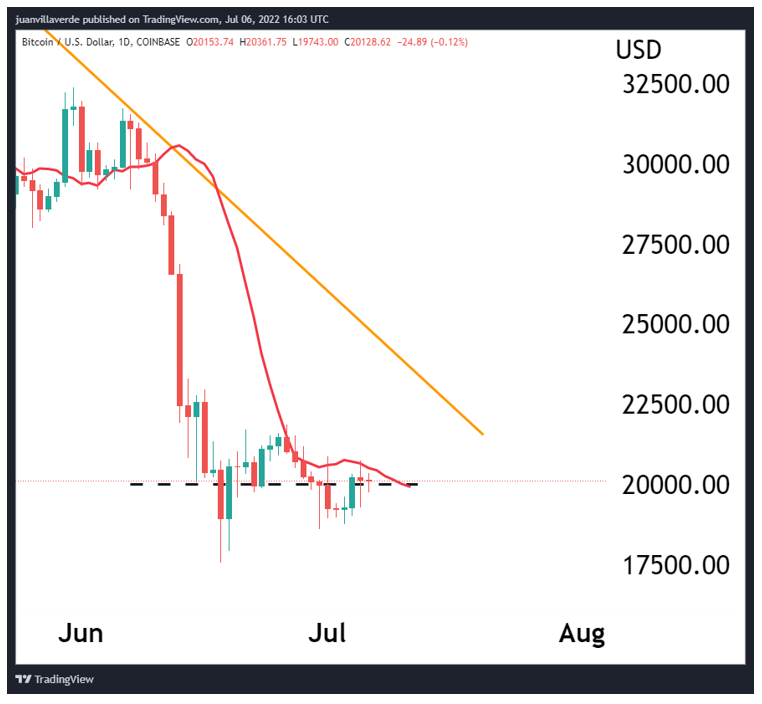 Ethereum (ETH, Tech/Adoption Grade "A") is also stuck in range-bound trading between $1,000 and $1,200 and has been for weeks now. ETH has managed to climb above its moving average in that time frame … but that was just a false breakout. ETH has since fallen back below that metric.
At this point, we are waiting to see if Ethereum can climb back above the recent local high of $1,250 before attempting to get back above the previous bull market high of $1,400. Should ETH manage that feat, it'll likely confirm a local low … and perhaps give the bulls the energy to form up a rally to $2,000.
Here's ETH in U.S. dollar terms via Coinbase: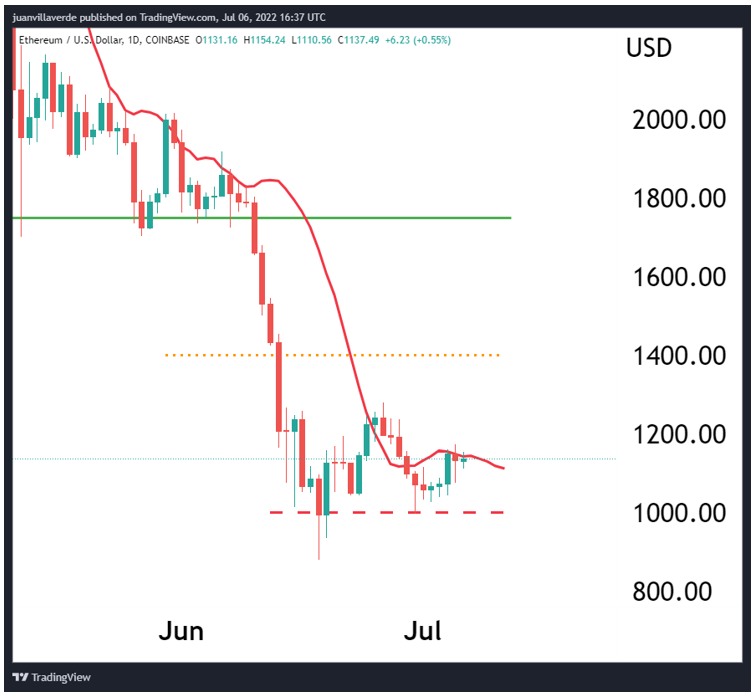 Given the recent inaction from the two top market leaders, it isn't surprising that other altcoins aren't making any significant rallies here today. The altcoin market is in dire need of a bigger catalyst to ignite some summer fireworks.
Notable News, Notes and Tweets
What's Next
The market is currently oversold. This recent correction has lasted for over three months now, with Bitcoin selling off for 100 days.
One would assume this market is overdue for a rally and a local bottom.
However, recent price action has not laid out the case that a bottom is near. Despite the many metrics that indicate a nearing a bottom and our own Crypto Timing Model signaling one as well, no buyers have stepped forth in recent days to push prices higher.
In fact, we've recently seen an increase in miners selling off their Bitcoin holdings. Not only does that hurt short-term price action but it could also be interpreted as a sign of bear market capitulation as miners try to get what they can for their assets, rather than hold them.
These current market conditions remind me of an old market quote: "Markets can stay irrational longer than you can stay solvent."
Times like these require patience and perseverance, so stay away from leverage and wait for your opportunities to come to you.
Best,
Alex