Bitcoin Bags Small Bounce to Close Out 2021
Bitcoin (BTC, Tech/Adoption Grade "A-") is trading 2% higher today after bouncing back above $47,000.
Ethereum (ETH, Tech/Adoption Grade "A") is also up 2% as it tries to hold above the $3,700 mark.
Bitcoin's crypto market dominance fell 20 basis points to 40.2%. It continues to sway between 40% and 42%, but it's testing the lower bound.
Yesterday saw Bitcoin slip below support at $47,000. Luckily, today's trading action brought a bounce off support at $46,000.
Still, BTC is now trading below its 21-day moving average again.
The rounding-bottom recovery that investors hoped for didn't materialize after Bitcoin lost momentum. That means we could see extended sideways trading while the market continues consolidating.
BTC will need to surpass the $48,500 level to regain short-term momentum.
Bitcoin managed to keep pace with most large-cap altcoins after lagging the past several weeks. This makes it less likely they will break significantly from the market leader's price action.
Here's Bitcoin's price in U.S. dollars via Coinbase (Nasdaq: COIN):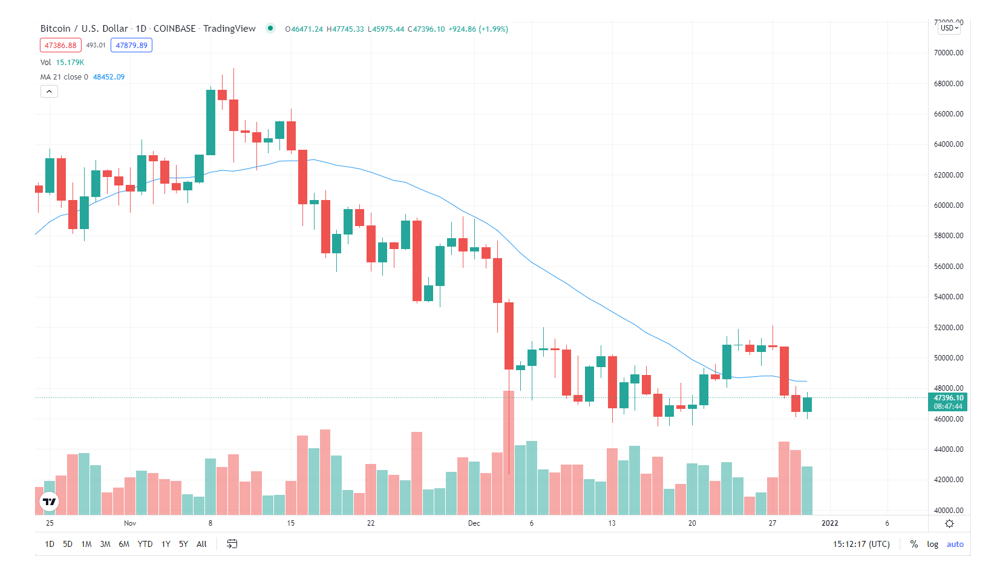 Ethereum lagged behind Bitcoin this week, falling 20% over the past month compared to BTC's 17% drawdown.
Ethereum dipped below its 21-day moving average of $3,950 on Dec. 28 and subsequently failed to bounce off support at $3,700.
It's trading back above the latter level for now. Investors will want to watch closely how it reacts heading into the new year.
Our take: It's looking less likely that the second-largest cryptocurrency by market cap will significantly decouple from Bitcoin's movements during this period of weakness.

Here's Ethereum's price in U.S. dollars via Coinbase:

Index Roundup

Most of the Weiss Crypto Indexes finished the final week of 2021 in the red.

Like last week, the index data was cut off on Wednesday instead of Thursday due to the upcoming holiday. So, no action from Thursday is reflected in the charts below.

The Weiss 50 Crypto Index (W50) slipped 5.83%, as most of the broad market struggled to find any momentum over the holidays.

The Weiss 50 Crypto Ex-BTC Index (W50X) fell 6.70%, highlighting how Bitcoin slightly outperformed altcoins.

Breaking down performance by market cap, we see that the midcaps fared the best again, allowing them to make up some ground over the past two weeks after underperforming earlier this month.

The Weiss Large-Cap Crypto Index (WLC) lost 6.41%, as the majority of the established cryptocurrencies slid.

The midcaps were the only group that broke even, with the Weiss Mid-Cap Crypto Index (WMC) gaining a minor 0.74%.

The small caps fared the worst this week, with the Weiss Small-Cap Crypto Index (WSC) losing 10.95%.

Notable News, Notes and Tweets

What's Next

The crypto market could see additional selling pressure as investors harvest any losses for tax purposes. However, some will look to buy back their holdings to take advantage of a tax loophole for cryptocurrencies that will likely change soon.

Digital assets are not currently included in the "wash sale" rule for taxing assets bought and sold over a 30-day period, so investors likely only have until the end of the year to harvest losses without changing their position sizes. The loophole could be closed next year if legislation passes.

Regardless, the market has trended downward since the early November peak. We could see an extended period of sideways trading as the market consolidates.

Still, a vicious sell-off is unlikely — barring drastic action from the Federal Reserve — as it approaches oversold territory.

Best,

Sam