Bitcoin Digests its Massive Recent Gains
• Bitcoin (BTC, Tech/Adoption Grade "A-") is up about 2% so far today, trading around $63,000 after briefly surpassing $66,000 earlier this week.

• Ethereum (ETH, Tech/Adoption Grade "A") is up about 1%, and it's sitting at about $4,100.

• Bitcoin's crypto market dominance dipped 10 basis points this week to 45.8% as altcoins tried to play catch-up. But then it peaked around 47.8% during Bitcoin's early week run.
Bitcoin established a new all-time high this week, nearly eclipsing $67,000. It's retreated since, which is a healthy sign. Pullbacks along the way ensure that the market isn't entering a late-stage frenzy.
And the bullish news for Bitcoin extends beyond price action. The ProShares Bitcoin Strategy ETF (NYSEARCA: BITO) launched this week after gaining the U.S. Securities and Exchange Commission's (SEC) approval. We saw significant price appreciation both before and after trading began.
If Bitcoin can manage to hold itself above $60,000, it should keep up its momentum and look to extend its new all-time high.
Of course, a larger pullback could still occur considering the magnitude of Bitcoin's recent rally. BTC is up over 40% this month, and the next phase of this bull market should just be getting started. Bitcoin's price is still well above its 21-day moving average, which is sitting at about $57,000.
Here's Bitcoin's price in U.S. dollars via Coinbase Global (Nasdaq: COIN):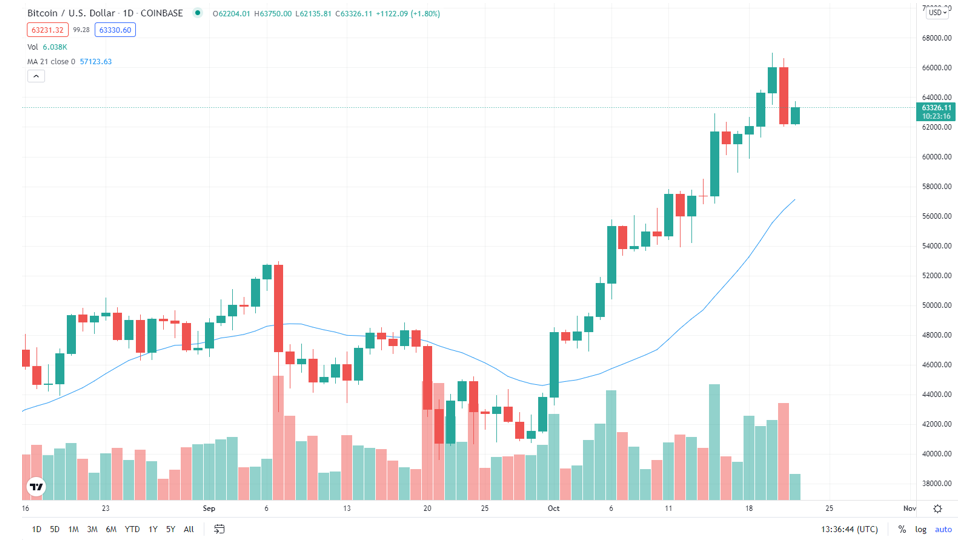 Ethereum briefly gave its all-time high near $4,400 a scare before dipping as the broader market digests the recent rally. Despite not crossing that important threshold, it was still a major positive development that ETH was able to overtake its early September highs.
The second-largest cryptocurrency by market capitalization is holding itself above the strong previous resistance of $4,000, which was a significant hurdle.
If ETH manages to break through its all-time high, there will be no charted resistance slowing its ascent. Ethereum, along with most of the crypto market, is trading much higher than its 21-day moving average.
Here's Ethereum's price in U.S. dollars via Coinbase: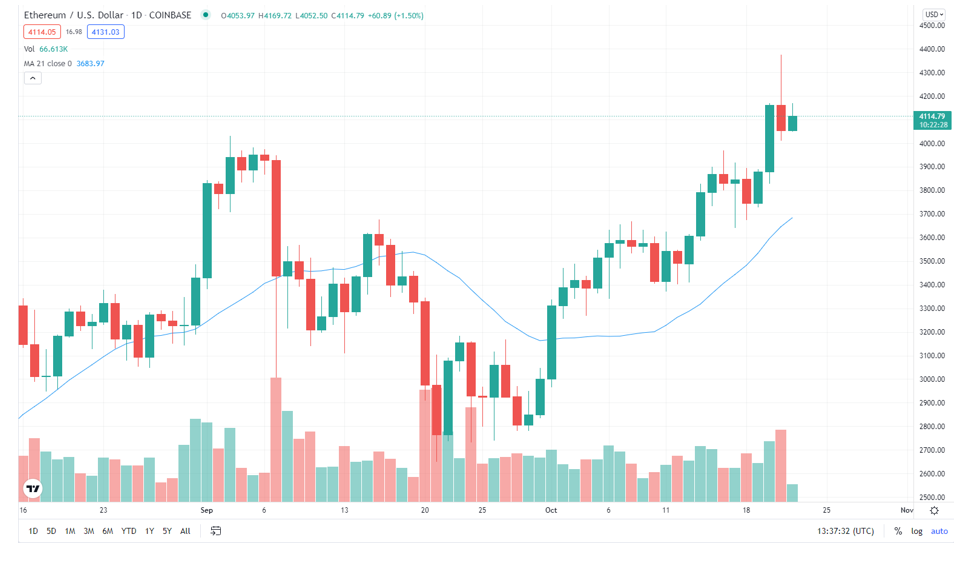 Index Roundup
The broad market extended its recent gains during the seven-day trading week ending Thursday. Bitcoin initially set the trend, but altcoins made up ground toward the end of the week.
The Weiss 50 Crypto Index (W50) gained 8.16%, as the established cryptocurrencies set their sights on new all-time highs.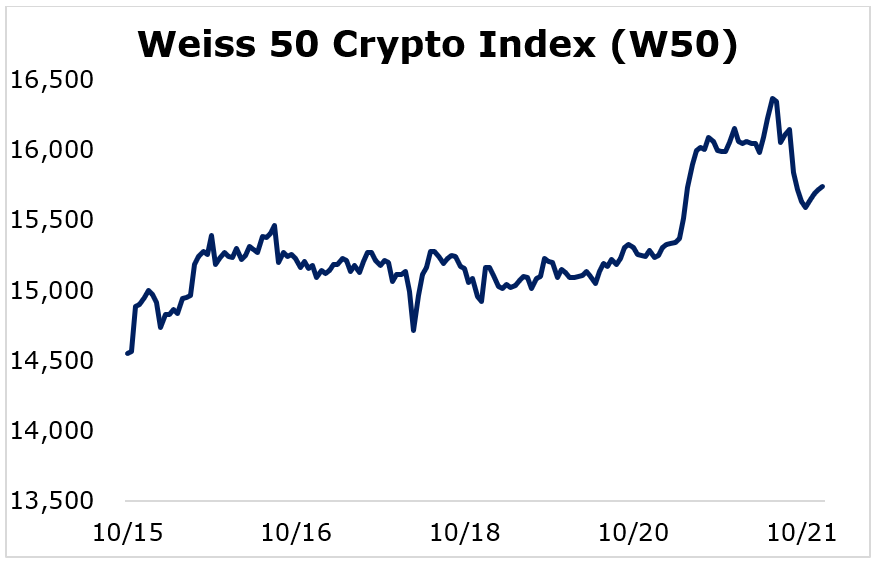 The Weiss 50 Crypto Ex-BTC Index (W50X) increased 6.51%, indicating that Bitcoin managed to outperform altcoins despite its volatility.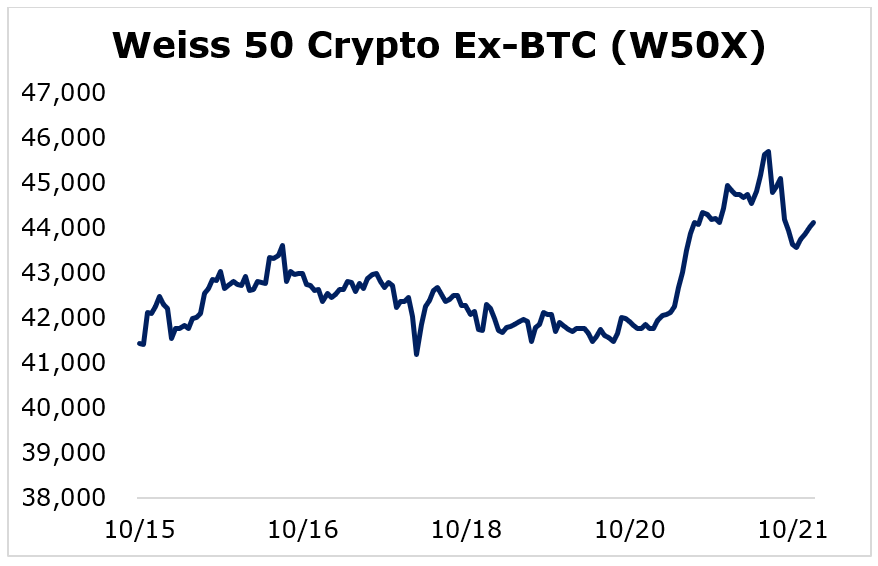 Breaking down performance this week by market capitalization, we see that the small caps were the biggest winners due to their late-week rally. However, large- and mid-sized cryptocurrencies still enjoyed solid gains as they set the pace before they were overtaken by smaller altcoins.
The Weiss Large-Cap Crypto Index (WLC) rose 12.16%.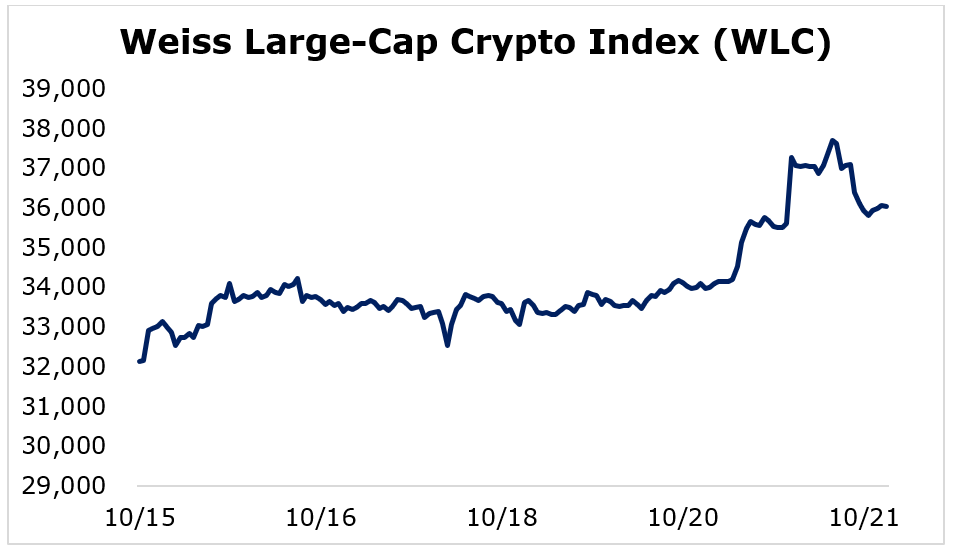 The midcaps gained the least, but still almost grew by double digits. The Weiss Mid-Cap Crypto Index (WMC) increased 4.39%.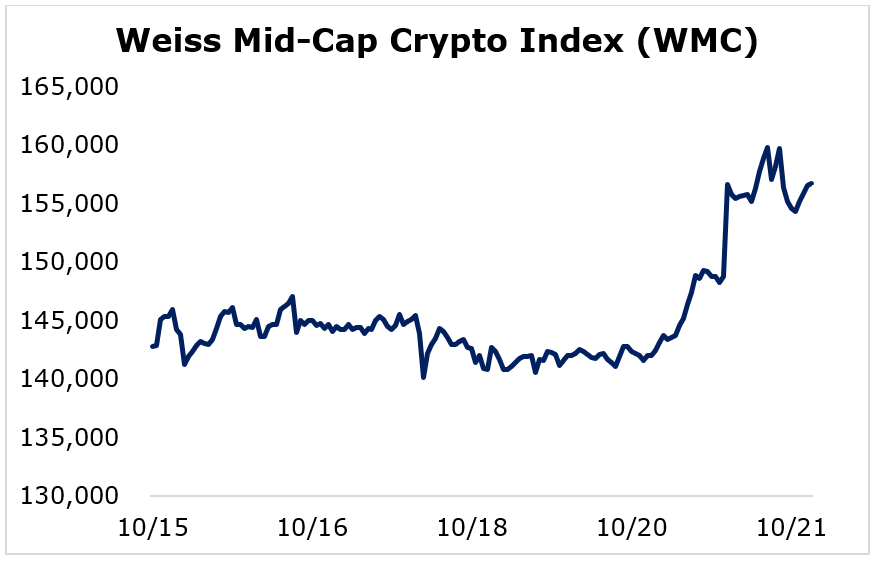 The smallest cryptocurrencies outperformed their larger and mid-sized cohorts, as the Weiss Small-Cap Crypto Index (WSC) climbed 13.54%.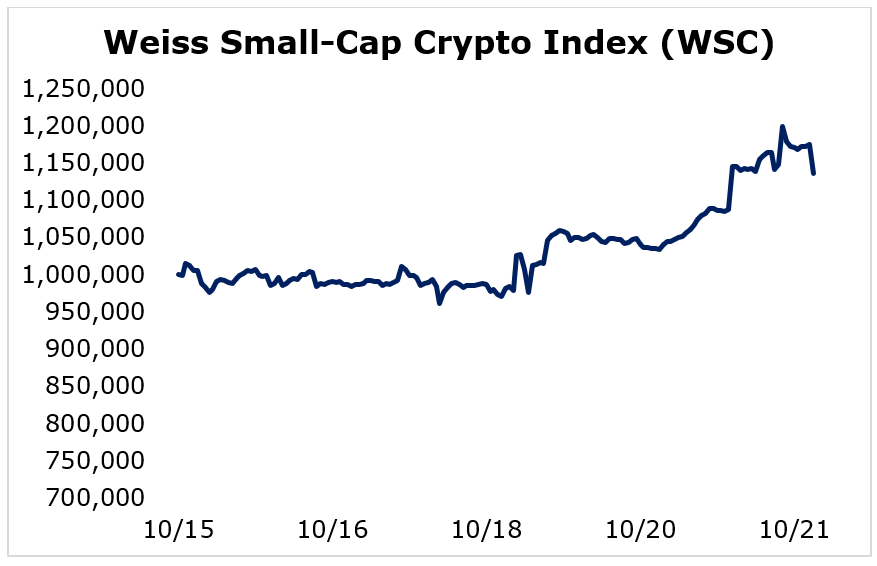 It's usually a good sign when Bitcoin pulls the market higher. It signals the bull run is still in the early to mid-stages.
The crypto market could be ripe for a pullback considering its recent strength, but any corrections would likely be brief.
Notable News, Notes and Tweets
• Pomp emphasizes how keeping Bitcoin on company balance sheets can lessen the effects of inflation.

• Walmart Inc. (NYSE: WMT) is allowing customers to buy Bitcoin at many of its store locations in the United States.

• The short-term to long-term price ratio is becoming more bullish, and it's usually followed by significant positive moves.
What's Next
The launch of a Bitcoin's futures-backed exchange-traded fund (ETF) was a significant step for crypto, although investors would still love to see an ETF with direct spot price exposure.
Regardless, the fact that it set volume records shows the massive institutional and retail investor demand for Bitcoin exposure.
It's highly encouraging to see Bitcoin set a new all-time high, and it's especially pleasing for investors that its launch hasn't turned into a significant "buy the news, sell the rumor" event at this point.
Bitcoin's price has pulled back slightly following its ascent to new highs, but it did not see a steeper falloff like after the launch of smart contracts on Cardano (ADA, Tech/Adoption Grade "B").
The outlook for the crypto market is overwhelmingly positive as the global macroeconomic landscape, surging adoption and technical indicators all point toward higher future prices.
It should be just a matter of time before Bitcoin extends its new record.
Best,
Sam