Bitcoin Flashes Bullish Signs Ahead of the Holidays
Bitcoin (BTC, Tech/Adoption Grade "A-") is up less than one percentage point today as it hovers around $49,000.
Ethereum (ETH, Tech/Adoption Grade "A") is down about 1% as the No. 2 crypto struggles to retake the $4,000 level with confidence.
Bitcoin's market dominance dropped 60 basis points to 40.4%, but it's held between its recent range of 40%–42%.
It appears that Bitcoin has bottomed out for now after consistently sliding since Nov. 10. Bitcoin's chart is beginning to form a rounded bottom, which bodes well for bulls looking to reverse its recent skid.
BTC could experience a relief bounce in the short term as investors accumulate following the prolonged sell-off.
Bitcoin has finally retaken its 21-day moving average for the first time since Nov. 16. That should help it regain some much-needed momentum in the short term, but it will still have to contend with worsening sentiment for risk assets given the Federal Reserve's tapering plan.
Here's Bitcoin's price in U.S. dollars via Coinbase Global (Nasdaq: COIN):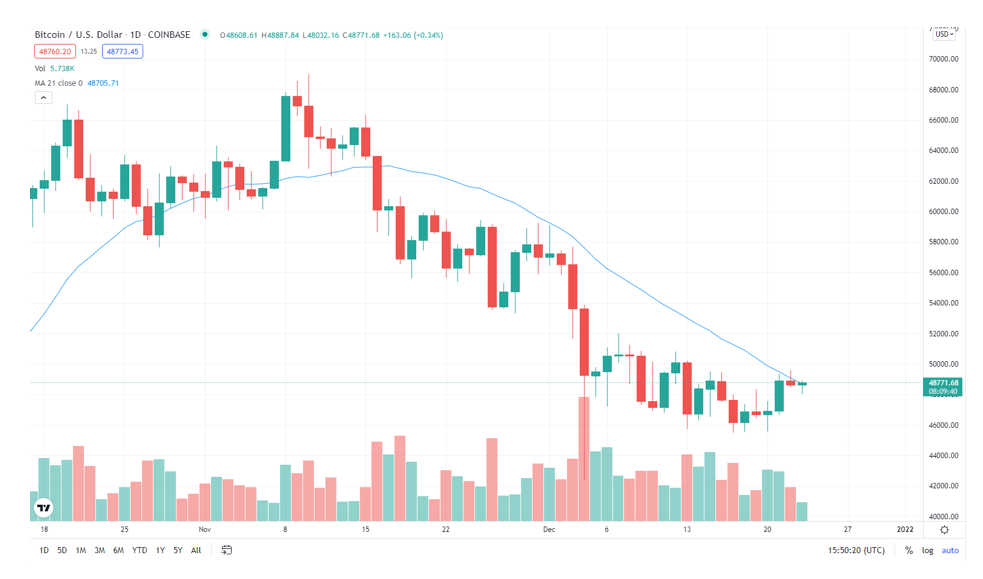 Ethereum may be lagging behind Bitcoin today, but its recent movements have significantly outperformed the market leader. The second largest cryptocurrency's milder downswing has kept altcoins afloat during Bitcoin's period of weakness.
Ethereum is down just 19% from its all-time high of over $4,800, while Bitcoin is trading 29% lower than its established peak of $69,000. ETH nearly jumped above its 21-day moving average yesterday … but fell just short.
At the time of writing, it's still below this key level.
Here's Ethereum's price in U.S. dollars via Coinbase: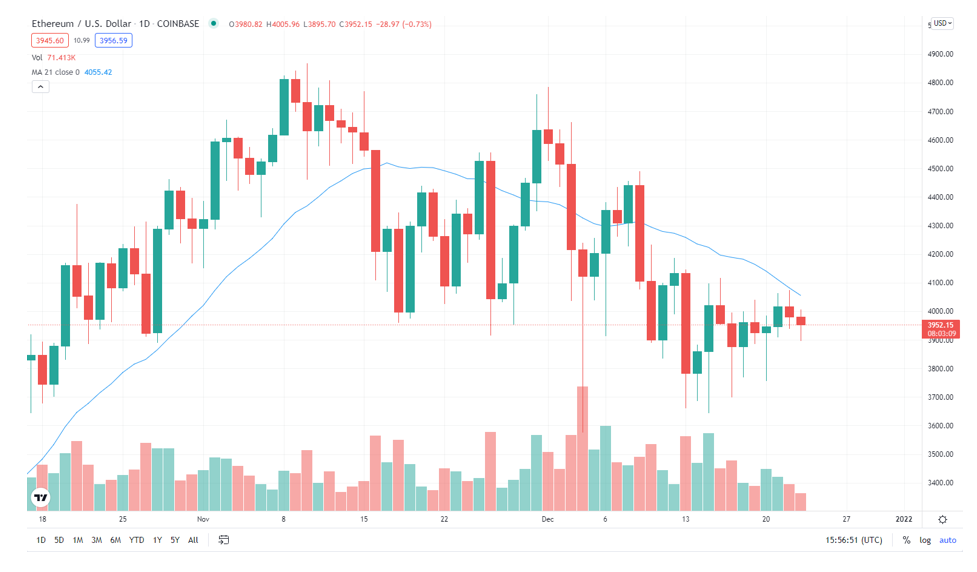 Index Roundup
It was a quiet week for crypto overall, as investors prepare for lower volume over the holiday season. Most of the Weiss Crypto indexes saw modest gains, but the crypto market experienced choppy mid-week trading.
I do want to note that, because of the holiday week, our crypto index data was cut off on Wednesday instead of Thursday, so the information below hasn't taken Thursday's price action into account.
The Weiss 50 Crypto Index (W50) gained 1.10%, which isn't notable considering the overall volatility of the crypto market.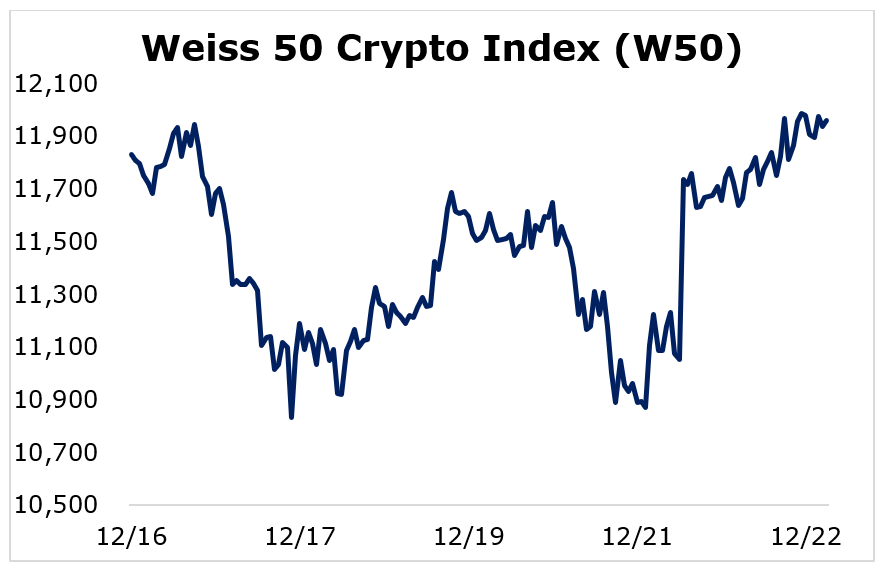 The Weiss 50 Ex-BTC Index (W50X) grew 2.49%, showing that Bitcoin slightly underperformed the broader market.
Breaking down this week's performance by market capitalization, we see that the large-caps managed to break even, as the Weiss Large-Cap Crypto Index (WLC) increased a negligible 0.04%.
Mid-cap cryptocurrencies had some catching up to do, and they finally outperformed their peers. The Weiss Mid-Cap Crypto Index (WMC) jumped 7.97%.
The small-caps were the only group to finish the week in the red, though not by much, as the Weiss Small-Cap Crypto Index (WSC) slid an insignificant 0.98%.
The mid-caps were the biggest winners for the first time in several weeks after consistently performing in the middle of the road.
With Bitcoin continuing to lag for now, the broader market will search for direction from other established large-cap altcoins.
Notable News, Notes and Tweets
El Salvador President Nayib Bukele bought 21 additional Bitcoins on behalf of the country on Dec. 21 to celebrate the date in history. It now holds 1,141 in total.
What's Next
It was a quiet week overall, but investors still dealt with considerable volatility compared to the mild results.
Bitcoin is stuck in neutral for now, but altcoins are following Ethereum's lead and recovering lost value from the recent pullback.
Bitcoin's correlation to the tech-focused Nasdaq and other risk assets has elevated recently due to the questions centered around the Federal Reserve's approach to fighting inflation. This is likely temporary, but we could continue to see periods of higher correlation when the Fed's decisions are in the spotlight.
It's likely that we're experiencing an irregular market cycle as outside forces — like the massive Fed intervention in financial markets — take center stage. But those should have little impact on crypto's long-term outlook.
Crypto adoption is expanding every day, and the early adopters should be rewarded significantly.
Best,
Sam