Bitcoin Looks to Stabilize After Sharp Sell-Offs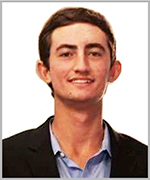 By Sam Blumenfeld
Bitcoin (BTC, Tech/Adoption Grade "A-") and the broad crypto market had a rough week. The market leader is up 1% so far today, to $20,500, but the move is minimal compared to its 32% loss over the past seven trading days.
Most crypto assets are struggling as investors face significant economic tightening. The Federal Reserve just levied its largest rate hike since 1994, and it's beginning to remove liquidity from financial markets through its balance-sheet reduction program.
This has led to sharp sell-offs among risk assets in both crypto and traditional equity markets.
Bitcoin was trading resiliently in a tight range between $28,000 and $32,000, but it broke down amid a series of negative news stories and liquidations dragging the market sharply lower.
Prior to the correction, it was also sitting right around its 21-day moving average before its precipitous fall this week. It's unlikely BTC will be able to move past this short-term momentum indicator in the current environment.
Recent price action points to a tough road to climb for crypto assets. Altcoins — also called alts — will likely rely on Bitcoin to reestablish momentum, but its market dominance notably slid over two full percentage points since last week to 45%
Here's Bitcoin's price in U.S. dollars via Coinbase Global (COIN):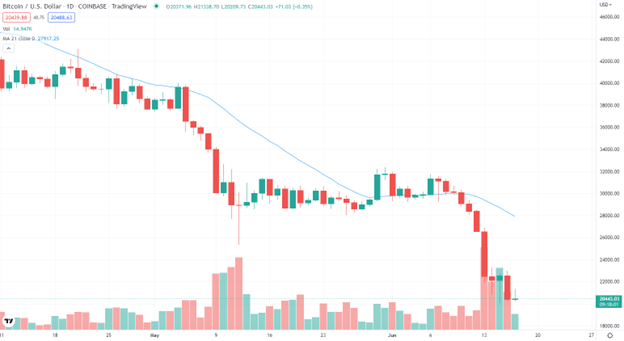 Our other market leader, Ethereum (ETH, Tech/Adoption Grade "A"), plummeted below its previous bull-market peak of $1,400 earlier this week. From there, it lost more momentum with the broader crypto market as it slid below $1,100.
$1,000 should act as an important psychological level. If ETH breaks below, it'll likely signal additional weakness.
Ethereum has continued its pattern of lower highs and lower lows. As a result, it's trading substantially below its 21-day moving average of $1,625. A jump past this level is unlikely considering current sentiment. A more realistic positive development would be to see ETH stabilize and establish a new floor.
ETH does have a potential positive catalyst coming up with its shift to proof-of-stake consensus. The asset quietly completed a successful merge of its Ropsten testnet, which was one of the necessary test runs before the main network makes the shift.
The full merge could happen as early as August. Here's Ethereum's price in U.S. dollars via Coinbase: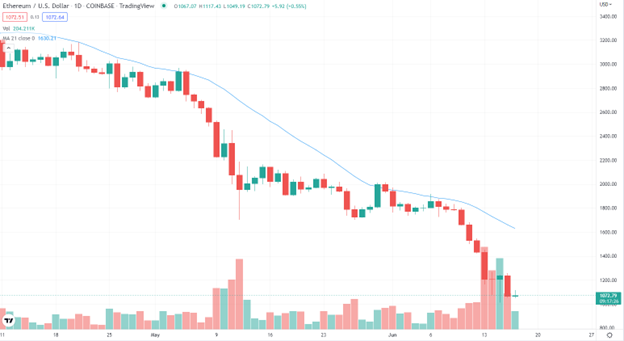 Index Roundup
The broader crypto market had a brutal seven-day trading week. All market capitalization groups were affected, and few names were spared.
The Weiss 50 Crypto Index (W50) fell 29.64% as the broad market faced strong sell-offs.
The Weiss 50 Crypto Ex-BTC Index (W50X) decreased 31.16%, proving Bitcoin slightly underperformed the market's movement.
Breaking down this week's performance by market capitalization, we see that each of the market cap cohorts were similarly affected.
The large-caps lost the most this week, with the Weiss Large-Cap Crypto Index (WLC) dropping 33.03%.
The mid-cap cryptocurrencies finished in the middle of the road, with the Weiss Mid-Cap Crypto Index (WMC) tumbling 30.73%.
The smallest cryptocurrencies lost the least by a slight margin, but they still took heavy damage. The Weiss Small-Cap Crypto Index (WSC) slumped 30.73%.
The crypto market has consistently slid since the beginning of May. It's had very little momentum lately, so it'll be important for traders to establish a new floor. Once that happens, it will be up to the large-caps to lead the way.
Notable News, Notes and Tweets
What's Next
After hiking interest rates 75 basis points on Wednesday, the Fed won't be slowing down anytime soon given the four-decade-high inflation sending consumer prices soaring. With a strong labor market, the Fed has the green light to hike rates until it sees progress with inflation … regardless of the impact that will have on financial markets.
As we move further into the crypto winter, the market will continue facing strong headwinds from the Fed's economic policy and a wave of liquidations hitting overleveraged crypto traders.
However, despite the challenging short-term outlook for crypto asset prices, adoption is consistently progressing. The industry should make strides once the dust settles.
Best,
Sam