Bitcoin's Freak 87% Flash Crash
It would seem that last week's warning from the CEO of Binance, Changpeng Zhao, set the crypto markets on a rollercoaster ride of volatility.

Multiple outlets pointed to the flash crash that occurred on Binance the very day the tweet went live as the main culprit.
However, the reality is quite different: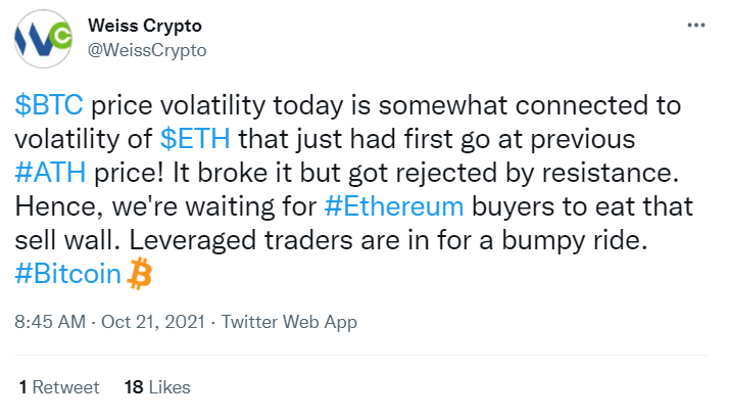 There are a few things happening here, but it's important to remember that…
A Lot Can Happen in a Bitcoin Minute
On Oct. 21, Binance.us investors saw Bitcoin's (BTC, Tech/Adoption Grade "A-") price plummet from $65,815 to $8,000.
This stunning 87% slide lasted only about a minute before Bitcoin returned to normal values. And it was only recorded on the one platform — no such plunge was found on Coinbase or Kraken.
The cause?
An institutional bot trading on Binance.us had an algorithm bug that triggered the sell-off. After the incident, trading continued unabated.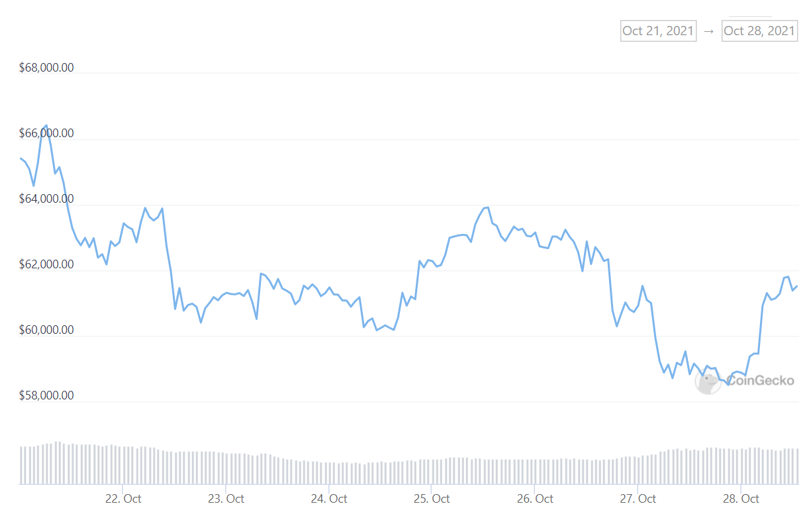 As seen above, Coingecko.com didn't register the plunge that plagued Binance.
Binance said the problem has been fixed, and this should be the end of story. But it wasn't.
Naysayers used this rather insignificant incident on a small, rarely used exchange as an opportunity to sow FUD — fear, uncertainty and doubt — yet again.
But these kinds of crashes are hardly unique to crypto.
On the afternoon of May 6, 2010, the United States stock market saw $1 trillion in market value get wiped out in the space of 10 minutes. Even though much of that value was recovered within half an hour, the damage spread to Canada, which shed about 5% of its value in that same 30 minutes.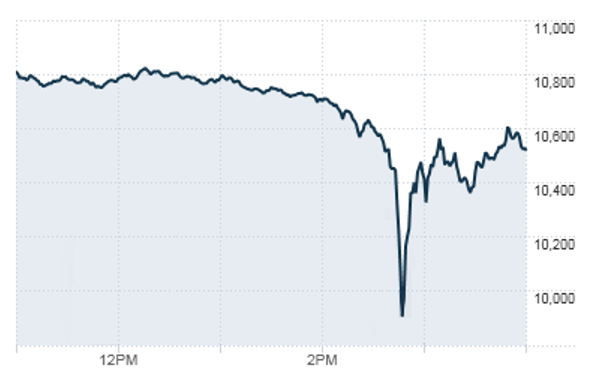 Multiple factors were in play as stocks, exchange-traded funds (ETFs), options and futures all got whacked:
• Negative market trends, turbulent trading and a very important, singular event — one selling order of an enormously large amount of E-Mini S&P 500 contracts — came together to trigger subsequent aggressive selling orders executed by high-frequency algorithms.
Those, in turn, caused prices to plunge.
So, not only are flash crashes not unique to crypto, but they also have much larger damage potential when occurring in the traditional market.
What These Flash Crashes Can Teach Us
Algorithms were important players in both these crashes. But there was one important difference ...
While the 2010 crash happened across multiple assets and exchanges, last week's crypto crash was contained to just one exchange.
Binance.us has lower liquidity than Binance Global and other large exchanges. This means it has far less usable liquidity, and as such is more prone to drastic price action.
As an example, at the time of writing, simply placing a $2 million market order on Binance.us is enough to affect the asset price there by 2%.
In short: This isolated issue has little to nothing to do with the volatility that occurred in the seven days since.
It's tricky to stay objective when volatility comes knocking. And it does often in the crypto markets. But the decentralized nature of cryptocurrencies means singular events like this can't derail a macro trend — like the multiyear bull cycle we're currently in.
So, what did cause the weakness we see continuing into this week?
Simple: The markets were overleveraged. New all-time highs for BTC and Ethereum (ETH, Tech/Adoption Grade "A") triggered a small wave of selling that coincides nicely with what our model is telling us is a 20-day-cycle correction.
That means this weakness will be short-lived, as both the medium-term 80-day cycle and the longer 320-day cycle still have more room to run.
In fact ...

If the bulls are getting primed, you should be, too.
Until next week, stay safe and trade well.
Jurica Dujmović