Bitcoin Shows Resilience Against Recent Slide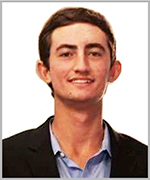 By Sam Blumenfeld
Last week, the crypto market notably decoupled from technology stocks and other risk assets to the downside.
This week, they moved closer together.
Crypto and traditional equity markets are facing the same headwinds from the Federal Reserve's tightening and geopolitical uncertainty, so it's likely that their trading directions will remain closely correlated.
Bitcoin (BTC, Tech/Adoption Grade "A-") has managed to hold its ground following the consistent sell-off until early May. Since then, its mostly traded in a tight range between $28,000 and $32,000. Even more bullish, BTC managed to record four consecutive closes at or above its 21-day moving average this week, though it slid below ahead of today's trading.
It will be important for Bitcoin to hold its ground during this consolidation period. If it breaks down, altcoins that are already struggling will likely face additional weakness. A decisive upward move past $30,000 could help the market leader regain momentum.
Here's Bitcoin's price in U.S. dollars via Coinbase Global (COIN):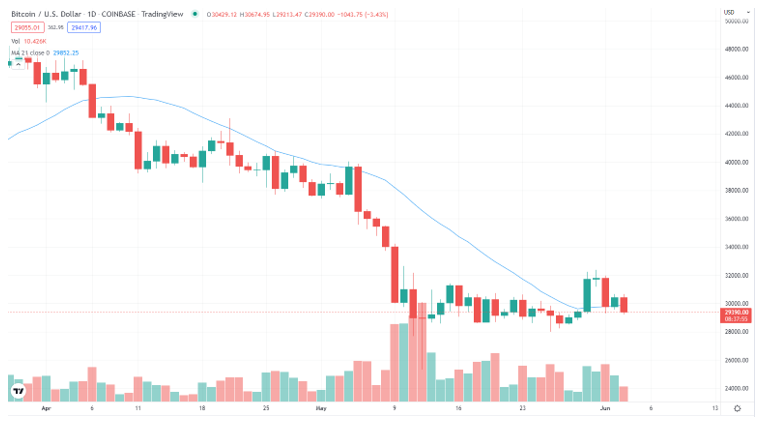 Ethereum (ETH, Tech/Adoption Grade "A") has struggled more than Bitcoin recently as it's tried to reverse its recent trend of lower highs and lower lows without much success. ETH has largely led altcoins lower over the past several weeks.
If we're to see this pattern reverse, ETH will need to avoid a close below $1,725.
ETH has lost 40% over the past 30 trading days but held up relatively well over the past seven days. It managed to close above its 21-day moving average on May 30 and though the rally was short lived, it still looks like it'll post a weekly gain.
Short-term resistance sits around $1,930, but ETH will need to close past $2,000 to reverse its short-term downtrend. In the meantime, investors are anxiously waiting for its shift to proof-of-stake (PoS) consensus, which is expected sometime this summer.
Here's Ethereum's price in U.S. dollars via Coinbase: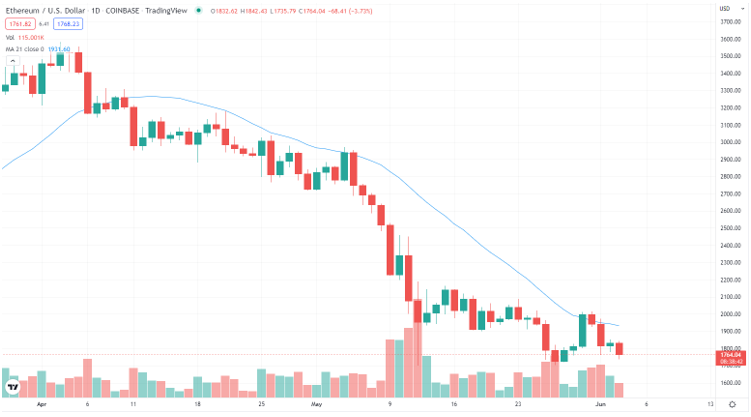 Index Roundup
Before today's slide, the crypto market closed the seven-day trading week in the green.
The Weiss 50 Crypto Index (W50) gained 13.61%, as most of the broader crypto market traded higher.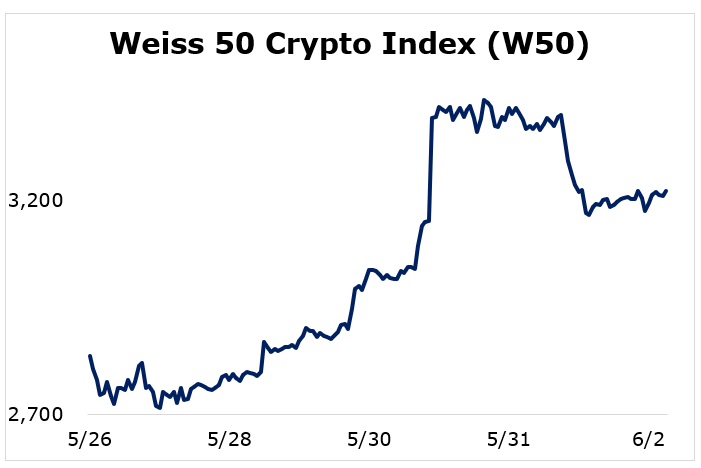 The Weiss 50 Ex-BTC Index (W50X) rose 14.89%, as Bitcoin's performance mostly mirrored the market's weekly upside.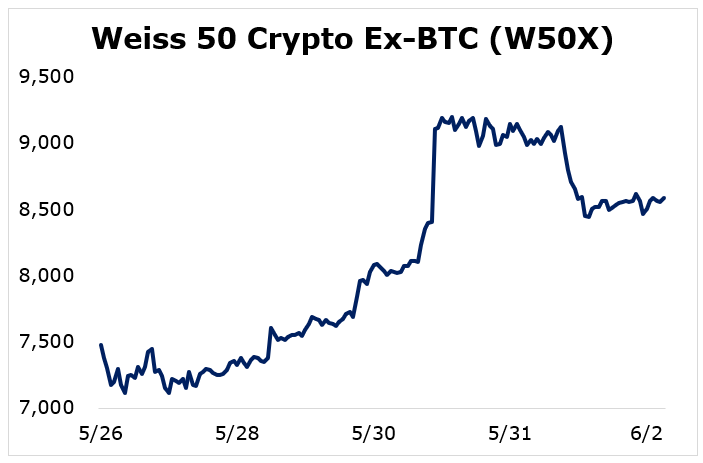 Breaking down this week's performance by market capitalization, we see that the mid-caps outperformed their smaller and larger counterparts.
The large-caps finished in the middle of the pack, as the Weiss Large-Cap Crypto Index (WLC) grew 13.27%.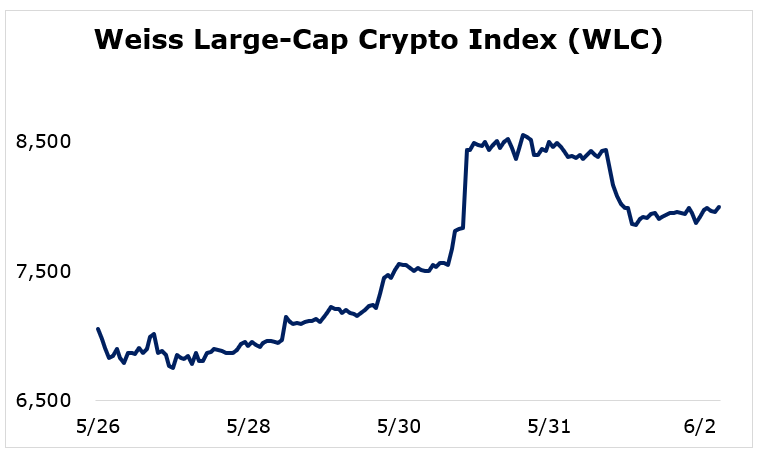 The midsize cryptocurrencies were the biggest winners, with the Weiss Mid-Cap Crypto Index (WMC) jumping 21.78%.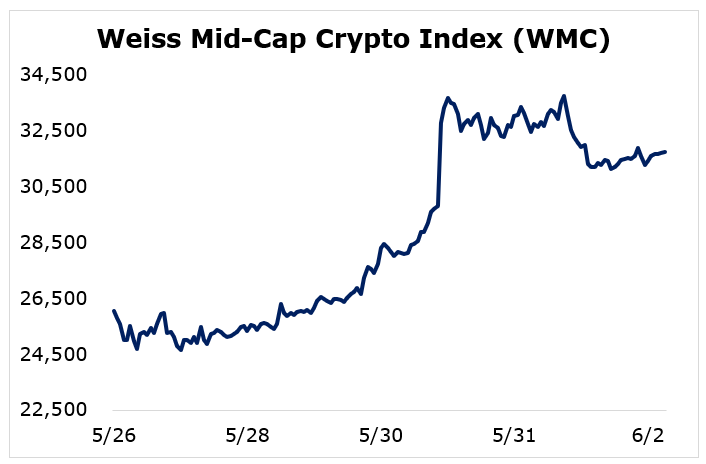 The small-caps gained the least and experienced the most volatility, but they still managed to log a decent week. The Weiss Small-Cap Crypto Index (WSC) increased 9.57%.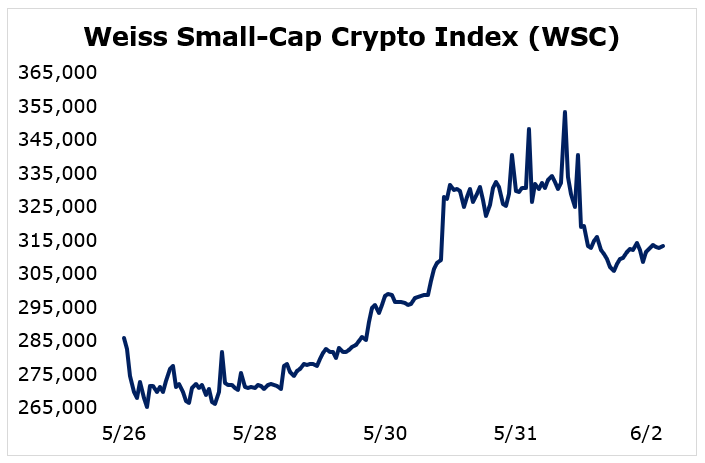 The broader crypto market finished the trading week positively, but it hasn't broken through its recent slide yet. Bitcoin is increasing its market dominance weekly, so we'll need to rely on it to reverse the trend and lead the way higher before altcoins can see sustainable gains.
Notable News, Notes and Tweets
Anthony "Pomp" Pompliano stresses that the percentage of Bitcoin that hasn't been moved for at least one year hit an all-time high, meaning investors are holding with strong hands.
What's Next
Despite a positive week, the crypto market has a long road ahead. In addition to the macroeconomic factors currently hurting cryptocurrencies, regulatory uncertainty is hurting sentiment in the short term.
However, it's inevitable for governments to create frameworks for future usage and adoption. Over the long term, impacts of New York's carbon-based mining ban should be minimal.
Currently, the Bitcoin Mining Council estimates that 58.5% of all Bitcoin mining is powered by renewable energy sources. That figure is only going to move higher as miners look to become more environmentally conscious to match social and regulatory requirements.
While negative headlines today can suppress prices over the short term, crypto's long-term prospects are stronger than ever.
Best,
Sam