Broad Market Boasts Gains as Bitcoin Lags
• Bitcoin (BTC, Tech/Adoption Grade "A-") is flat so far today, hovering around $61,500.

• Ethereum (ETH, Tech/Adoption Grade "A") is down about a percentage point, sitting recently near $4,500.

• Bitcoin's crypto market dominance fell 160 basis points to 43%.
Altcoins continued to outpace Bitcoin this week as investors hunted for outperformance from projects with higher potential growth. The alts are still playing catch-up after Bitcoin's big move started the upward swing, so it's not surprising to see Bitcoin's market dominance fall a bit further while it digests its significant October rally.
Bitcoin saw capital outflows into altcoins through its trading pairs, which put downward pressure on its price. BTC is still just 8% below its all-time high near $67,000, showing resilience despite the outflow of capital.
Bitcoin closed below its 21-day moving average yesterday after shuffling above and below over the past week.
In short, Bitcoin is stuck in a range after its small, 20-day correction. Ethereum's break to new highs suggests that BTC may follow suit soon. For now, we have to wait and see.
Here's Bitcoin's price in U.S. dollars via Coinbase Global (Nasdaq: COIN):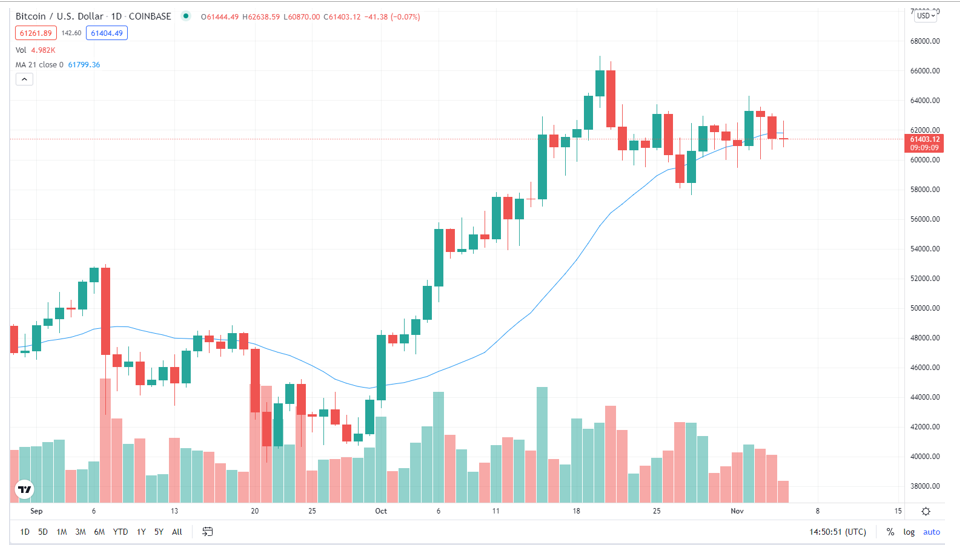 Ethereum extended to nearly $4,700 over the past week before pulling back. The No. 2 crypto by market cap has been trading in an ascending channel with healthy pullbacks, so it shouldn't be long before it tests its highs again.
If Ethereum can manage to break through resistance at its all-time high, the psychologically important $5,000 level is next.
Ethereum's chart currently looks more bullish than Bitcoin's. ETH hasn't touched its 21-day moving average — at $4,200 — since Oct. 1. In fact, it's currently trading about 7% above it.
ETH will continue to see positive pricing pressure from burned fees, but it will also have to contend with outflows into smaller altcoins from its trading pairs as the bull market continues.
Here's Ethereum's price in U.S. dollars via Coinbase: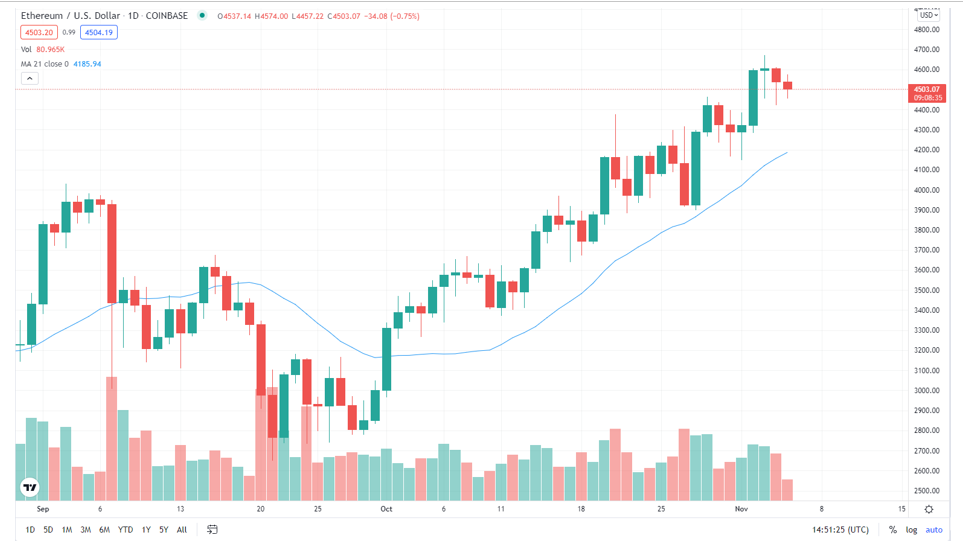 Index Roundup
It was a solid week for the broader crypto market.
The Weiss 50 Crypto Index (W50) rose 5.19% as most cryptocurrencies managed to log a positive week.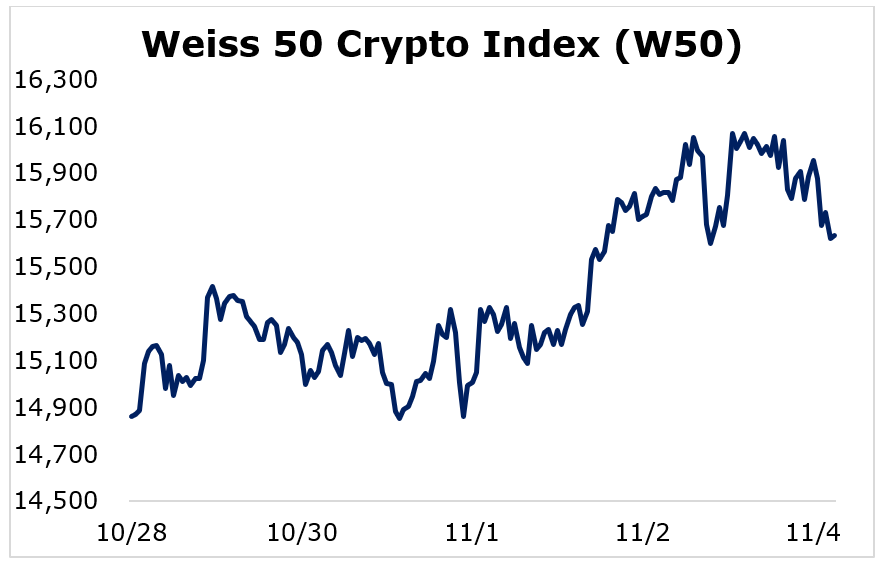 The Weiss 50 Crypto Ex-BTC Index (W50X) gained 7.98%, highlighting Bitcoin's underperformance compared to altcoins.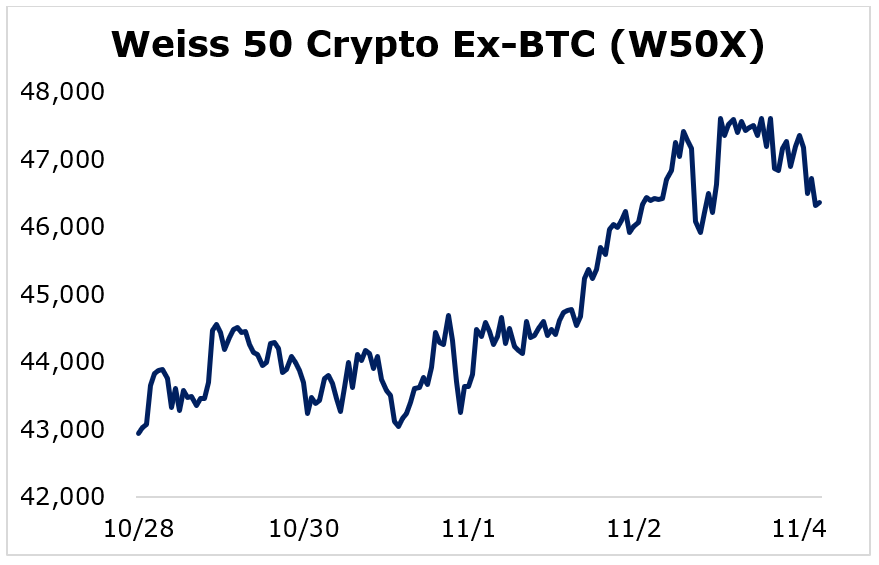 Breaking down this week's performance by market capitalization, we see that large- and mid-cap cryptocurrencies fared similarly, while the smallest projects broke out.
The Weiss Large-Cap Crypto Index (WLC) increased 3.65%, with Bitcoin dragging the index lower.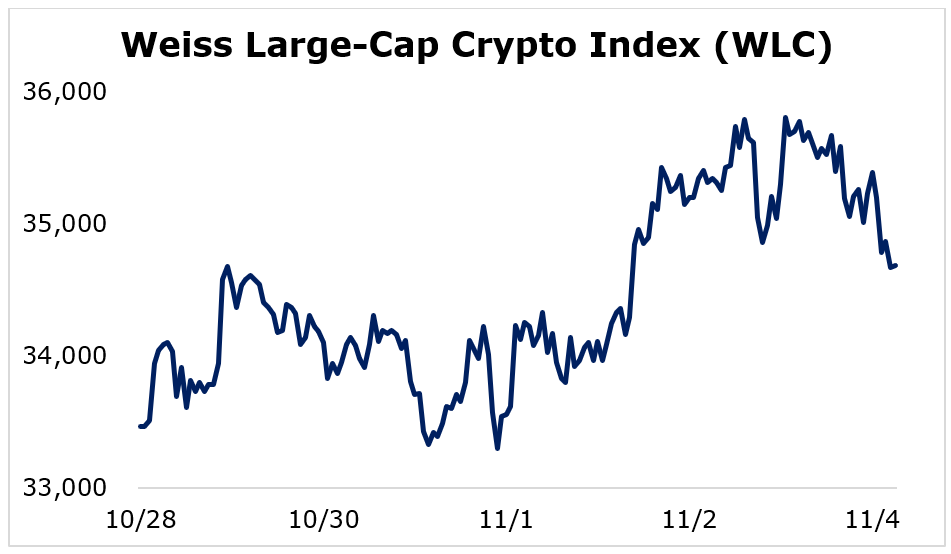 Mid-sized cryptocurrencies edged out the large-caps, as the 6.94% growth in the Weiss Mid-Cap Crypto Index (WMC) shows.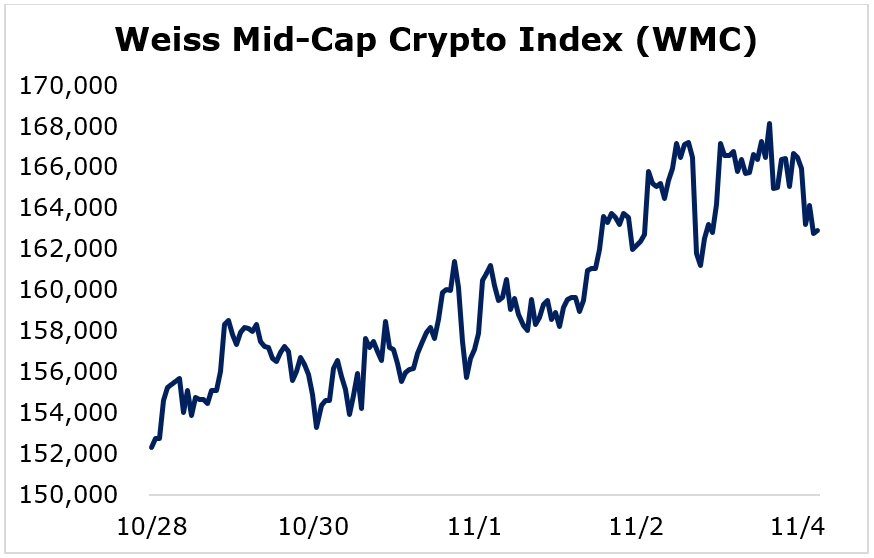 The smallest cryptocurrencies were the biggest winners by a wide margin, as the Weiss Small-Cap Crypto Index (WSC) soared 25.92%.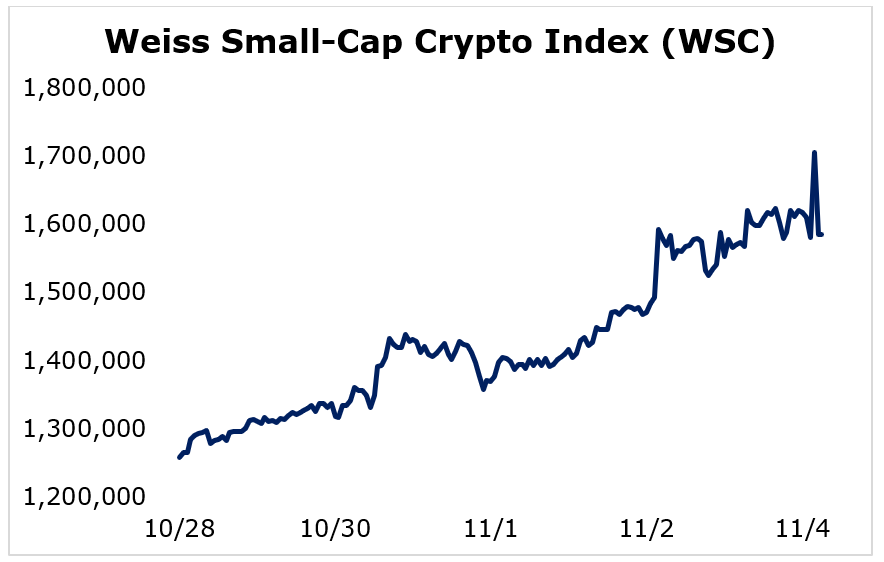 This week's price action was largely consistent with last week's as small caps outperformed their peers. But while Bitcoin and the large caps lagged the smaller and more speculative projects, they'll still be critical for leading the next phase of this bull market.
Notable News, Notes and Tweets
• New York's newly elected mayor Eric Adams will be collecting his first three paychecks in Bitcoin, and other mayors are following suit.

• Craig Wright's trial is now underway, which could impact the market's perception of Bitcoin's pseudonymous creator, Satoshi Nakamoto.

• Australia's largest bank, Commonwealth Bank of Australia (ASX: CBA), will be rolling out crypto services for its customers.
What's Next
As election season comes to a close, it's encouraging to see newly elected officials take a positive stance on expanding crypto adoption. The latest examples of mayor-elect Eric Adams, Tampa Bay Mayor Jane Castor, and two other mayors agreeing to collect their salaries in Bitcoin follow Miami Mayor Francis Suarez' lead on promoting crypto adoption.
As state officials and institutions continue diving into crypto, the space will continue to build its mainstream legitimacy. Given the significant inflationary risks from unsustainable fiscal and monetary policies by governments and central banks, institutions will continue looking for greater exposure.
The Craig Wright trial is an intriguing storyline for crypto investors ... although it likely won't impact the market if his claim of being Satoshi Nakamoto is proven false. In any case, many believe that since Wright has not elected to prove he is Satoshi by showing access to the private keys when given the chance, the odds are highly unlikely he's the true Bitcoin creator.
Regardless of the trial's outcome, Bitcoin's long-term adoption and use case will continue building. The next phase of this crypto bull run is playing out, and prices should continue reflecting the market's strength.
Best,
Sam