Broad Market Moves Toward Recovery
Bitcoin (BTC, Tech/Adoption Grade "A-") has recovered slightly but has yet to break through the $60,000 resistance.


Ethereum (ETH, Tech/Adoption Grade "A") continues its climb but has yet to surpass its previous high.
This market has been flip-flopping over the course of the past week or two. A bottom was likely registered last week, but since then, most assets have yet to clear important resistance levels.
Bitcoin still hasn't broken above its moving average or through the important resistance level at $60,000, so it is most definitely not out of the woods yet.
That doesn't mean Bitcoin is in trouble right now. As long as it holds above $54,000 over the next few days, it should be OK. After that, though, BTC's recovery needs to take the next step and climb above $60,000.
If it can do that, the next big resistance level would be its May high near $64,900. The sooner BTC begins this climb, the better. Not only for Bitcoin, but for the market as a whole.
But if the bulls can't mount a charge within the next week or so, there could be further weakness.
Here's BTC in U.S. dollar terms via Coinbase Global (Nasdaq: COIN):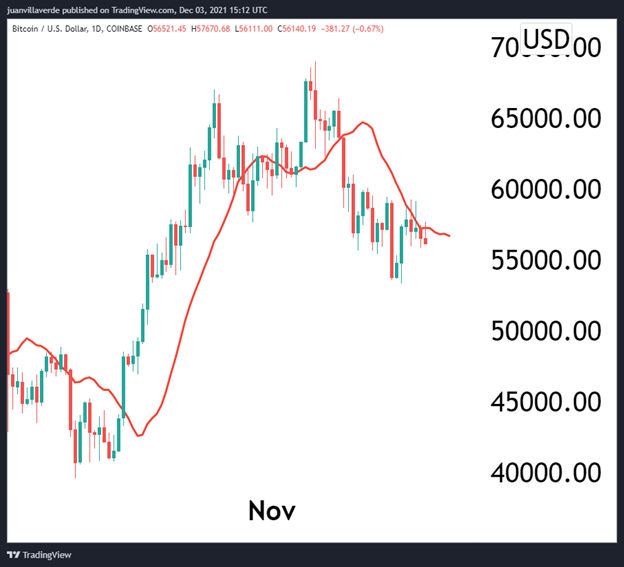 Ethereum is in a bit of a different situation than Bitcoin. ETH has been performing fairly well over the last few weeks … though it's been sitting under its all-time high, a very important resistance level, for a little while now.
A close above $4,800 would be the final warning that Ethereum is entering price discovery mode.
Earlier this week we got news that a Denver based investment firm had applied for an Ethereum futures-based exchange-traded fund (ETF). Considering the Securities and Exchange Commission (SEC) approved a Bitcoin futures ETF earlier this fall, this application has a fair chance of passing. An ETF could be the boost Ethereum needs to continue its move to new highs.
Either way, as long as ETH holds above the $4,000 level it will be just fine, but just like Bitcoin, the sooner it pushes past resistance, the better.
Here's ETH in U.S. dollar terms via Coinbase: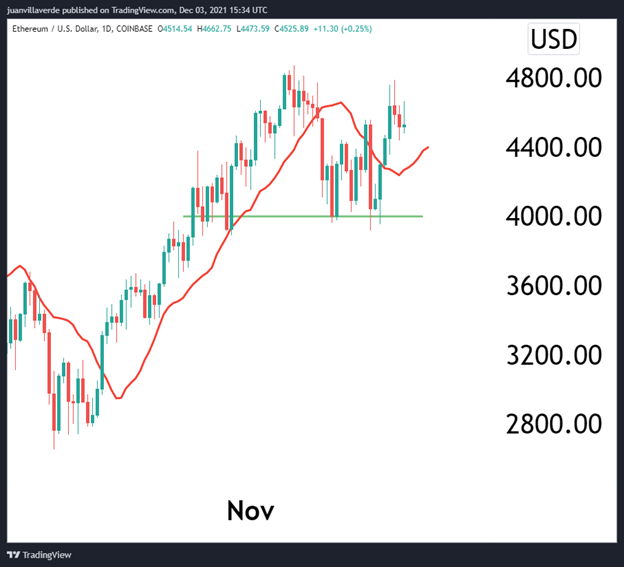 Index Roundup
Each of the Weiss Crypto indexes finished the trading week in the red for the second week in a row. Larger projects fell slightly, although smaller caps lost even more over the past seven days.
The Weiss 50 Crypto Index (W50) lost 2.35% as the majority of top 50 cryptocurrencies retreated in the marketwide pullback.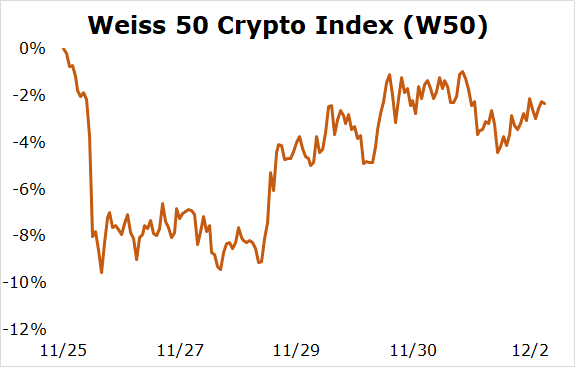 The Weiss 50 Ex-BTC Index (W50X) dropped 2.03%, or slightly less than the W50 Index with Bitcoin. This highlights Bitcoin's underperformance against many top crypto assets.
Breaking down this week's performance by market capitalization, we see that the mid-caps were hit hardest during the slide this week as they both slid further than the small-caps and haven't followed the large-cap cryptos' first-recovery steps.
The Weiss Large-Cap Crypto Index (WLC) fell 11.14%, indicating a rough week even for many top cryptocurrencies.
Mid-cap cryptocurrencies were once again the biggest losers, but only by a small margin, with the Weiss Mid-Cap Crypto Index (WMC) declining 15.33%.
The Weiss Small-Cap Crypto Index (WSC) dipped 7.15%, extending the streak of small-cap outperformance for another week.
While the broad market ended in the red, it does look like it might start to accelerate its recovery, so hopefully next week the indices paint a different story.
Notable News, Notes and Tweets
What's Next
This market is still in a dicey position despite the slight recovery from last week's lows. Bitcoin and Ethereum need convincing moves upward to fight off the aggressive bears right now.
The weekend is likely to be volatile, so we won't really know where investors' heads are at until Monday or Tuesday of next week. Until then, sit tight and wait for more updates from our team.
Best,
Alex