BTC, ETH Rise from Monday's Lows. Is a Rally on the Horizon?
Price action this week has seemed like something taken from a Hollywood blockbuster.
It all looks bland and hopeless. Then just as you're about to give up hope … everything gets turned on its head and the hero prevails!
After making new lows on Monday, both Bitcoin (BTC, Tech/Adoption Grade "A-") and Ethereum (ETH, Tech/Adoption Grade "A") are trending higher. In fact, ETH is already up roughly 15% from Monday's low.
Could we be seeing a recovery?
According to our analysts, it's too early to tell for sure. But I wouldn't be surprised if we did see a rally, even a small one.
That's because, despite the bearish sentiment that's overtaken much of the broad conversation, crypto fundamentals have been telling a totally different story.
Several projects continue pushing out updates, triggering new growth unabated by the fear, uncertainty and doubt (FUD) we've experienced over the past couple of months.
A solid foundation such as this is usually followed by an uptick in mainstream adoption.
This dynamic is circular, feeding into itself and resulting in sustained and continuous growth for the industry.
Sounds great, right? Then why has the market been drenched in red?
Because financial markets are complex. That may seem like a cop-out answer, but it's true.
Fundamentals are only part of what goes into influencing price action. Market sentiment, investor psychology and regulation all come into play.
And lately, so too do the rumblings of the U.S. Federal Reserve, as my colleague Alex Benfield explains in this insightful piece.
This tweet sums it up the best: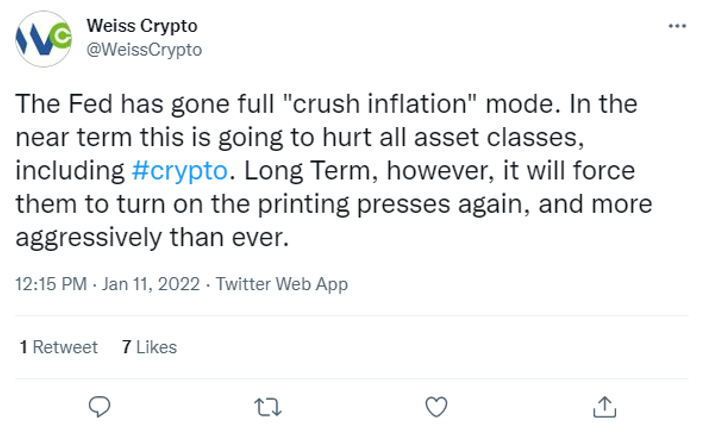 So, in the first months of 2022, aside from a possible upcoming recovery, we're bound to see more sideways action.
What about the rest of the year? We'll need to see how the market reacts over the next few weeks to get a sense of what 2022 may have in store for us.
But not everyone is sad to see crypto prices struggle.
The bastion of traditional finance, the International Monetary Fund (IMF), didn't waste a moment to point out how Bitcoin and other cryptocurrencies show high correlation with traditional assets.
In the IMF's opinion, that makes crypto assets a systemic risk to global financial markets.
Our analysts hold a different opinion ...
Still, whether you're a HODLer or a trader, you've likely felt pressure from governments and traditional financial institutions that try to cast crypto in a negative light. Their intervention makes it harder to withdraw or deposit your assets and participate in global crypto markets.
And if you feel the pressure, imagine how developers feel. Hurting them is like striking at the heart of crypto.
Thwarting attacks by regulation-hungry policymakers should be a priority of the crypto community as a whole.
And to that end, former Twitter (NYSE: TWTR) CEO Jack Dorsey has a plan ...
As crypto continues ripping off chunks of market share from the traditional financial giants, attacks on the sector will become more prominent … and more severe. Dorsey's legal defense fund is a solid first step in fighting back.
And we'd love to see this kind of aid extended to other worthy projects in the space. It would put money to a good use.
The world is waking up to the fact that cryptocurrencies are here to stay. Even the academics can't deny their sway over the young investors.
Just over a year ago, our analysts were saying that Bitcoin was giving gold a run for its money as a safe-haven asset. Today, it truly seems like gold is on its way out, at least for younger investors:
And zooming out to look at the broad market, it's not just young investors or Bitcoin purists who believe in crypto.
Institutional investors are even more bullish:
It's easy to get stuck on the price action and not see the forest for the trees. And sure, no one wants to see charts with this much red on them.
Investors should take note of short-term price action to protect any gains they might have and minimize losses before cryptos resume their inevitable uptrend.
But overall, the fundamentals, strong institutional support, growth and rising adoption rates all speak to the crypto market's bright future in the long term.
Until next time, stay safe and trade well.
Jurica Dujmovic