Crypto Correction Flushes Out Leverage
• Bitcoin (BTC, Tech/Adoption Grade "A-") has dipped a little bit since hitting an all-time high last week.

• Ethereum (ETH, Tech/Adoption Grade "A-") is retesting the $4,000 support level.

• Polygon (MATIC, Tech/Adoption Grade "B-") has held up very well this week as it is clearly building up some impressive momentum.
After setting a new all-time high last week, Bitcoin has come back down to Earth a bit as investors take a breather.
Remember, this is a good thing. What we're seeing now is leverage getting flushed out of the market. This current short-term rally is a bit overextended, and we wouldn't be surprised to see a small short-term correction over the next week or two.
However, that correction should be seen as a buying opportunity, as this current bull wave is likely just getting started.
And if you're still feeling a bit disappointed that Bitcoin has dropped about $8,000 from its new all-time high, remember that it's still up $15,000 or 35% from where it started this month.
If BTC continues to drop further, it should find some solid support at $57,000. While not impossible, it's unlikely to drop further than that during this current correction. After Bitcoin bottoms out, we expect some sideways price action before things begin to climb again.
• Despite this short-term outlook, the backdrop for Bitcoin and the broad crypto market has never looked as good as it does now.
Investors, both retail and institutional, are flocking to this space trying to get their hands on as much and as many different cryptocurrencies as possible.
That will lead to more huge price spikes as Q4 plays out, so expect things to get even more exciting over the course of the next few weeks.
Here's BTC in U.S. dollar terms via Coinbase Global (Nasdaq: COIN):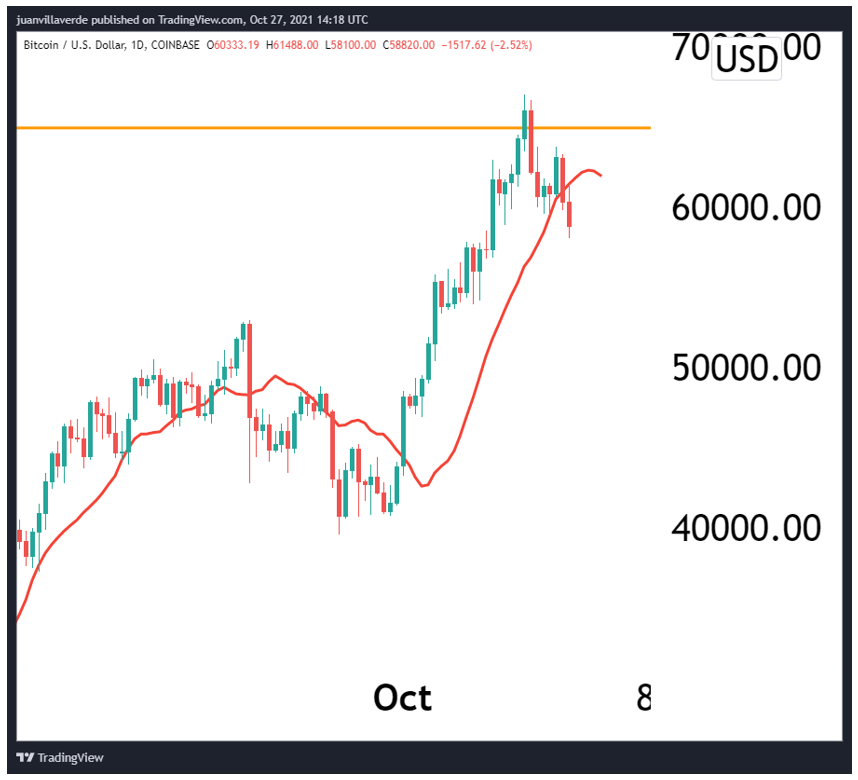 Ethereum was able to set an all-time high daily close just last week, but it faced stiff resistance at the $4,200 level. It's currently retesting the $4,000 level, where it has a good bit of support. If it can't hold, though, ETH could fall to $3,800 during this correction.
Despite ETH's recent weakness, its chart actually looks more stable than Bitcoin's. Ethereum still hasn't truly broken out past the previous all-time highs, as it lost that ground the very next day.
We'll be watching very closely at how ETH moves after this current market pause.
The biggest question we hope to answer in the next run-up is whether or not ETH will outperform BTC. That will likely dictate if we'll see the altcoin market truly shine in the next few months.
Here's ETH in U.S. dollar terms via Coinbase: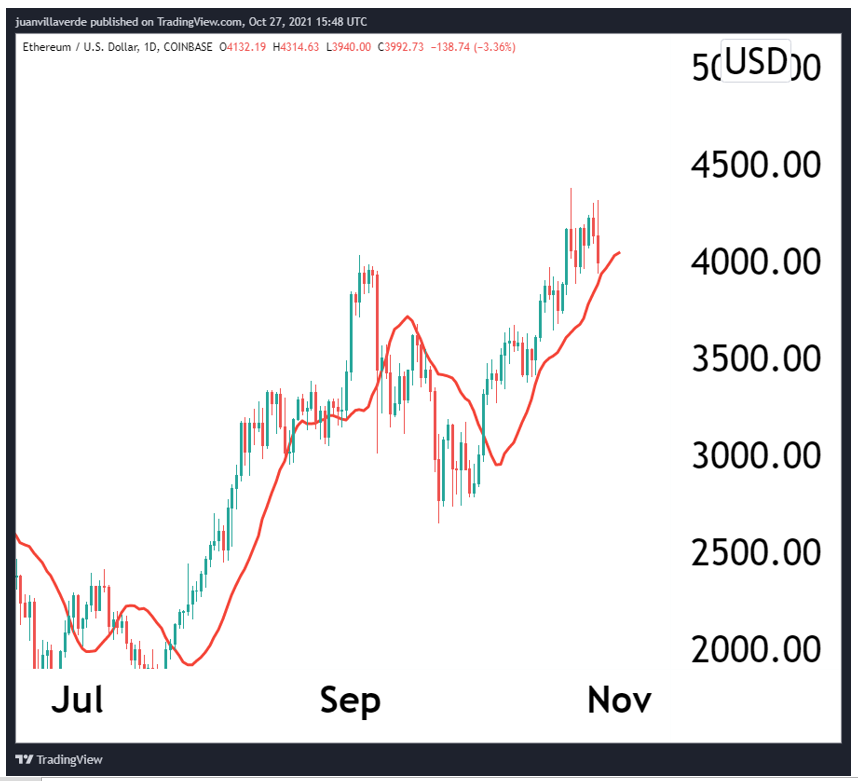 MATIC has been crushing it this October, climbing more than 60% to its current price of around $1.80. A lot of this is due to Polygon's continued development over the past few months, including its push to make a name for itself in the non-fungible token (NFT) space.
Recently, Polygon announced it will be powering Dulce & Gabbana's first foray into NFTs, an interesting move on several levels. But most important is that this move clearly highlights Polygon's commitment to NFT's, which we've mentioned many times could be a huge catalyst for growth on this network.
NFTs and gaming are a good fit for Polygon's cheaper and faster network. They could help propel MATIC into extreme popularity as the NFT craze continues. If Polyogn can successfully strike while the iron is hot, it could cement itself as a Layer-2/sidechain blue-chip.
Looking forward, MATIC will need to regain the $2 level and establish that as support in order for it to continue to climb toward new highs.
That level will be tested and retested as this bull market continues. In the meantime, MATIC will need to hold the $1.50–$1.65 level as support.
Here's MATIC in U.S. dollar terms via Coinbase: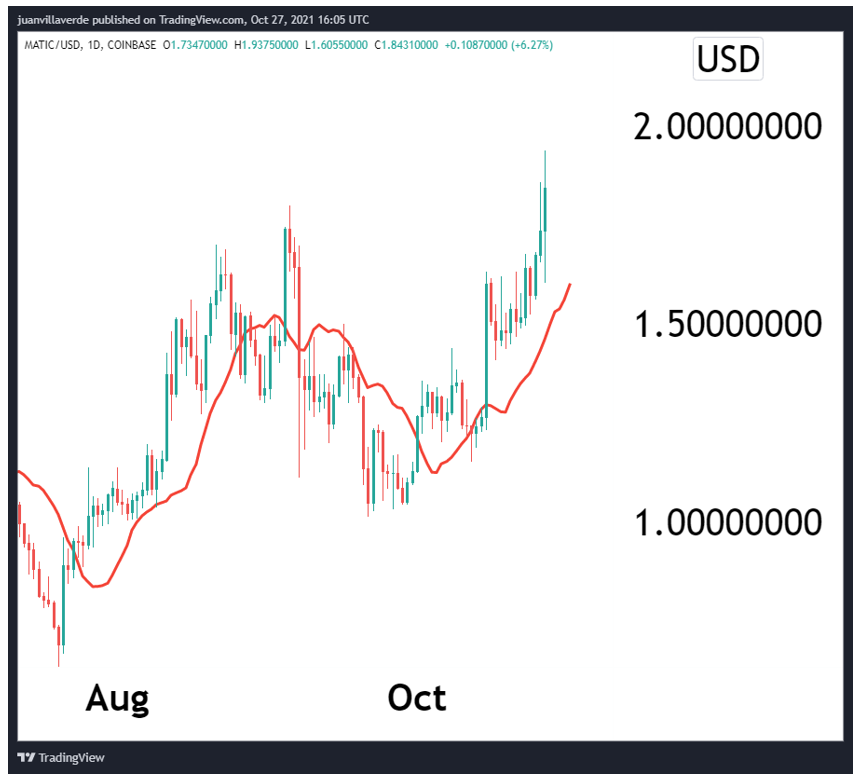 Notable News, Notes and Tweets
• Speaking of NFTs, popular meme stock GameStop (NYSE: GME) is looking to get in on the action.

• Pomp notes that the FDIC is looking into how U.S. banks could hold Bitcoin.

• Ryan Selkis of Messari points out the benefits of a career in cryptocurrency.
What's Next
Despite the slightly bearish price action of the past few days, this market is still firmly in the hands of the bulls, with new highs still likely in store as Q4 plays out.
The macro backdrop for cryptocurrency continues to grow more bullish over time, and the technical and fundamental indicators for most cryptocurrencies continue to improve.
We will likely see a small short-term correction play out over the next week or two. That's good. It'll confirm solid support before this market pushes up to higher levels.
• Treat this as perhaps your last good buying opportunity before prices push to all-time highs.
And continue to check Weiss Crypto Daily to stay up to date with the market as things develop.
Best,
Alex