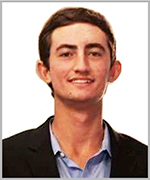 By Sam Blumenfeld
Bitcoin (BTC, Tech/Adoption Grade "A-") and other cryptos have extended their recent gains as the market looks to maintain momentum during this current bear market relief rally.
Both crypto and traditional equity markets saw a nice boost this week after the Federal Reserve showed its first sign of wavering from its aggressive economic tightening schedule.
This didn't come from its policy decision outright; we still saw interest rates raised by 75 basis points for the second consecutive month.
Instead, the crack in the Fed's previously impenetrable hawkishness came from Fed Chair Jerome Powell's willingness to consider future data to make adjustments.
As additional data piles in — like Thursday's report that U.S. GDP growth was negative for the second consecutive quarter — the market is pricing in that the U.S. central bank may stop hiking interest rates.
That would create a better environment for riskier assets.
And investors are already eager for that possibility. Bitcoin is up about 1% so far in today's trading, up 20% on the week and is back above its 21-day moving average and the key $24,000 level, as it looks to bring crypto prices out of oversold territory.
Here's Bitcoin's price in U.S. dollars via Coinbase (COIN):
Ethereum (ETH, Tech/Adoption Grade "A") is about even today but has notably outperformed the market leader with its 50% gain over the past month.
Ethereum has nearly doubled since its recent June 18 bottom of $880 and decisively reversed its prolonged trend of lower highs and lower lows, but it'll be critical for the asset to establish a new floor in the event of a pullback due to market-wide pressures.
More likely, though, is that ETH's momentum will continue pushing it higher as more investors speculate about the upcoming Merge. Still, ETH could run into stiff resistance at $1,800. The asset nearly broke through in yesterday's trading, but it quickly pulled back before it could reach the target.
Here's Ethereum's price in U.S. dollars via Coinbase:
Index Roundup
It was a mixed week for crypto as the market mostly moved back and forth amid elevated volatility.
The Weiss 50 Crypto Index (W50) increased 3.63%, as the broader crypto market was able to reverse its mid-week slump.
The Weiss 50 Crypto Ex-BTC Index (W50X) gained 41.48%, with Bitcoin slightly lagging altcoin performance.
Breaking down performance this week by market capitalization, we see that while the mid-caps were the only true winners, none of the market cap cohorts took any significant damage.
Large-cap cryptocurrencies lagged the most this week by a small margin, as the Weiss Large-Cap Crypto Index (WLC) slipped 4.03%.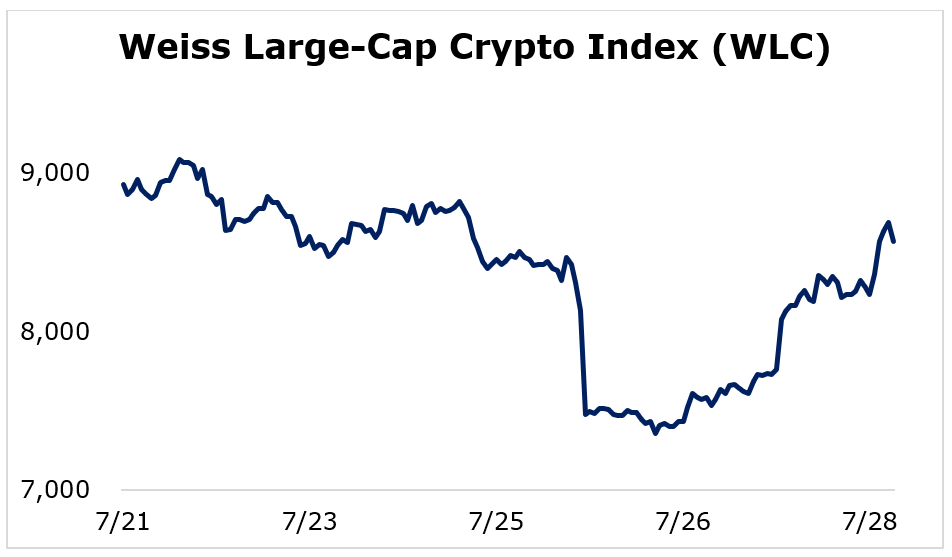 The mid-caps managed to take the top spot again this week, with the Weiss Mid-Cap Crypto Index (WMC) gaining 3.78%.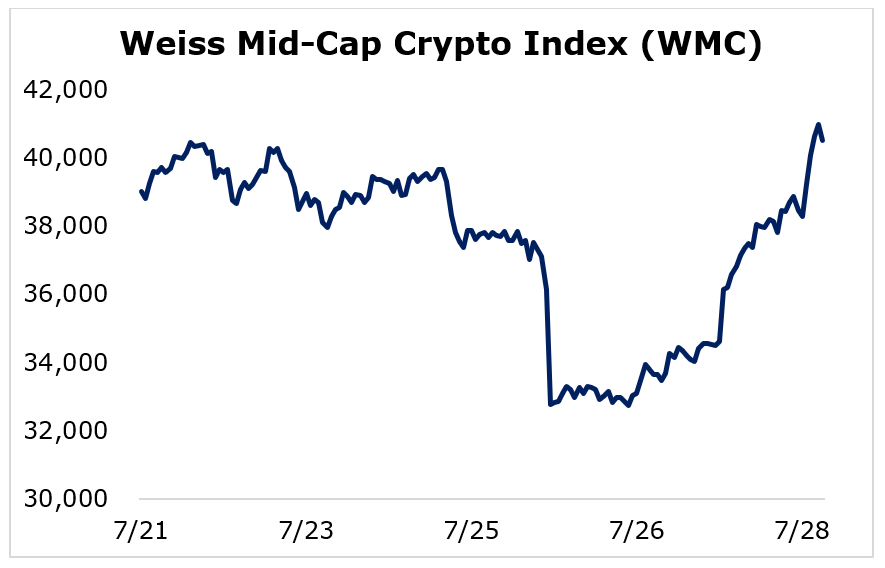 Small-cap cryptocurrencies lost minor ground this week, as the Weiss Small-Cap Crypto Index (WSC) decreased 3.84%.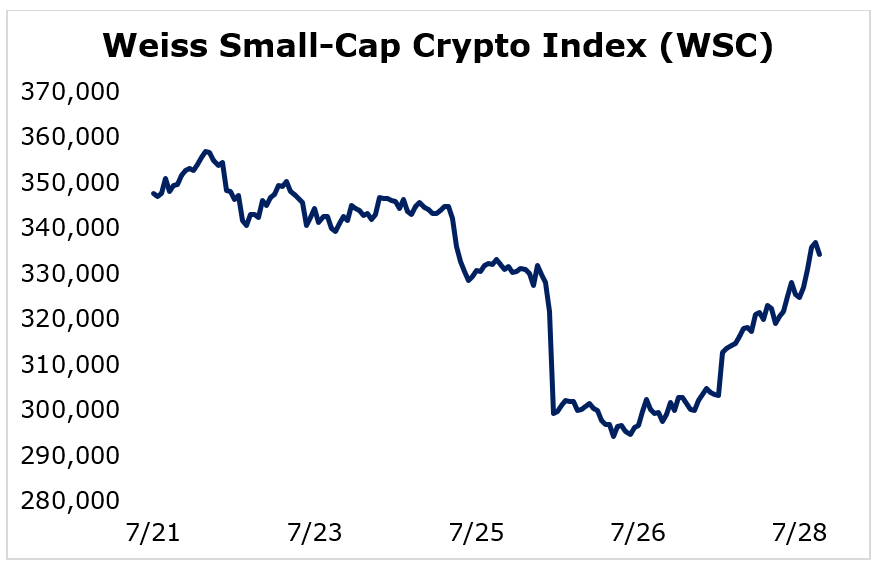 After last week's notable rally, it was a good sign to see the broader crypto market withstand taking a significant step backward. After all, crypto is still in a bear market, and investors must keep that in mind.
Still, it's likely we'll see this relief rally extend a bit further.
For now, altcoins could continue outperforming the market leaders because they took more damage during the extended pullback.
Notable News, Notes and Tweets
What's Next
It's a positive sign to see the crypto market extend its relief rally despite the sustained macroeconomic challenges. If the Fed is forced to reevaluate its economic tightening, it would likely lift some of the downward pressure on crypto asset prices in the short term.
But upside is limited during bear market cycles. Investors still have to contend with prolonged weakness during the crypto winter. Meaning, we can't count out the possibility of pullbacks and corrections.
Looking further ahead, crypto's fundamentals are constantly improving … even in this bear market!
Adoption is progressing as institutions position themselves to take part in crypto's transformation into a mainstream asset class.
As governments and central banks irresponsibly spend and print money, more institutions and individuals will look for an alternative.
That's why our long-term outlook on the broad crypto space remains bullish.
Best,
Sam