Crypto Market Rallies into the Weekend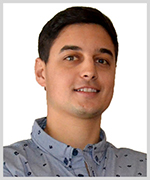 By Alex Benfield
During the second half of this week, crypto bounced back in a big way.
The past few weeks have been rocky, as the crypto market began to slide after the recent rally that peaked in mid-August.
However, Europe's economic stimulus to deal with the ongoing energy crisis has had a bullish effect. Crypto investors appear to be a bit more optimistic about the macroeconomic outlook of the world.
They say a rising tide floats all boats.
The top two cryptocurrencies have stolen the show over the last few months, but now it also looks like altcoins want to shine.
Even smaller altcoins are reaping the benefits this week, and we've started to see signs that a bottom might be forming in the altcoin market ... but it's still too early to confirm.
Keep in mind that just because a bottom might be in doesn't guarantee that altseason is near.
Regardless, these are positive developments. And ones we will be watching and reporting on here in Weiss Crypto Daily.
One thing is for sure: The market appears to be heating up as we near some of next week's important events: the Ethereum (ETH, Tech/Adoption Grade "A") Merge and the Consumer Price Index data.
It's safe to say investors should expect volatility in the coming days.
Additionally, it appears that Bitcoin (BTC, Tech/Adoption Grade "A-") has woken up from its slumber today.
It's up almost 10% on the day and has crossed back above $20,000. BTC will need to hold above $20,000 to confirm that it's flipped that level into support before heading toward the overhead resistance at $21,800.
Things will get even more bullish if Bitcoin can register a new local high at the $25,000 mark.
This doesn't mean Bitcoin is out of the woods just yet, but it's a good sign that investors appear to be more optimistic moving forward.
Here's BTC in U.S. dollar terms via Coinbase (COIN):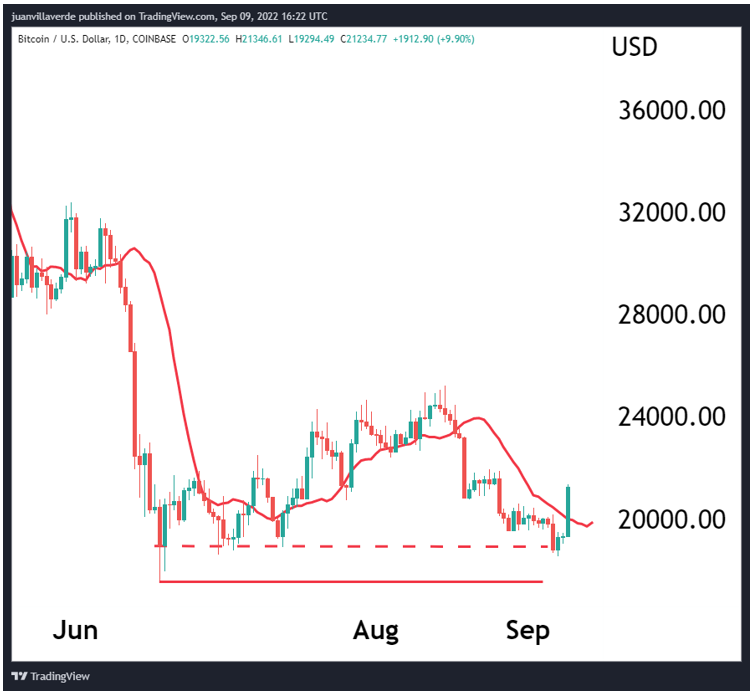 Ethereum has also been climbing this week and is over the $1,600 resistance level. It's now trading around $1,700, up 4% on the day.
ETH has been leading BTC for weeks now, and this is the first sign of life that BTC has shown for the trading pair.
ETH/BTC has been trending toward its highest level since 2018, but Bitcoin's recent surge has pumped the brakes on ETH before it could hit that high.
ETH is still showing some good signs of strength and is only 18% away from a local high at $2,000.
Expect those overhead resistance levels to be tested as the countdown to the Merge continues.
The big question now is whether the Merge is already priced in ... and we're days away from getting that answer.
What's Next
Volatility is bound to pick up as we approach the gauntlet of this month's important events.
By this time next week, we'll know if inflation is slowing down and whether the Ethereum Merge goes through smoothly.
A successful Merge is bound to be a bullish event for the space; it'll show that — despite developers' lofty goals and delayed timelines — the cryptocurrency industry is still at the forefront for technical innovation.
The CPI data release will be telling as to whether the Federal Reserve's actions are taking hold, and whether the Fed needs to stay aggressive. It's hard to predict what those numbers might be, so we remain cautious.
A mixed bag of both bullish development on the technical side and bearish indicators for the macroeconomic outlook is still possible, and it's hard to determine how the market will digest that.
For more information on the merge, pay close attention to Weiss Crypto Daily.
Stay cautious, stay patient and expect volatility.
Best,
Alex