• Bitcoin (BTC, Tech/Adoption Grade "A-") is sitting on support near the $60,000 level

• Ethereum (ETH, Tech/Adoption Grade "A") will look to regain a crucial level just lost to the bears
Over the course of the past week, we've seen a slight pullback in Bitcoin and the crypto market as a whole. I say slight pullback because while BTC dropping to $60,000 might seem significant … it's nothing in the world of crypto.
We've said to expect healthy pullbacks in this bull market. Corrections in a short-term, 20-day cycle usually see pullbacks between 10% and 20%, so BTC's 13% dip fits right in. That's why we believe this to be another short-term price correction playing out just before we hit the last big push from the bulls.
This market has made a ton of progress. Don't forget that as recently as July, BTC was only trading for $30,000.
We still expect there will be another significant move to the upside, which should play out very well for Bitcoin in particular. But first, the market may continue to show more weakness over the next few days.
BTC has now fallen below the previous all-time high level of $64,900, putting a temporary roadblock on its path to $70,000. Bitcoin will need to solidify $60,000 as support and build back to the $65,000 level before it can seek out new all-time highs.
If BTC can't hold $60,000, then the $58,000 level will act as the last support before risking a greater pullback.
Here's BTC in U.S. dollar terms via Coinbase Global (Nasdaq: COIN):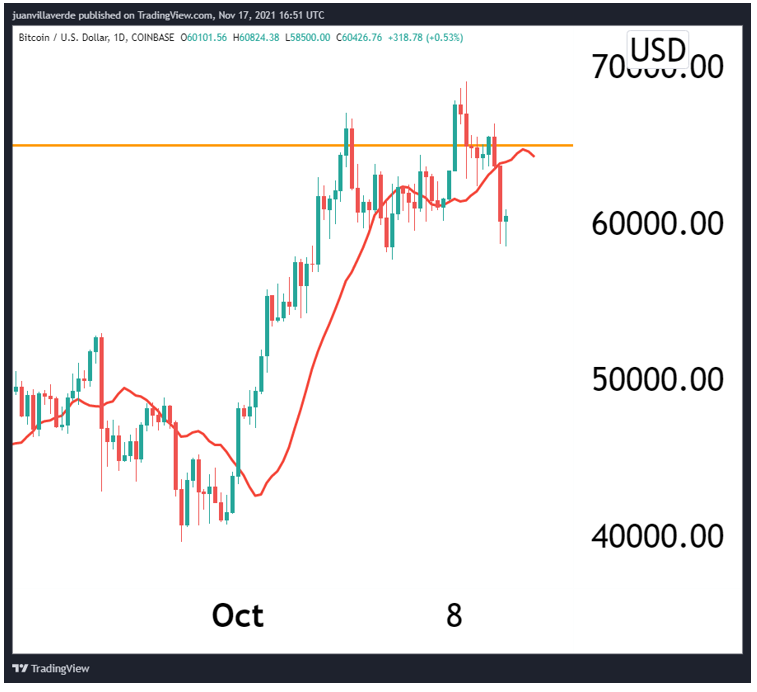 We suggest that you don't get too caught up in the current short-term battle, however.
Instead, let's zoom out and remember that, with the given macro circumstances and inflation worries, more investors are likely to turn to Bitcoin as a store of value in the months and years to come.
The fundamentals for Bitcoin are there, its technical metrics look great and the macro backdrop has not painted a clearer picture for Bitcoin since the day it was created.
Ethereumhad been performing very well over the last two months before taking a spill to start this week. ETH fell like a brick from $4,500 to $4,000, where it established support again before bouncing and reclaiming $4,200.
ETH will need to hold solid at $4,200 to stop the bleeding. After that, it'll need to reclaim that $4,500 support level.
ETH had been so close to breaking $5,000 recently; if it can retake those two support levels over the next week, it should be able to shoot right back up to its all-time high before the end of this month.
Here's ETH in U.S. dollar terms via Coinbase: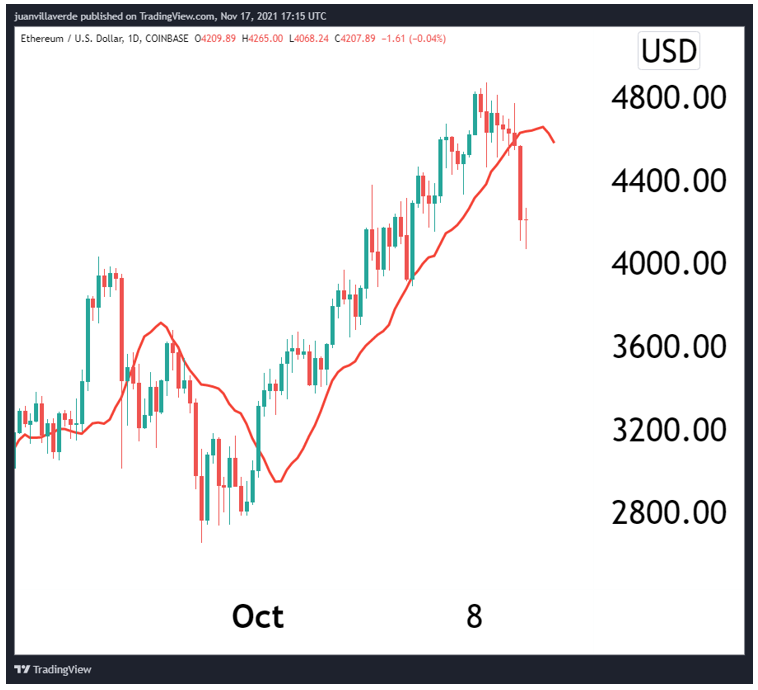 Meanwhile, there is some fishy business going on with The Grayscale Ethereum Trust (OTC: ETHE), as Securities and Exchange Commission (SEC) Chair Gary Gensler has been warning funds to stay away from any non-BTC crypto product.
None of this should have any meaningful impact on the spot price of Ethereum — or any other cryptocurrencies, for that matter — but it may be a sign of some tricky times ahead for any non-Bitcoin crypto futures or exchange-traded funds (ETFs).
So, take caution if you are invested in those products.
Notable News, Notes and Tweets
• The crypto sports advertising push continues as Crypto.com purchased the naming rights for the stadium formerly known as The Staples Center for the next 20 years at a price of $700 million.

• Ryan Selkis shows that there are people in favor of better crypto regulation, however they are currently outnumbered.

• Venture capital funds continue to invest in the crypto space at an astounding rate.
What's Next
There are mixed signals everywhere nowadays, and it can be hard to tell up from down.
Some things are obvious though.
The macro perspective for Bitcoin and the broad market continues to strengthen as people's trust in their governments and fiat currencies wane, inflation rises out of control and the regulators crack down on crypto — painting it as a risk to investors, as opposed to a risk to the fiat currency.
Decentralized finance (DeFi) is now a legitimate way to handle your personal finances ... and it offers better services and rates than anything found in the traditional finance world.
This can be credited to Web3 and the Ethereum Virtual Machine (EVM) as both now have much more obvious value.
These are the beginning stages of much bigger trends. There will be many bumps along the way, but Bitcoin, Ethereum, DeFi and the entire crypto landscape are here to stay and offer obvious benefits to society.
The cat is out of the bag. Now, it is just a matter of time before the rest of the world takes notice.
Best,
Alex