Crypto Markets End 2021 on the Upside Despite Recent Lull
It's the time of the year when most investors stop staring at their screens for a few days and poke their heads out their windows to inhale a bit of seasonal cheer before diving back in.
So, it's easy for those investors to miss any good news and turn Scrooge over the recent action — or lack thereof — in the crypto markets.
This week's boring finale for Bitcoin (BTC, Tech/Adoption Grade "A-") and the majority of other cryptos clearly reflects the current lull in the markets.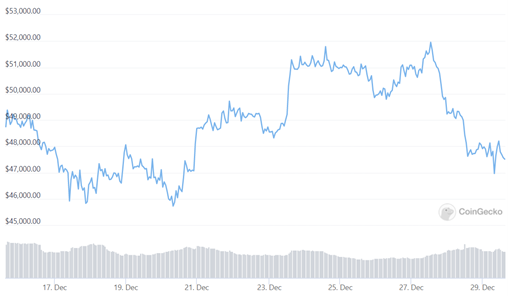 BTC price action over the past two weeks. Source: Coingecko.com
With Bitcoin deviating further away from the optimistic stock-to-flow (S2F) model — which in the past made the analyst PlanB famous — some of our readers and community are wondering if it's time to sell and set their sights on one of the altcoins.
We don't think it is, but it did raise an interesting question among the Weiss Crypto team …
If you had to choose just one, which crypto would stay in your portfolio right now?
Our answers varied, so we posed the same question to our followers.
Unsurprising to anyone who watches our Twitter feed, Cardano (ADA, Tech/Adoption Grade "B") was the winner by a landslide.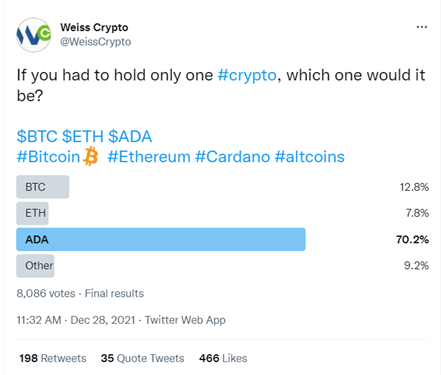 It was good to see that people are still bullish overall, especially as more bad news came in the form of a public service announcement.
This problematic PSA warned users about malware spreading through Telegram and targeting crypto channels.
We hope you saw the tweet, but in case you missed it, here it is again for your convenience and protection.
We would be grateful if you could take a moment and retweet this, for the sake of other crypto traders and enthusiasts: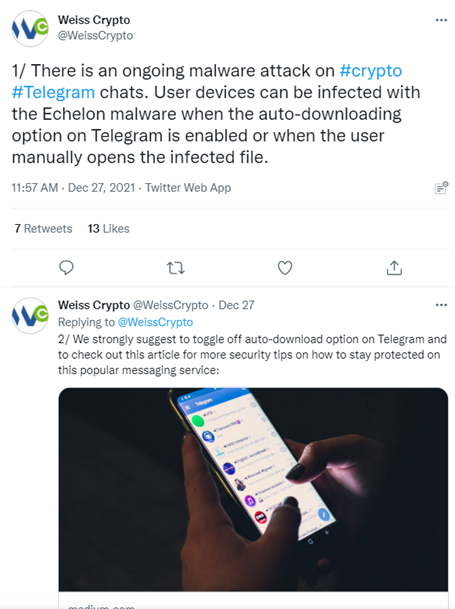 As I said, when you're not paying attention, it's easy to lose sight of the season's gifts in the lull.
Even though many traders didn't get their crypto socks filled with goodies, it doesn't mean that the end of the year has been a letdown.
The fact is that 2021 ended up being significantly better for the industry than the year before.
Just how much better, you ask?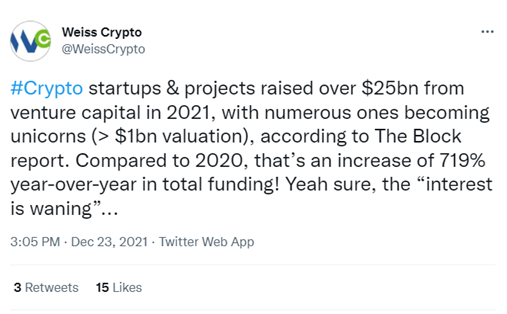 A 719% increase in funding proves interest in crypto is anything but waning.
If this keeps up, we're likely to see even more growth and mass adoption in 2022 — especially as people continue to lose faith in traditional financial instruments and institutions.
Another seasonal gift came this week for Binance, which seems to have finally caught a break after a series of setbacks:

It's certainly too early to tell, but we hope so.
Regulators worldwide need to understand that crypto is here to stay and adapt their framework to this new financial medium, so institutions like Binance can continue doing their business under reasonable scrutiny ... rather than under constant fire by the old-world financial institutions.
Bringing the good news home to roost, our own crypto ventures have also done well this year.
Juan Villaverde's Weiss Crypto Portfolio subscribers are currently sitting on over 440% in yet-to-be-harvested gains in one of their portfolios.
Marija Matic's Undiscovered Cryptos service targets small cryptos leveraged to the hottest new sectors like play-to-earn gaming and the metaverse. That portfolio boasts an average overall open gain of just under 70% ... and that's without taking into account the returns subscribers have earned by staking some of their positions.
Speaking of staking, Crypto Yield Hunter subscribers have followed Marko Grujic's guidance to go for yields as high as 40% — predominantly by staking stablecoins to reduce exposure to price volatility.
There are so many silver linings to wrap up the end of 2021, despite the market's sluggishness at the moment. We'll have to wait and see if 2022 will be as kind.
We will be here to guide you with strategies designed to provide the optimal balance of protection and profit potential. And we are grateful for the opportunity to do that for you in the new year and for many years to come.
This will be the last CryptoBuzz in 2021, so, until we meet again next year, have a wonderful new year.
Stay safe and trade well.
Jurica Dujmović