Crypto on a Tear as Inflation Fears Fester
• Bitcoin (BTC, Tech/Adoption Grade "A-") has jumped up to new all-time highs so far this week

• Ethereum (ETH, Tech/Adoption Grade "A") is sitting right around all-time highs after an excellent start to November

• Chainlink (LINK, Tech/Adoption Grade "B+") is gaining some momentum and breaking through resistance levels
Inflation numbers were just released today ... and U.S. inflation is now at 6.2%.
That news seems to have sparked an immediate rise in most cryptocurrencies, with Bitcoin being one of the big initial winners as it recorded another new all-time high earlier today.
We haven't seen inflation numbers like this in a very long time, and they're spooking investors to move their money into better stores of value and inflation hedges.
Traditionally, investors would shift money towards gold during inflation scares or stock market trouble. But for the last few years, Bitcoin's number one value proposition has been as a store of value, a digital gold.
Today, many investors are now seeing Bitcoin as a better alternative to gold during those situations.
This can be seen in BTC's recent price action. Despite a brief 24-hour dip on Oct. 27, BTC has traded above the $60,000 mark since Oct. 15, almost a month ago.
But this week has been the start of the real fireworks. After breaking out of its recent trading range earlier this week, Bitcoin has hit new all-time highs three days in a row. The most recent was earlier today, clocking in at over $69,000, according to Coingecko.com.
The next major stop on Bitcoin's climb to $100,000 is the $75,000 mark. BTC could hit that level as early as this week if the current momentum holds.
We do expect a short-term correction somewhere near that level, though. We'll have to wait and see if Bitcoin can cross that threshold first, or if it'll need to correct and reset before then.
Here's BTC in U.S. dollar terms via Coinbase Global (Nasdaq: COIN):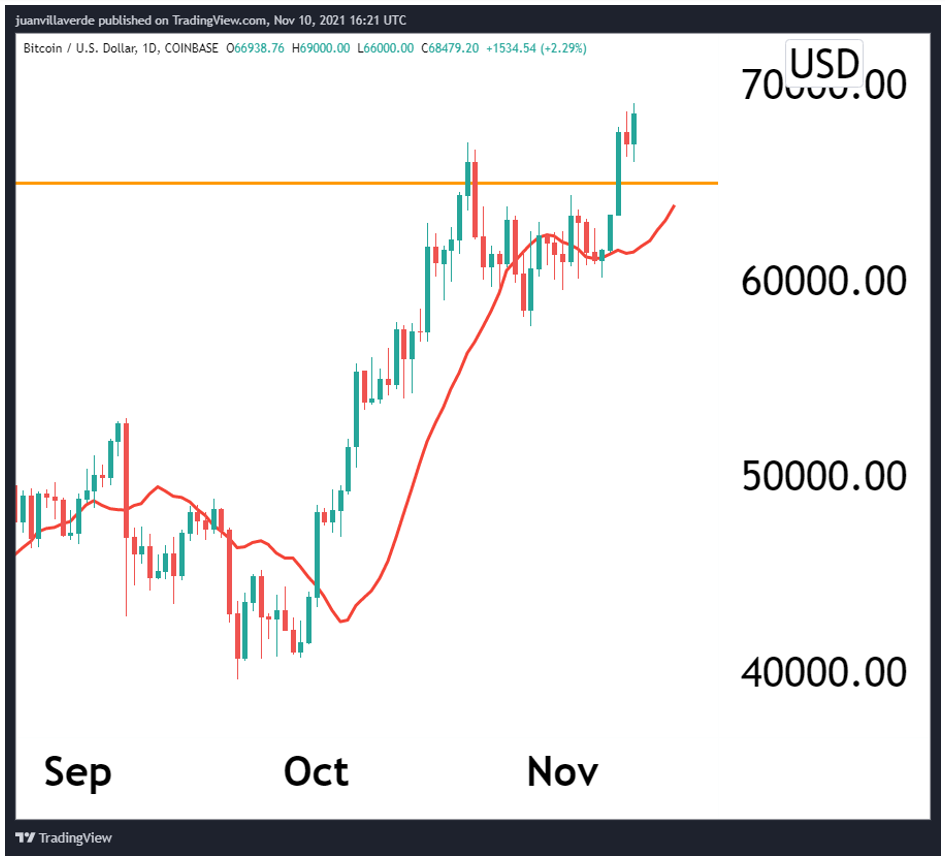 In a clear sign of market strength, Ethereum is performing in lockstep with Bitcoin. ETH has been on fire since the end of September and has barely taken a break in the last 45 days.It also set a new all-time high today and is now eyeing $5,000.
Expect ETH to break through this significant level sometime in the next week or so.
At the moment it appears that ETH has a one-way ticket to at least $9,000. Of course, there will be corrections along the way as traders take profits off new highs. But Ethereum is building some serious momentum ... and much of it is coming from institutional buyers.
Here's ETH in U.S. dollar terms via Coinbase: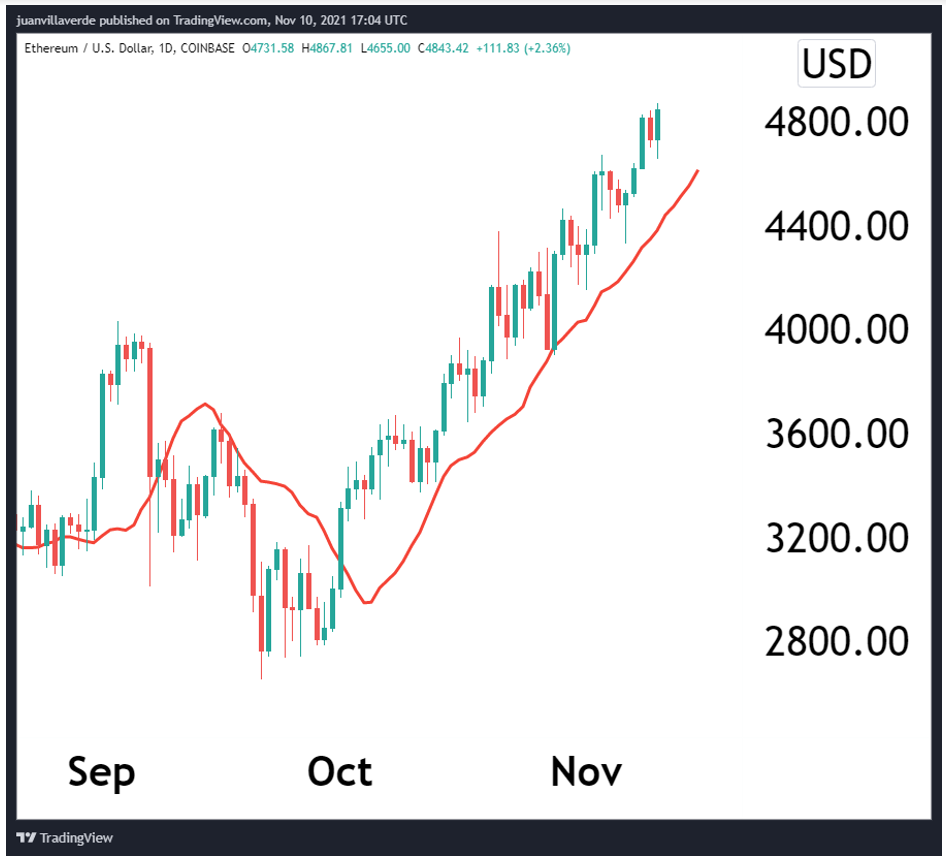 As this crypto bull gets running, we expect liquidity to filter down from BTC and ETH to other altcoins, specifically decentralized finance (DeFi) assets.
Chainlink has proven itself an altcoin leader in the past and is one of the hottest altcoins of the day. It broke through resistance at $30 on Monday, cruising past its previous cycle high set in September.
The next big resistance level on LINK's chart is at $40, after which a run to $50 and a new all-time high is in play.
These moves in LINK aren't just bullish for this one project. Its recent momentum might be the warning signal that other altcoins are getting close to breaking out.
Keep an eye on LINK and the rest of the altcoin market as this week plays out.
Here's LINK in U.S. dollar terms via Coinbase: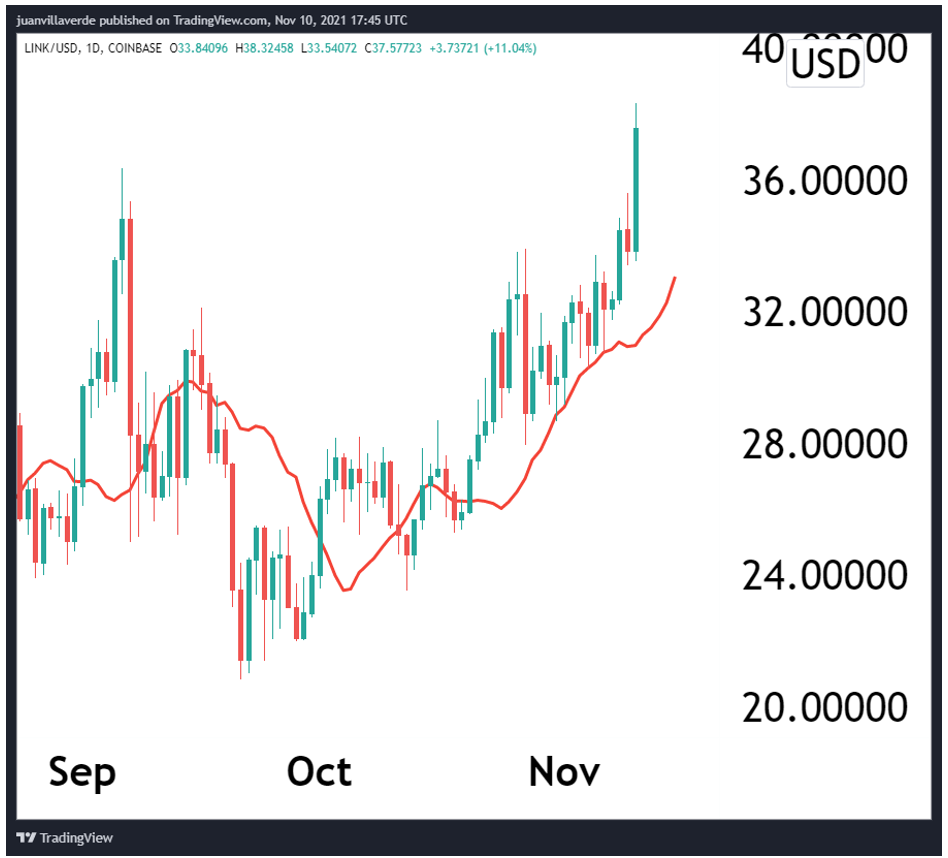 Notable News, Notes and Tweets
• Only a few months ago many people were calling for a crypto bear market. Oh, how wrong they were.

• Despite all the benefits that crypto offers its users, it still has its haters.

• However, there are some, like Ryan Selkis, that will continue to defend crypto as the equal opportunity system it is.
What's Next
We have been waiting for months for the crypto market to regain the momentum it had before the summer crash. And now, it looks like that's finally happening.
The catalyst for this new upswing in crypto is inflation worries. Investors are looking for better alternatives to hold their wealth than cash.
Many are turning to crypto. When combined with the powerful upward pressure from the long-term 320-day cycle, this renewed interest in crypto is paving the way for the parabolic run to get underway sooner rather than later.
Right now, Bitcoin and Ethereum are picking up steam and pushing for new highs daily.
Blue chip altcoins are also starting to move. While we've highlighted Chainlink because of its position as an altcoin leader, it's just one example out of many.
Those altcoins have yet to hit their all-time high marks but that is likely to come in the weeks and months ahead.
We are now at the beginning stages of the biggest phase of this bull market.
Things will get very exciting between now and the end of the year, with even more explosive gains to come than what we saw in the first half of 2021.
Many of you will remember the boosts to the market after Thanksgiving and Christmas of 2017 ... after investors shared their stories with family members and spread the word about crypto then.
We might see that happen once again this year.
Stay prepared and stay vigilant as this market continues to excite.
Best,
Alex