Crypto Sells Off After Negative News
Bitcoin (BTC, Tech/Adoption Grade "A-") fell below the psychologically important $40,000 level. It's down 4% today and sits around $39,000.
Ethereum (ETH, Tech/Adoption Grade "A") is faring worse, down 6% and trading near $2,800.
Bitcoin's crypto market dominance increased 70 basis points to 40.7%. Notably, it's still trading within the 40%–42% range.
The crypto market is pulling back after news surfaced that Russia is considering banning the mining and trading of cryptocurrencies. Russia is the world's third-largest Bitcoin miner, so the measure would likely negatively affect its hashrate in the short term.
Bitcoin and other cryptocurrencies have faced additional selling pressure given their elevated correlation with other risk assets. Recently, crypto has traded in tandem with technology and growth stocks. Federal Reserve policy and inflation should continue impacting prices over the short to medium term.
However, it's highly unlikely that the crypto market can continue its sharp sell-off without a stronger relief bounce. Bitcoin is currently trading 45% below its all-time high of $69,000 that it established on Nov. 9. The asset is trading well below its 21-day moving average, but it was briefly able to overtake it on Thursday before losing ground.
Here's Bitcoin's price in U.S. dollars via Coinbase Global (Nasdaq: COIN):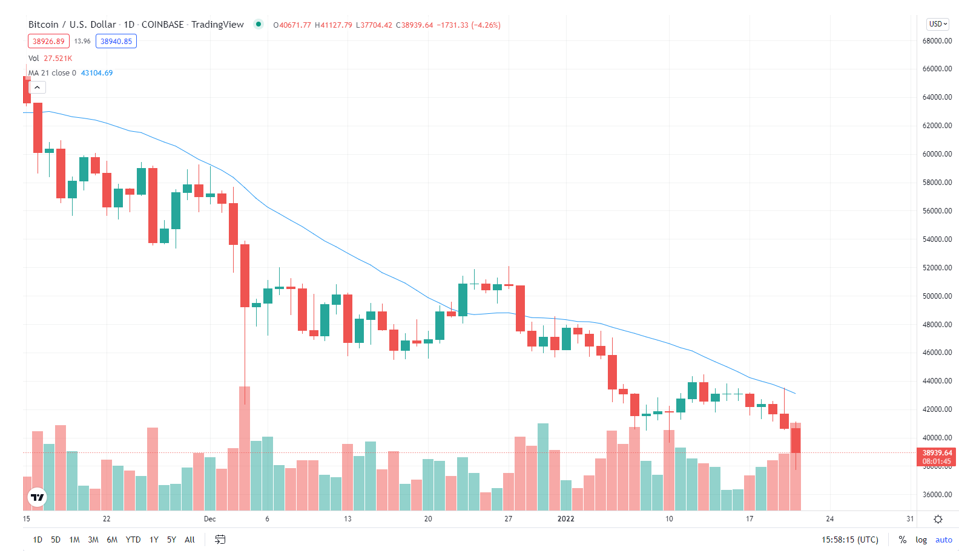 Ethereum has posted five consecutive red candles and continues to lose momentum. Unlike Bitcoin, Ethereum fell short of eclipsing its 21-day moving average yesterday. It hasn't exceeded the short-term measure yet this year, and it could struggle to overtake it considering the negative news developments.
However, the platform's adoption is soaring, and investors are eagerly anticipating the Phase 1 rollout of ETH 2.0 and transition to proof-of-stake validation later this year. Ethereum's fee burning after the EIP-1559 update is approaching 1.6 million ETH, or $4.5 billion.
Becoming deflationary should help Ethereum in the long run.
Here's Ethereum's price in U.S. dollars via Coinbase: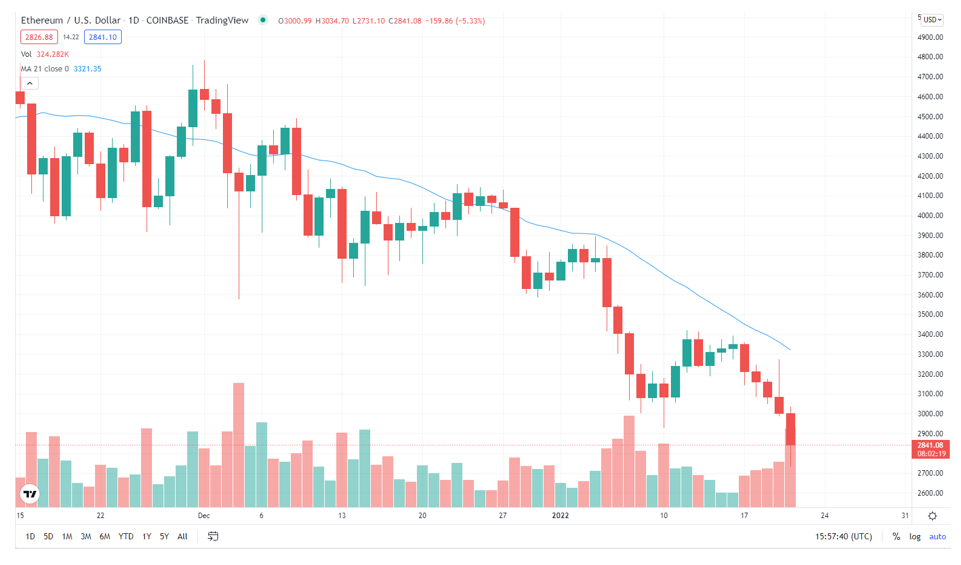 Index Roundup
It was a quiet week for the crypto market, but dynamics have shifted tremendously since the data was cut off on Thursday.
The Weiss 50 Crypto Index (W50) moved a negligible 0.08% higher, as most assets held their ground.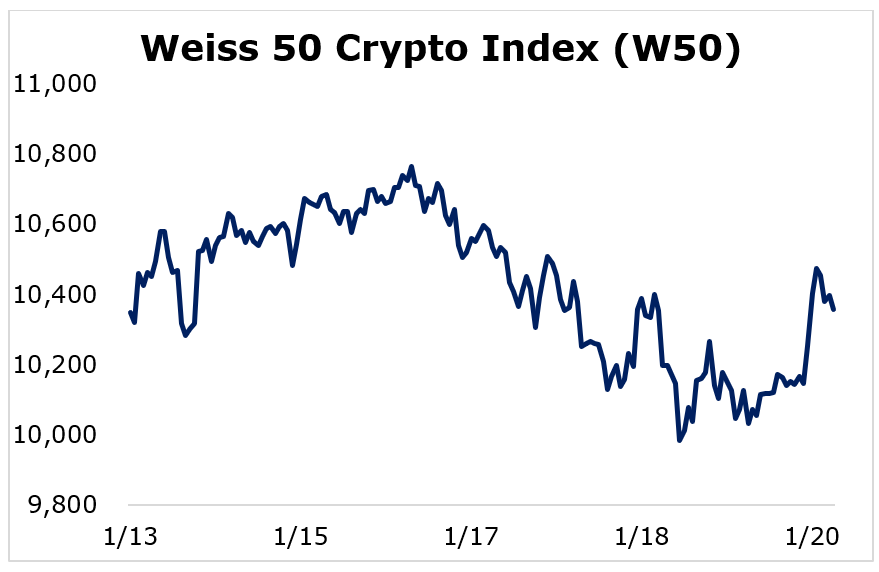 The Weiss 50 Crypto Ex-BTC Index (W50X) dipped 0.24%, which largely mirrored Bitcoin's performance.
Breaking down this week's performance by market capitalization, we see that the cohorts traded in line with each other. The large caps posted the only gain, but it was minimal.
The Weiss Large-Cap Crypto Index (WLC) managed to slightly outperform smaller and mid-sized altcoins with a 0.49% gain.
The mid-caps nearly broke even, as the Weiss Mid-Cap Crypto Index (WMC) lost 0.71%.
The small-caps underperformed, but their losses were insignificant. The Weiss Small-Cap Crypto Index (WSC) fell a minor 1.35%.
The crypto market experienced little volatility throughout the week, but that changed quickly after the data was cut off for the week. Sentiment worsened after the Russian news came out, and it would make sense to see large caps hold value better since they're more established.
Notable News, Notes and Tweets
What's Next
The crypto market's increased correlation with growth stocks and other risk assets could result in strong headwinds in the short term, but it should have little impact on long-term viability.
Adoption is more important, and it's making significant strides. Ethereum's status as the world's largest platform by asset processing volume bodes well for the industry.
The Russian crypto news shouldn't have a significant long-term impact on Bitcoin. The mining industry has already bounced back from China's ban, and capacity can be picked up elsewhere. After the prohibition, many miners decided to simply pack up and move somewhere that it's legal. Bitcoin's hashrate dropped by 50% in the short term, but it continues reaching new heights today.
Investors will likely have to weather additional fear and volatility over the short to medium term, but fundamentals and broadening adoption make its long-term prospects extremely bright.
Best,
Sam