Crypto Slide Continues Post FOMC Meeting
Bitcoin (BTC, Tech/Adoption Grade "A-") is down about 3% so far today, continuing its skid down to about $46,000.
Ethereum (ETH, Tech/Adoption Grade "A") is trading 4% lower and sitting around $3,800.
Bitcoin's crypto market dominance held at 41% this week, and it's traded in a tight range between 40%–42% since the beginning of December.
Bitcoin has sold off considerably since it recorded its all-time high near $69,000 on Nov. 10. Its recent price action is inconsistent with any historical bull market, considering there was no parabolic run followed by a blow-off top.
Like other risk assets, Bitcoin's downward movement has been heavily influenced by expectations of the Federal Reserve's plan to taper its money printing, reinforced in yesterday's Federal Open Market Committee (FOMC) meeting.
Bitcoin's correlation with traditional financial markets has increased as the Fed's intervention dominates headlines, especially the high-growth tech sector.
The slower, sustained drop-off with consistent lower highs and lower lows signals that the bull market we've experienced throughout the year is at best on pause. Bitcoin hasn't touched its 21-day moving average since it fell below it on Nov. 16. It would have to jump past $51,000 to overtake it.
Here's Bitcoin's price in U.S. dollars via Coinbase Global (Nasdaq: COIN):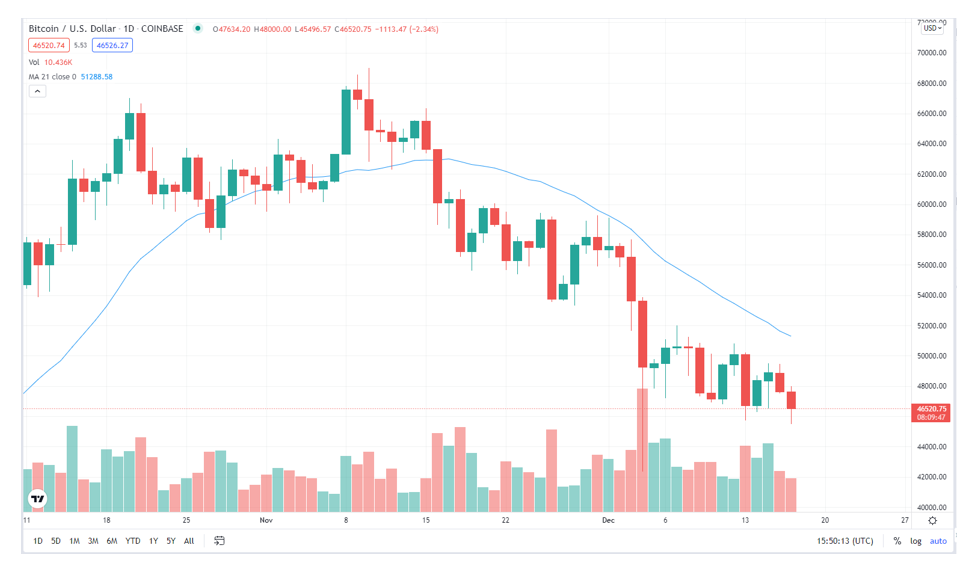 Given Bitcoin's weakness, it will likely be up to Ethereum to lead the broader market higher in the case of a rally. Ethereum's chart is stronger, and it hasn't tumbled to the extent Bitcoin has.
Generally, Ethereum's swings — both to the upside and downside — are larger than Bitcoins, so it's unusual to see BTC underperform large-cap altcoins during downtrends.
If Ethereum can manage to retake the $4,000 level, it's not outside the realm of possibility that it runs until establishing a new all-time high.
Ethereum is trading below its 21-day moving average, but unlike Bitcoin, it has jumped back and forth, overtaking the level four times since it initially fell below on Nov. 16.
Here's Ethereum's price in U.S. dollars via Coinbase: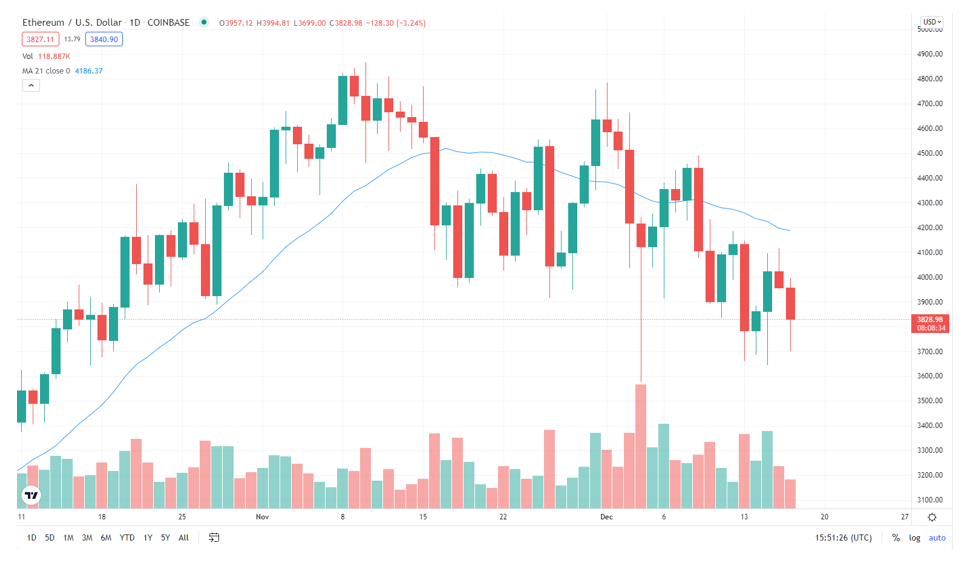 Index Roundup
The broader crypto market trended lower again this week, and it's struggling to regather momentum. Few cryptocurrencies were spared, with most of the biggest names finishing in the red.
The Weiss 50 Crypto Index (W50) decreased 13.54%, closely mirroring last week's performance.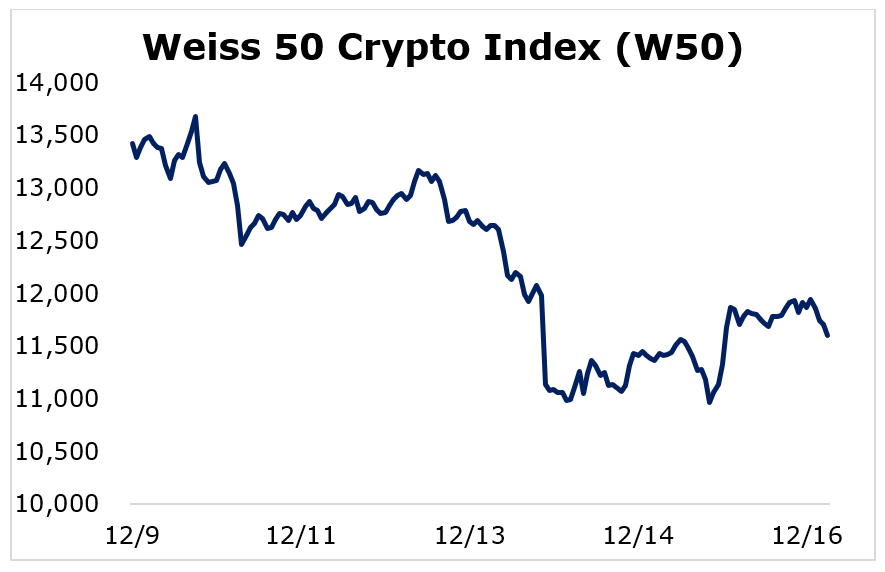 The Weiss 50 Ex-BTC Index (W50X) fell 16.65%, as Bitcoin managed to slightly outperform the broad market.
Breaking down this week's performance by market capitalization, we see that large caps took the least damage, but that's not saying much. It's usually the case when the market experiences selling pressure.
The Weiss Large-Cap Crypto Index (WLC) decreased 12.66%, outperforming the smaller and mid-sized cryptocurrencies.
The Weiss Mid-Cap Crypto Index (WMC) dropped 15.88%, leaving the mid-caps in the middle of the road again.
The small-caps struggled the most this week, as the Weiss Small-Cap Crypto Index (WSC) tumbled 19.11%.
It's typical to see the most established cryptocurrencies outperform more speculative altcoins during sell-offs, but Bitcoin is generally seen as crypto's safe haven aside from stablecoins.
It will be important to watch if it continues diverging from Ethereum and other large-caps.
Notable News, Notes and Tweets
What's Next
The crypto market has been cooling off for several weeks, and it hasn't followed the typical bull market blueprint of frenzied price action leading to a precipitous drop.
These are uncharted waters, so we can't say for certain what the next few weeks will have in store. It's possible we may not have the standard blow-off top we've come to expect from the final weeks of a multiyear bull market. It's also just as likely at this point that the cycle is just extended.
Either way, without the explosive upward price movement, one thing we can be more confident in is the unlikelihood that crypto assets will face declines to the same extent of bearish crypto winters seen in the past.
That's because those drops are in direct response to parabolic rises.
The Federal Reserve's actions will have an impact on crypto and other risk assets in the short term, as we've seen prices and sentiment worsen since the central bank's initial tapering announcement in November.
Despite the Fed's short- to medium-term influences on crypto, it won't be able to disrupt its long-term prospects. With adoption constantly growing and institutions diving into the innovative technology, the fundamentals for the space look brighter than ever.
Best,
Sam