Crypto Stabilizes as the Market Bounces Back
Bitcoin (BTC, Tech/Adoption Grade "A-") is up about 2% today after rebounding past $58,000.
Ethereum (ETH, Tech/Adoption Grade "A") is up 6% and is back above $4,200.
Bitcoin's crypto market dominance lost 50 basis points to 42.8%, as it continues fluctuating between 42%–44%.
The broad market sems to be leveling off from its 80-day-cycle correction.
Bitcoin has fallen 16% from its recently established all-time high of $69,000, but pullbacks of this size are common in crypto. And while it isn't typical for Bitcoin to lag the alts at this stage, all major signs still point to a strong push at the end of this market cycle.
Remember, while cycles don't play out in the exact same way each time, they do tend to follow similar patterns. And the recent price action does not mirror historical patterns of bull market endings.
The end of the crypto market cycle is usually seen in the form of a parabolic price move that turns into a blow-off top. Investors will look for BTC to reestablish momentum before that push can start in earnest.
We still have a ways to go before declaring this bull is done.
Here's Bitcoin's price in U.S. dollars via Coinbase Global (Nasdaq: COIN):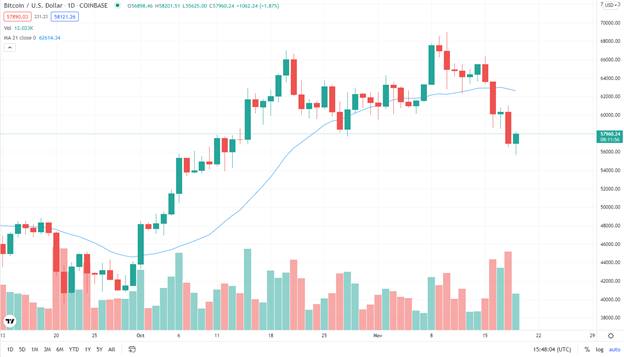 Last week, I mentioned that Ethereum could easily break down below the ascending channel that it established in the beginning of October. But given that the broad market was due for a pullback, this development isn't a convincing bearish signal.
Ethereum is trading below its 21-day moving average, but that's no surprise given the significant upward move that it made until early November. ETH went 45 days without touching its 21-day moving average starting on Oct. 2, and it should continue to perform solidly when the bull run resumes.
ETH closed right at $4,000 yesterday, and this psychologically important level could provide support if retested.
Here's Ethereum's price in U.S. dollars via Coinbase: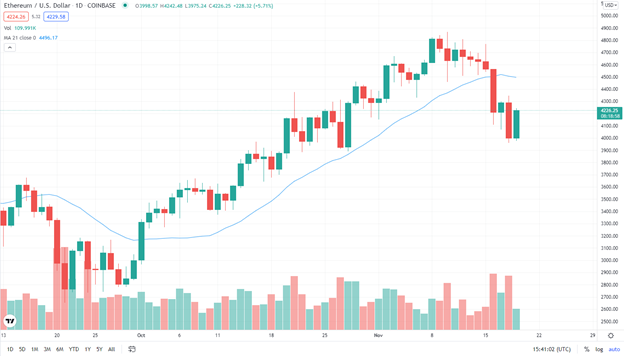 Index Roundup
Each of the Weiss Crypto indexes finished the trading week ending Thursday in the red. While the most established cryptocurrencies slid, the more speculative projects nearly broke even.
The Weiss 50 Crypto Index (W50) lost 11.89% as most cryptocurrencies retreated in the market-wide pullback.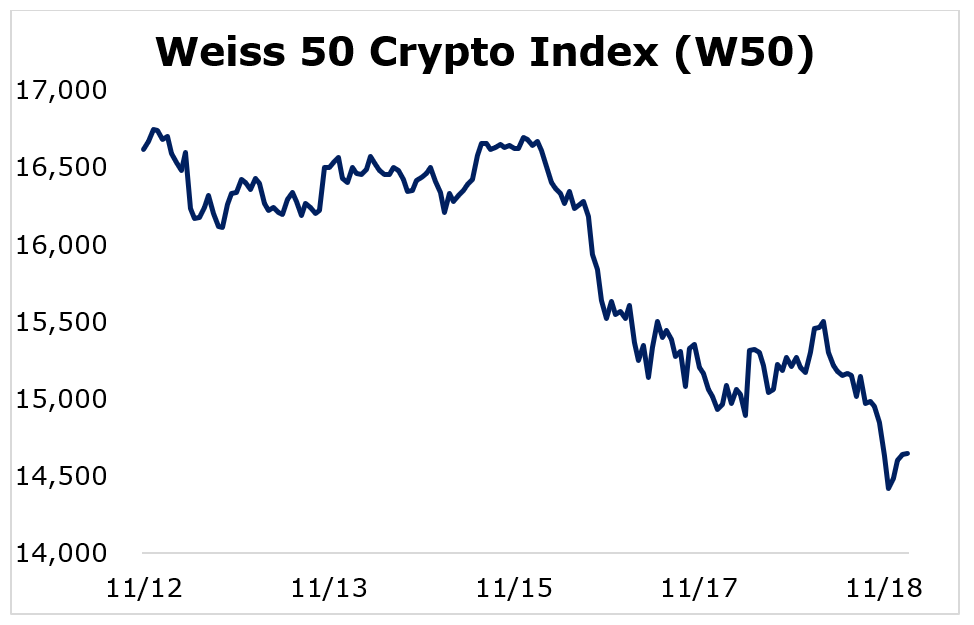 The Weiss 50 Ex-BTC Index (W50X) dropped 13.01%, highlighting how the broader market largely matched Bitcoin's price decline.
Breaking down this week's performance by market capitalization, we see that the small caps were able to limit the damage better than their larger counterparts.
The Weiss Large-Cap Crypto Index (WLC) fell 11.51%, as most of the well-established names lost ground.
Mid-cap cryptocurrencies were the biggest losers, but only by a small margin, with the Weiss Mid-Cap Crypto Index (WMC) declining 12.02%.
The Weiss Small-Cap Crypto Index (WSC) dipped 1.15%, extending the streak of small-cap outperformance.
Inflows from speculators looking for higher-growth projects but with higher risk and the top cryptocurrencies through their trading pairs pushed the smallest cryptocurrencies higher, allowing them to outperform.
Notable News, Notes and Tweets
The crowdfunding effort by ConstitutionDAO, an organization attempting to purchase a first-edition copy of the U.S. constitution, was outbid after raising $47 million.
What's Next
We are likely nearing the end of the four-year crypto market cycle centered around Bitcoin's halving. But before that, we expect a significant parabolic move higher over the coming months. We'll likely need to see Bitcoin take the lead again before that can happen.
Meanwhile, whales are still accumulating, which is a positive signal for gauging future price action.
So, who's selling in this correction? Mostly the weak hands and leveraged traders, with long-term holders accounting for just 3% of unrealized losses.
Strong-handed investors are still building their positions because they see that the market still has room to climb.
And indeed, there is room. Adoption is progressing. The $47 million fundraising effort in just a few days by ConstitutionDAO shows the relevance of the crypto community. And the more people get into crypto, the more opportunity there will be for investors like you.
This market is taking us on a wild ride. Keep up with your Crypto Daily Briefing emails to stay current on our latest updates.
Best,
Sam