DeFi Coins Bounce During Quiet Market
Bitcoin (BTC, Tech/Adoption Grade "A-") continues its range-bound trading, directing traders' attention toward altcoins.
Chainlink (LINK, Tech/Adoption Grade "B+") has recovered almost 60% from its December low.
Uniswap (UNI, Tech/Adoption Grade "B") is also climbing today as most decentralized finance (DeFi) assets are rebounding.
With Bitcoin trading in a range between $42,000 and $52,000, it will be very hard to determine any medium-term direction for the overall market.
But sideways trading in Bitcoin and Ethereum is still opening some doors for altcoins. That's because traders are always searching for volatility. When they can't find any in the market leaders, they turn towards higher volatility, smaller market-cap altcoins.
And this time, their interest appears to be focused on the DeFi sector. Chainlink is one of the most well-known altcoins in this space and is up about 15% on the day. If it can close at these levels, it would mark LINK's biggest daily close in months.
It's led previous DeFi rallies, so it's one I've kept my eye on to judge the overall sector at a glance.
Zooming out, we can see that LINK actually started gaining momentum right as we ushered in the new year and is up more than 35% this month. Impressive considering we're only five days into January.
Even better, LINK is up a staggering 60% from its low on Dec 4.
Now that Chainlink has climbed above heavy resistance at $25, we'll be looking to see if it can hold above that level with confidence. If it can, the next level of resistance will be at the $30 level.
Here's LINK in U.S. dollar terms via Coinbase Global (Nasdaq: COIN):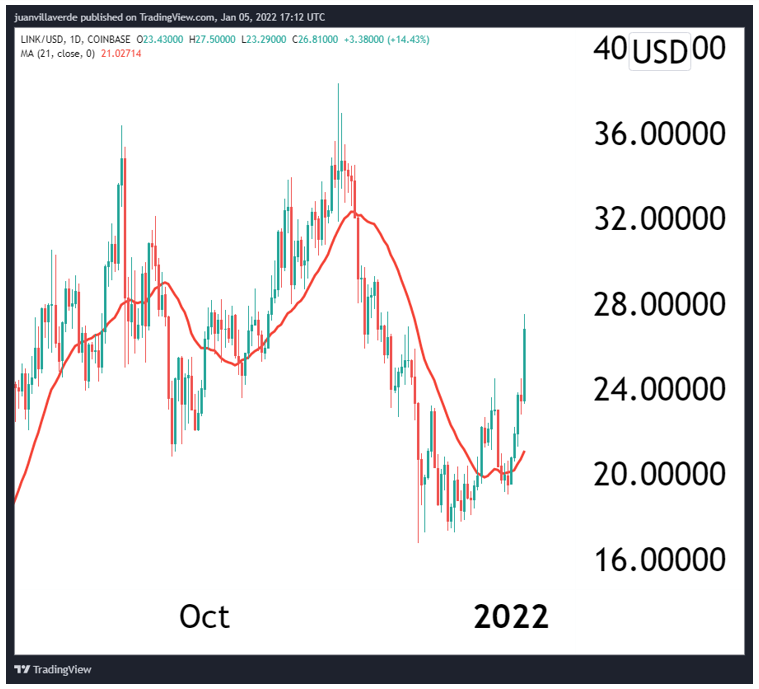 If Chainlink can sustain this rally, it could signal a change in direction for the DeFi sector as a whole.
In fact, we've already seen a small boost for some other well-known DeFi projects.
Uniswap is one of the most well-known and popular decentralized exchanges (DEXes), and its token, UNI, is up 5% so far today.
UNI has retaken the $15 support level and is attempting to retake $20 now. But it still has a long road ahead before it can get back close to its all-time high near $45, which it established in May 2021.
Here's UNI in U.S. dollar terms via Coinbase: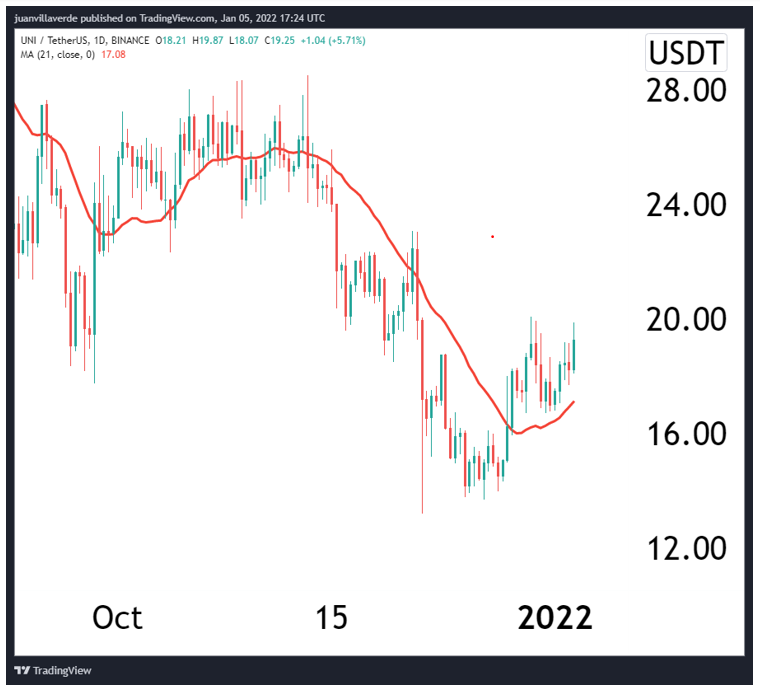 The entire DeFi sector has underperformed since the spring, and a rally is long overdue. If UNI and Chainlink can continue this momentum, perhaps the sector can begin to retake some ground.
Now, let's get back to Bitcoin.
Understanding Bitcoin's chart is pretty simple at the moment thanks to the range-bound trading. A break below the lower end of that range — about $42,000 — would imply a bearish breakdown of the market.
A break above the top of the range — near $52,000 — means things are likely to get more bullish, as it could give BTC the momentum to carry higher.
For now, all we can do is wait until one of those two levels is breached.
Here's BTC in U.S. dollar terms via Bitstamp: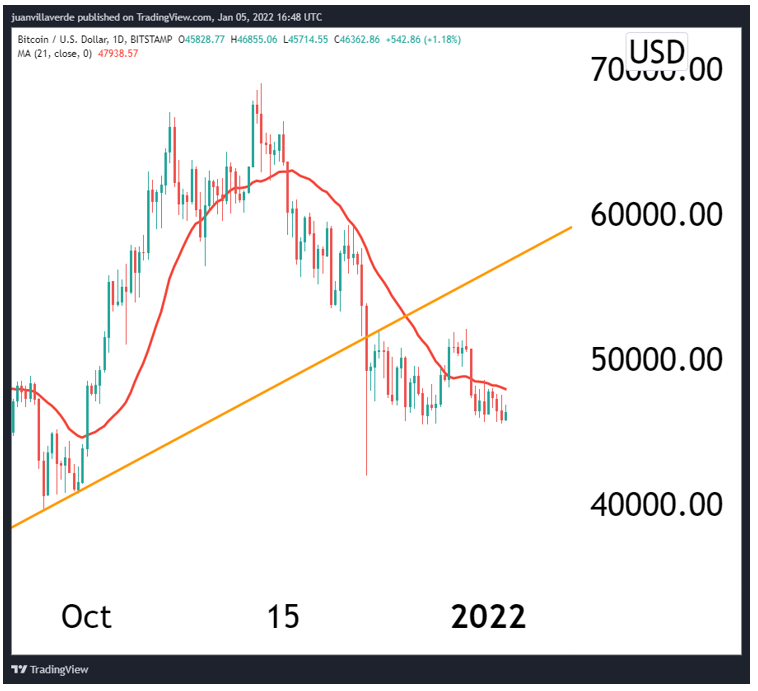 Notable News, Notes and Tweets
What's Next
I'm sure I'm not the only one quickly growing bored of the stagnant price action of the top market leaders. So, I am happy to see some altcoins bring a spark of life to the broad market.
If we are, indeed, in for prolonged sideways channel trading in Bitcoin and Ethereum, perhaps this period of time will provide opportunities for other altcoins to shine.
Everyone is a great trader in a bull market, but in times of sideways trading like this, it takes a lot more skill and knowledge to make good trades.
As always, you can turn to us for market insights as we continue to shine the spotlight on altcoins outperforming the market.
And speaking of, I want to shine the spotlight on our upcoming NFT Investor Summit.
NFTs took 2021 by storm, and though hype may have quieted, the potential opportunities in this new sector haven't.
That's why our founder, Dr. Martin Weiss, will be hosting the NFT Investor Summit this coming Tuesday, Jan. 11 at 2 p.m. Eastern alongside one of the world's pioneer NFT investors to show you how to get started in this exciting new field.
And, to thank you for being a subscriber, this event is totally free for you. All you need to do is register to save your seat.
Best,
Alex