Don't Fall for Crypto Frauds Like These
Yet another week in crypto is behind us, and what a week it was! Plenty of things going on in the industry, as well as on the fringes. Let's start on the outside and work our way in.
First, Facebook (Nasdaq: FB) renamed itself to "Meta" in an effort to show the public that they're in the epicenter of the phenomenon known as the metaverse.
For the uninitiated, the metaverse is the latest iteration of the internet, one that combines all online experiences into visually rich presentation that can be experienced in detailed virtual environments as well as in augmented reality.
Although Facebook has been at the forefront of VR adoption — having worked on the creation and launch of the Oculus headsets and financed VR development studios — it cannot be considered a true "metaverse" company. Namely because it's still Facebook, a centralized company with a narrow focus.
It's also proven many times over that customer's best interest is not one of their priorities. As such, there's a big difference between what Facebook is cultivating and the true metaverse.
This tweet from last Friday sums it up well: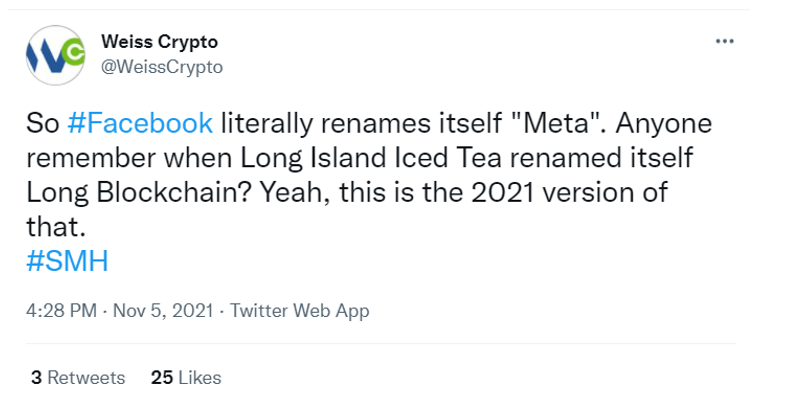 Companies aren't the only impostors in the new world of democratized technology. Countries also want their piece of the cake.
This week's contestant: Zimbabwe.
After news got out how the country is considering to replace their hyperinflated currency with Bitcoin (BTC, Tech/Adoption Grade "A-"), we were hopeful, albeit somewhat skeptical: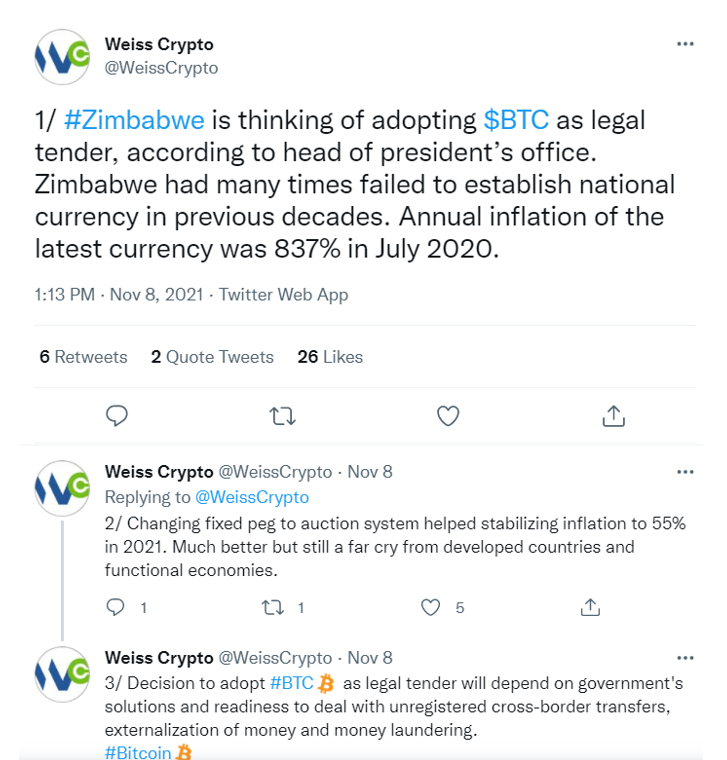 A country like Zimbabwe, which has shown time and time again to be unable to manage its currency would, greatly benefit from this change. Bitcoin would effectively take that responsibility away from them and give their population tools to build their own wealth.
If this happened, the country would partake in the global progress ushered in by cryptocurrencies. We were hopeful.
However, these hopes were quickly dashed: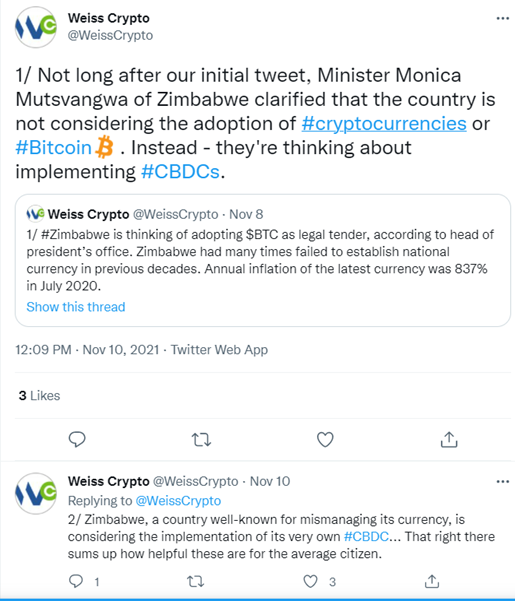 To clarify, central bank digital coins (CBDCs) are not true cryptos. They're still centralized, still controlled and regulated by a single authority.
It's not really surprising. Zimbabwe is 22nd on the list of the most corrupt countries in the world. It would be naïve to think that a government like that would yield its financial power for the sake of helping their citizens.
What makes more sense is for them to devise their own CBDC and increase their control and stranglehold over the already emaciated economy. This is also a perfect example what CBDCs are truly best used for. We shudder.
Speaking of mismanaging the economy, let's mention the elephant in the room: U.S. inflation.
Once this experiment spirals out of control, it's likely the U.S. government will use it as an excuse to enforce its own CBDC. At best, one would have to be naïve to believe that the new format will somehow teach the old dogs new tricks.
In all likelihood, the policies will remain the same. But the stranglehold over the economy and the people of the United States is likely to increase.
And it's not just US. When governments of the world drive the economy into the ground, the only thing an average investor can do is protect one's assets by moving them away from the sweeping current of inflation and debt.
By that, I mean away from fiat, and into the crypto: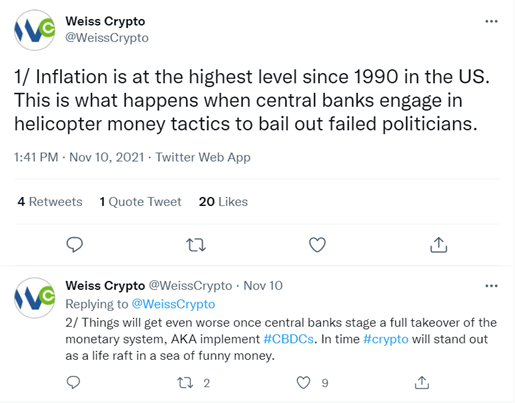 Democratized currency isn't the only benefit to decentralized finance (DeFi). It's also superior to traditional finance in security and privacy, as this recent Robinhood incident best illustrates: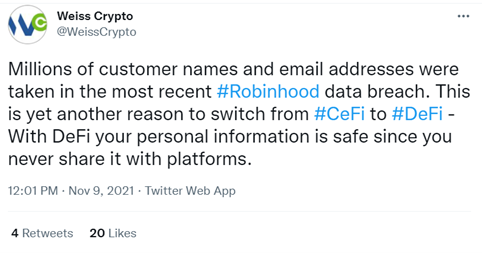 And while some companies are slow to catch on to opportunities and profits embedded in crypto, the others are riding the wave, like AMC Entertainment (NYSE: AMC):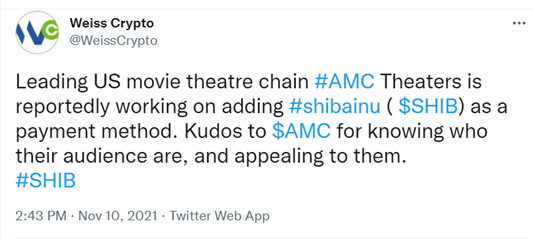 And instant messaging and data distribution platform Discord: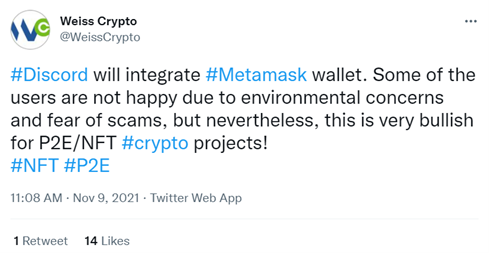 It's heartwarming and encouraging to see a growing number of companies jumping on the bandwagon and pursuing opportunities only crypto can provide. This is a welcome and stark contrast to the world spiraling out of control.
Speaking of spiraling, I want to take a moment to disavow any notions that yesterday's pullback means the end of the current bull run.
Seeing a Bitcoin give up the gains it's made the past week is tough. But it's a small correction when taken in context. And nothing goes up in a straight line.
Bitcoin is well above critical support at $63,000, meaning our long-term outlook remains as bullish as ever. This is giving investors one more chance to "buy the dip" before BTC makes another run at $70,000.
We'll see more in terms of adoption in the near future. And that should be followed by upticks in crypto prices … especially as the parabolic run begins in earnest.
Until then, stay safe and trade well.
Jurica Dujmovic