Ethereum Blasts to New All-Time High
• Bitcoin (BTC, Tech/Adoption Grade "A-") is up 3% so far today, trading around $62,000.

• Ethereum (ETH, Tech/Adoption Grade "A") has set a new all-time high in today's trading, jumping past $4,400 for the first time.

• Bitcoin's crypto market dominance dropped 120 basis points to 44.6%, as altcoins managed to play catch-up over the past week.
Altcoins have outperformed Bitcoin over the past week, which makes sense considering the general flow of capital in the space.
Bitcoin usually sets the trend with the initial move upwards before investors rotate into Ethereum and other large-caps, then mid-caps and small-caps, in that order. Since Bitcoin backed off its all-time high, Ethereum was able to push ahead.
But Bitcoin's time in the spotlight isn't over. Sure, it's had a less-than-stellar week, but that's simply part of a normal, short-term correction as Bitcoin shakes off leverage.
BTC is only about 9% below its record high near $67,000 that was set on Oct. 20. For comparison, the average short-term, 20-day cycle correction usually sees a drop of 10% to 20%.
For now, Bitcoin is consolidating in the low $60,000s. It retested its 21-day moving average early in today's trading, but it bounced upwards shortly after. It's an encouraging sign that Bitcoin found short-term support when its momentum was tested.
Here's Bitcoin's price in U.S. dollars via Coinbase Global (Nasdaq: COIN):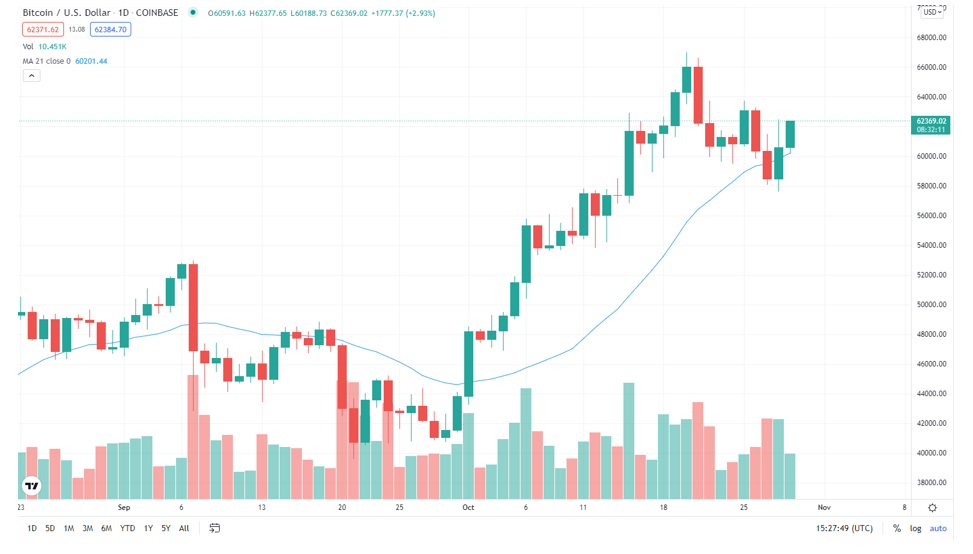 Now that Ethereum has broken past the $4,400 level — a rise of about 54% over the past month — there are two ways it could react to its new high:
1. The second-largest cryptocurrency by market capitalization could extend its gains as there's no known overhead resistance on the chart now. Or…

2. ETH could follow in Bitcoin's footsteps and pull back, a move that could be supported by the current 20-day-cycle. If it does, it's likely to find support at $4,200.
Unlike Bitcoin, Ethereum did not test its 21-day moving average today. While ETH came close to reaching the level when it dipped to $3,900 yesterday, it's way above it now after today's strong move.
Does this mean outcome No. 1 is guaranteed?
Not necessarily. We'll keep close watch on ETH's closing prices to see if it has the strength to hold at its current levels.
In the long term, though, this bull market still has plenty of room to run. And Ethereum will continue to see positive pressure from its EIP-1559 upgrade, as over 675,000 ETH have been burned to date.
Here's Ethereum's price in U.S. dollars via Coinbase: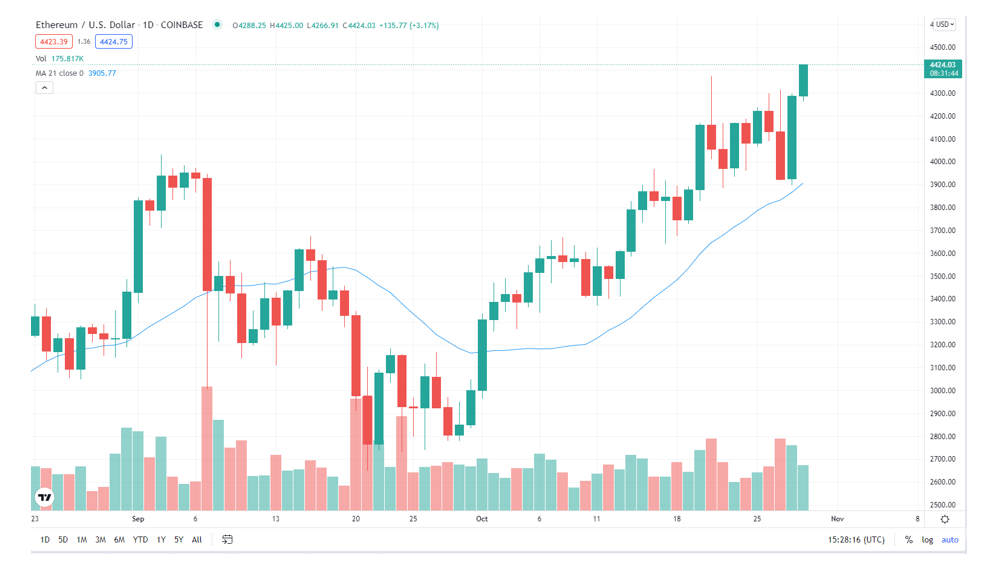 Index Roundup
Our data is calculated from Thursday to Thursday, so today's positive movement won't be reflected in our roundup. You'll have to tune in next week to see how today's price action impacted the market.
So, we closed the seven-day trading week in the red on Thursday. Bitcoin underperformed the broader market and dragged down several of our crypto indexes.
The Weiss 50 Crypto Index (W50) lost 4.27%, pulled down by Bitcoin as it lost ground from its all-time high set on Oct. 20.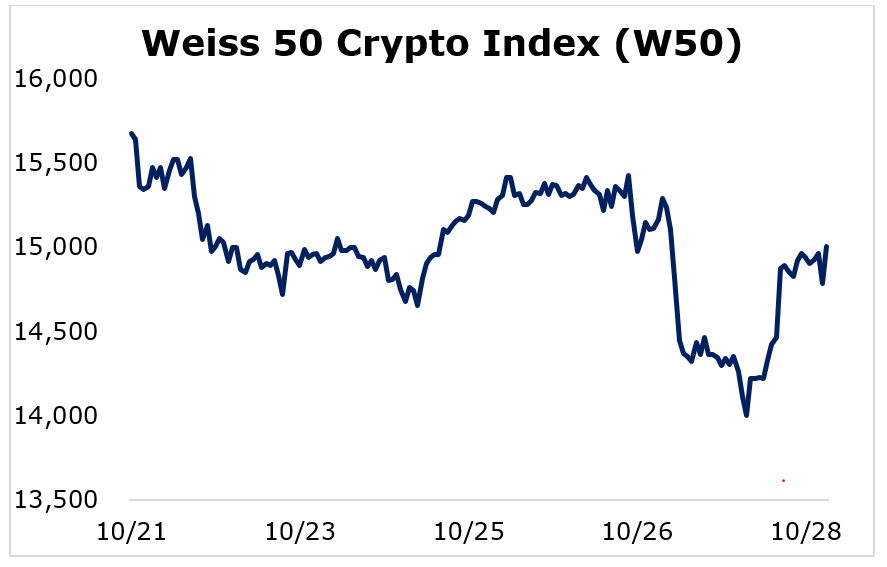 The Weiss 50 Crypto Ex-BTC Index (W50X), with its minimal 1.25% decrease, shows that the broader market was mostly unchanged without Bitcoin's downward movement.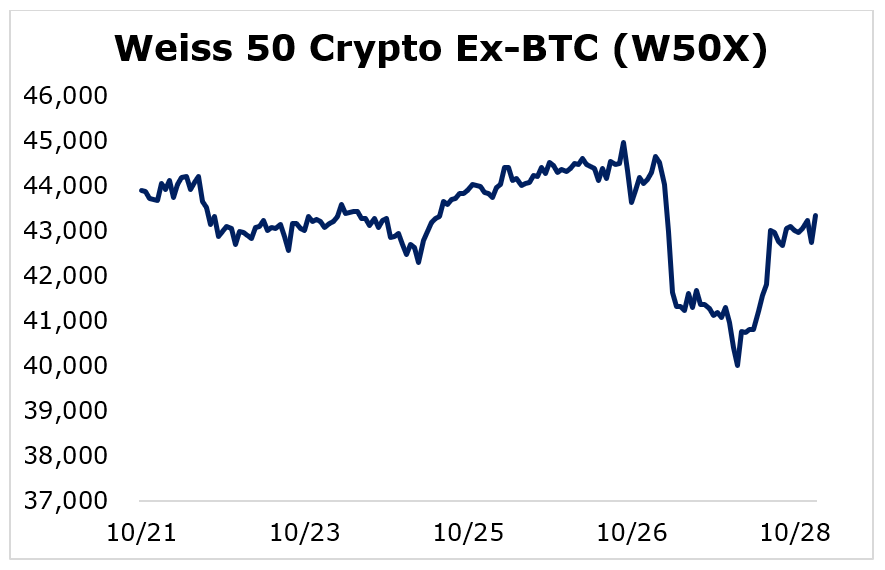 Breaking down performance by market capitalization, we see that the smallest cryptocurrencies took the top spot again. They were the sole winners, as the mid and large caps saw moderate losses.
The large-caps, as tracked by the Weiss Large-Cap Crypto Index (WLC), saw the biggest losses at 6.01% due to Bitcoin's underperformance. However, the damage was minimal as Bitcoin still held firm above its 21-day moving average.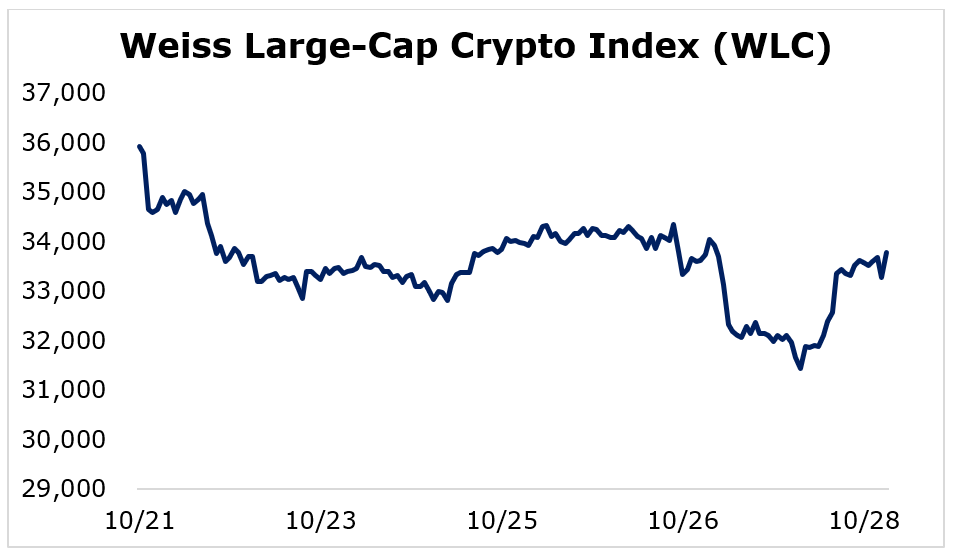 The Weiss Mid-Cap Crypto Index (WMC) dipped 1.37% as the mid-cap cryptos performed in the middle of the pack.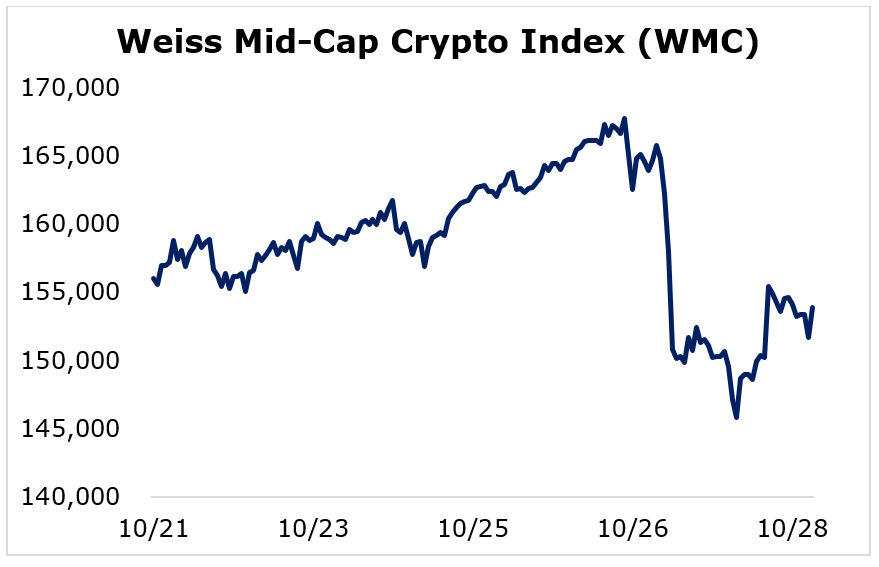 The smallest cryptocurrencies logged another week as the top performers, with the Weiss Small-Cap Crypto Index (WSC) gaining 7.83%.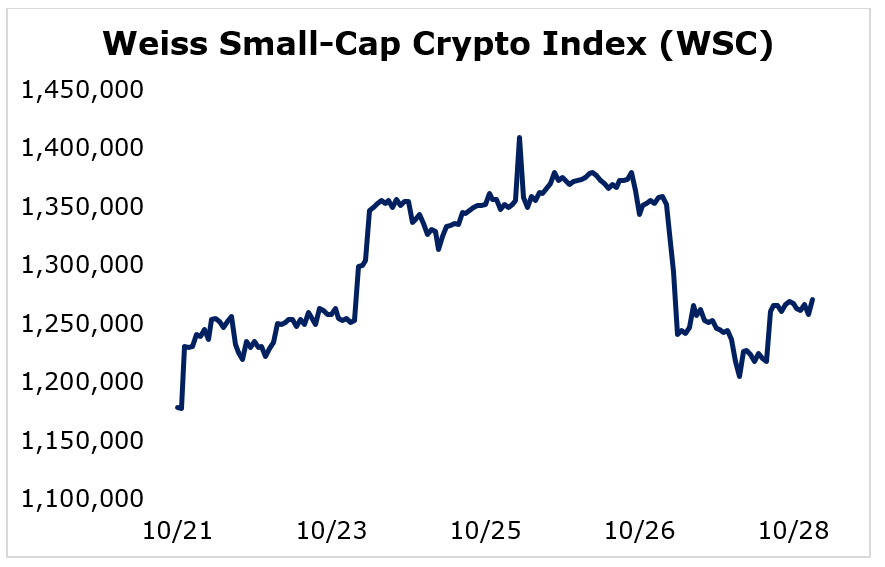 It's not overly concerning to see Bitcoin lose a bit of ground to altcoins after an extended period of outperformance. Still, we're glad to see it holding strong as the trading week ended.
Bitcoin will need to reclaim its new all-time high and establish it as support before it can make its next run up. And altcoins will need Bitcoin to set the pace before they can follow.
Notable News, Notes and Tweets
• The Australian Securities and Investments Commission (ASIC) set guidelines for crypto exchange-traded product offerings.

• The SEC has scrapped a planned leveraged Bitcoin futures exchange-traded fund (ETF) from Valkyrie Investments, and its CIO targets mid-2022 for a Bitcoin spot ETF.

• A cryptocurrency named Squid Game (SQUID), inspired by the extremely popular same-named show on Netflix, soared 45,000% in three days. However, many are calling it a scam as owners are unable to sell.
What's Next
Ethereum stole the spotlight today as it finally moved past $4,400. We'll have to see where it closes before we can determine if it'll turn this level into support or if it'll follow Bitcoin's lead and retreat for a small breather.
Either way, we'll still be looking to Bitcoin to regain momentum and lead the next leg of this bull run. After that, we expect to see capital flow from Bitcoin and the large caps to smaller altcoins … particularly those in the decentralized finance (DeFi) sector.
Why? Two reasons: First, as Bitcoin and the other large caps become overleveraged, investors will look to more reasonably priced alternatives. And second, the massive gains set by smaller emerging projects can lead investors and traders to pile in.
These small- and mid-cap altcoins can offer amazing profit potential, but buyers beware: Some projects turn out to be scams, and they highlight the importance of conducting due diligence before making any investment.
Best,
Sam