Fed's Discussed Rate Hikes Fuels FUD
Bitcoin (BTC, Tech/Adoption Grade "A-") is trading 4% lower so far today, and it's fallen to $41,250.
Ethereum (ETH, Tech/Adoption Grade "A") is having a tougher day, down 8% to $3,150.
Bitcoin's market dominance dopped another 20 basis points to 40%, but it broke below its recent range between 40%-42% when it fell to 39.4% earlier this week.
This week's trading gives additional confirmation that the bull market has fully halted for now.
Bitcoin sold off with the broader crypto market and other risk assets. This happened after the Federal Reserve's December meeting minutes showed that the central bank was potentially looking to raise interest rates ahead of schedule.
It is likely that the next few months bring extended sideways trading, but we should see a relief bounce relatively soon considering the market looks oversold.
Still, it will be critical for Bitcoin to maintain itself above the strong $40,000 support level. A sustained break below this level could be concerning and lead to further selling by concerned investors.
Bitcoin is trading significantly below its 21-day moving average, and it would have to overtake $47,000 to regain short-term momentum.
Here's Bitcoin's price in U.S. dollars via Coinbase (Nasdaq: COIN):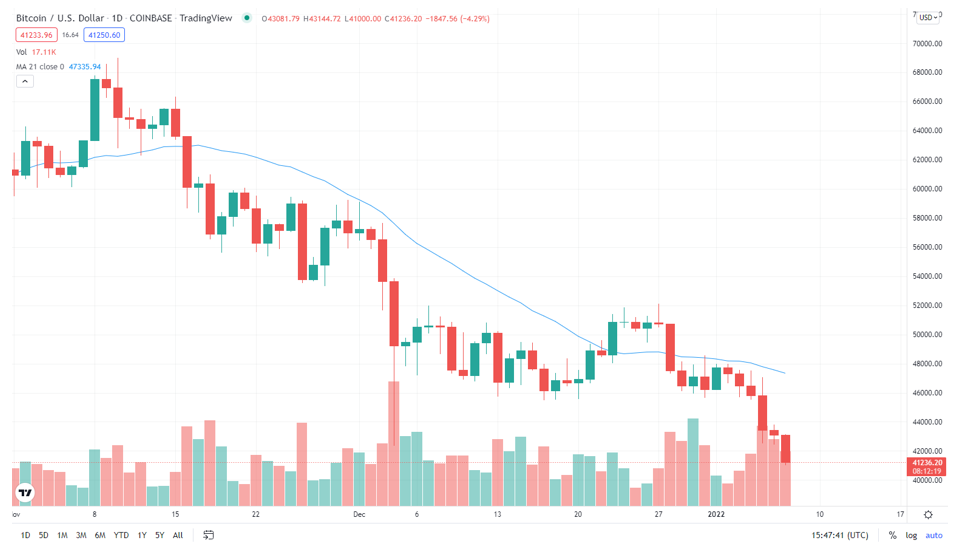 Ethereum underperformed Bitcoin again this week, slowly draining the hope it will lead the altcoins in their own rally.
Ethereum is down nearly 30% over the past month and is approaching oversold territory over the short term. It wouldn't be surprising to see a relief bounce for Ethereum considering its rough short-term price action.
Ethereum tried to overtake its 21-day moving average on Jan. 4, but it fell a bit short and tumbled nearly 20% after.
But there are still long-term bullish developments in play for ETH. Investors can still look forward to the highly anticipated ETH 2.0 upgrade that's expected to take place this year, and nearly 1.4 million ETH have been burned since the launch of EIP-1559.
Here's Ethereum's price in U.S. dollars via Coinbase: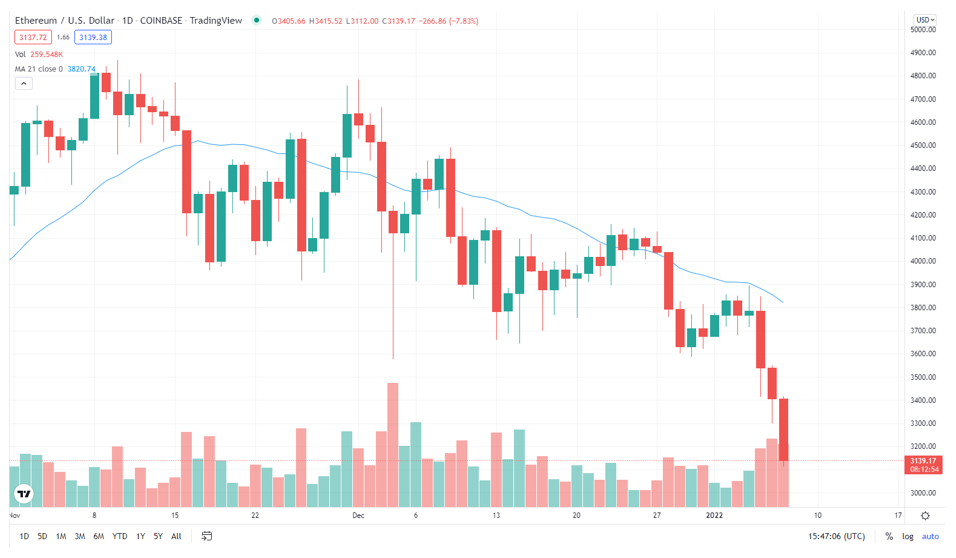 Index Roundup
The crypto market extended its recent selloff, mostly accentuated by large-cap weakness.
The Weiss 50 Crypto Index (W50) dropped 3.71% and it was dragged down by the large caps as most appear oversold.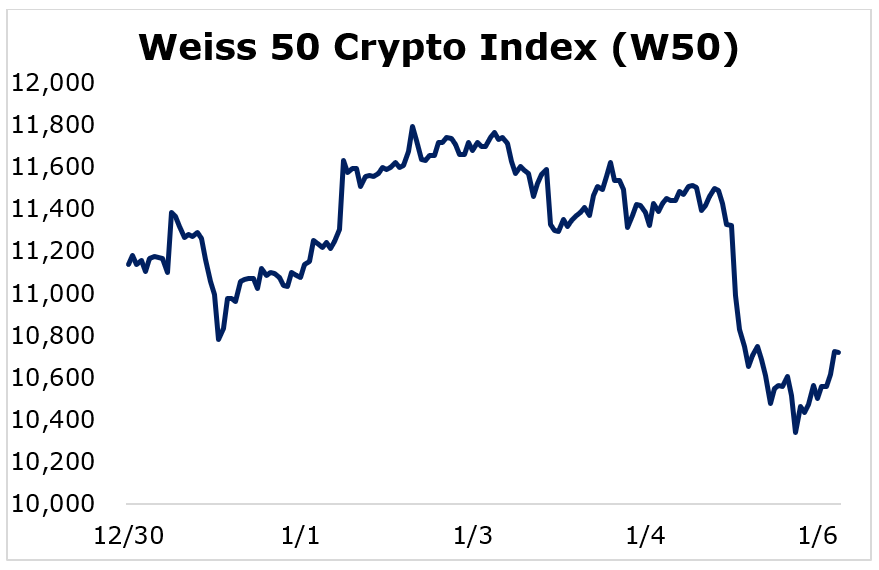 The Weiss 50 Crypto Ex-BTC Index (W50X) slid 2.50%, showing that Bitcoin underperformed the broad market.
While the largest cryptocurrencies struggled, the small- and mid-caps finished the week higher.
The Weiss Large-Cap Crypto Index (WLC) fell 5.75%, as the most established cryptocurrencies struggled to keep pace with more speculative projects.
Mid-caps continued their recent streak of solid performance, as the Weiss Mid-Cap Crypto Index (WMC) gained 8.85%.
The small caps were the biggest winners by a wide margin, with the Weiss Small-Cap Crypto Index (WSC) jumping 21.55%.
The outperformance by the small caps was likely because they were beaten down over the past month. The large caps were unable to establish any momentum, but their performance will be critical for establishing a market direction moving forward.
Notable News, Notes and Tweets
What's Next
Crypto faces short-term headwinds with other risk assets if the Fed moves to tighten monetary policy and combat inflation. Combined with the Fed's tapering, raising rates would negatively impact the short- to medium-term movements of crypto prices.
However, the long-term adoption and significant volume of funds flowing into the space bode well for the industry.
Although excess leverage in the crypto market generally leads to wilder price swings for both upside and downside movements, the lack of liquidations in a volatile environment is a positive sign.
While the bull market has cooled down for now, fundamentals are looking increasingly strong. It could be a while before investors see a sustained push higher, but patient holders could be rewarded tremendously.
Best,
Sam