Finding Crypto's Fundamental Strength as Markets Move Sideways
As Bitcoin (BTC, Tech/Adoption Grade "A-") and Ethereum (ETH, Tech/Adoption Grade "A") continue their range-bound trading, leaving the broad market at a standstill, investors are turning their eyes to more profitable pastures.
As such, we're seeing other assets built on blockchain technology gain traction, like Samsung's recent non-fungible token (NFT) announcement: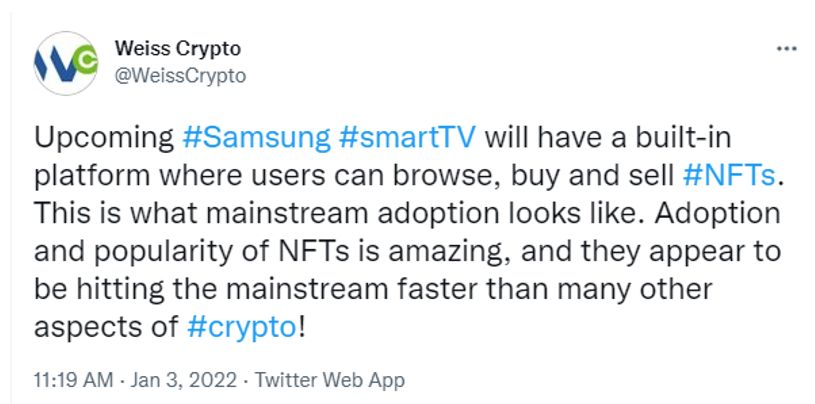 To refresh your memory, NFTs are a special asset class on the blockchain that, unlike regular cryptocurrencies, are not interchangeable with one another.
For example, if I gave you one BTC and you traded me one BTC back, we'd both have exactly the same thing we started out with because Bitcoin is a fungible (i.e., interchangeable) asset. But we can't do the same with NFTs, because each is unique.
NFTs can store information about anything. That, along with their non-fungible status, means they make an ideal certificate of ownership for a digital era.
In fact, this coming Tuesday, Jan. 11, at 2 p.m. Eastern, Dr. Martin Weiss will be hosting a special NFT Investor Summit alongside an NFT pioneer to delve deeper into the opportunities you can find in this new crypto space. Even better, it's completely free for Weiss subscribers.
All you have to do is register to save your seat.
But back to our market leaders. With Ethereum stuck in its range, Ethereum alternatives are gaining traction: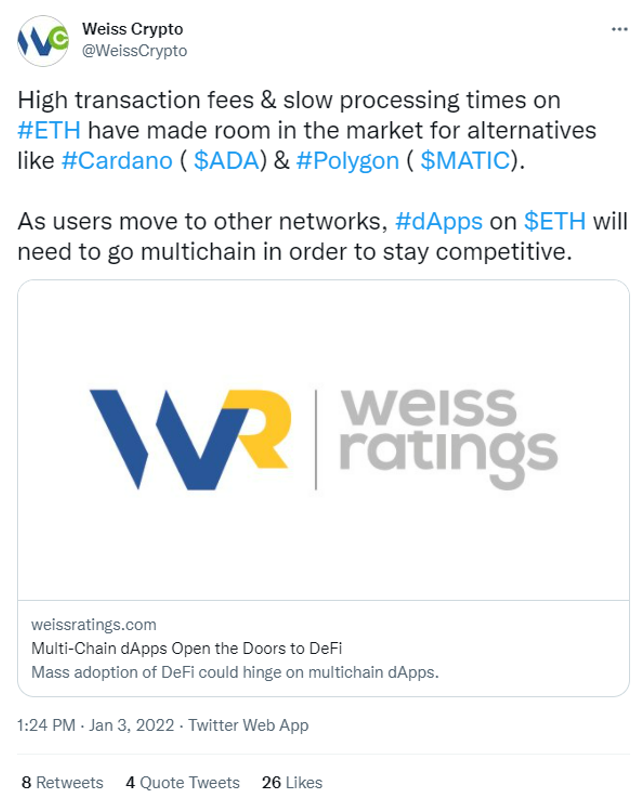 Some will see the setback to Ethereum's decentralized applications (dApps) as detrimental. But ETH is far from struggling in terms of fundamentals.
It's still rolling out its upgrades, with progress on Ethereum 2.0 halfway done. As the upgrade inches ever closer to the mainnet launch, it brings with it the improvements that will address many, if not all, the shortcomings pushing investors to alternative networks and Layer-2 solutions.
Having competitors bite at their heels only makes the Ethereum developers more diligent and engaged with improving their technology.
And, as you can see from the Tweet, that applies on a macro level, too.
The evolution of crypto is, and has always been, the survival of the fittest. Take, for example, the exodus of ETH dApp users. Instead of sitting idly as their userbase dwindles, developers of these apps are already finding out ways to keep their users engaged with their ETH dApp — even as they leave the ecosystem.
They plan to do this by introducing multichain capabilities, which will allow their dApps to access multiple networks, engaging users who no longer wish to stay on the ETH blockchain.
My colleagues Chris Coney and Alex Benfield go deeper into this topic in our most recent Sunday Special. You can watch their video interview or read the full transcript.
That "sink or swim" mentality means that crypto projects either evolve and overcome their shortcomings ... or die out and get replaced with a new project that learns from its mistakes. In this way, the struggle of one (project) becomes the struggle of the many, and once the problem gets solved, the entire community profits.
This is the reason for my unending optimism concerning the crypto. Crypto thrives in adversity. Projects we love and support today got there by standing on the shoulders of those who came before.
Bear this in mind as you weather the storm ahead, and don't give into fear.
Crypto is here to stay.
Best,
Jurica Dujmovic