Inflation Anticipation Sparks Volatility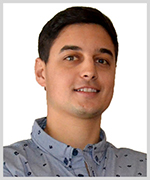 By Alex Benfield
The cryptocurrency market is no stranger to volatility.
Yesterday alone, Ethereum (ETH, Tech/Adoption Grade "A") underwent a 9% swing. It started by climbing 3% up to $1,600 before falling down to $1,475. Then, it climbed once again, closing at $1,525.
This is certainly not the most unusual pattern, but it does highlight that investors aren't sure what to make of the current crypto market.
What's driving this latest round of volatility? The worries and speculations of investors about what the August Consumer Price Index will hold. If it doesn't, the Federal Reserve hasn't ruled out another significant rate hike.
Yet another rate hike could very well cause a bearish fourth quarter — not just for crypto, but for equities as well. They've been pretty steadily trending down since mid-August, and the late-summer rally is really shaping up to look like it was just a last-gasp bear market bull trap.
So, will risk assets be able to hold at current levels, or will the Fed rain on their parade?
Nobody seems to know right now.
But the more important question that needs answering is if this bearish scenario is already priced in.
This is Everyone has realized the fact that right now, both the economy and the markets are at the mercy of Jerome Powell and the Fed. It's been ages since the U.S. has dealt with high inflation and a stunted gross domestic product, and this is all happening just after the very weird COVID-19 economy.
The reality of an upcoming stagflationary period is starting to sink in. Few investors have any experience trading in these conditions, and many are still unsure if they handled the past few years correctly, let alone how to grapple with what the future has in store for them.
The system appears to be on the brink of breaking.
In theory, these are the exact conditions for which Bitcoin (BTC, Tech/Adoption Grade "A-") was created, although nobody truly knows just how BTC and the rest of the crypto market will stomach these macroeconomic conditions in the short and medium term.
Looking at the recent price action, it's a bit hard to be too short-term bullish on BTC right now.
After failing to hold up above $24,000 in mid-August, Bitcoin proceeded to drop below both its uptrend line (shown in orange in the chart below) and its moving average. It fell just below $20,000 but has since found some support at that level.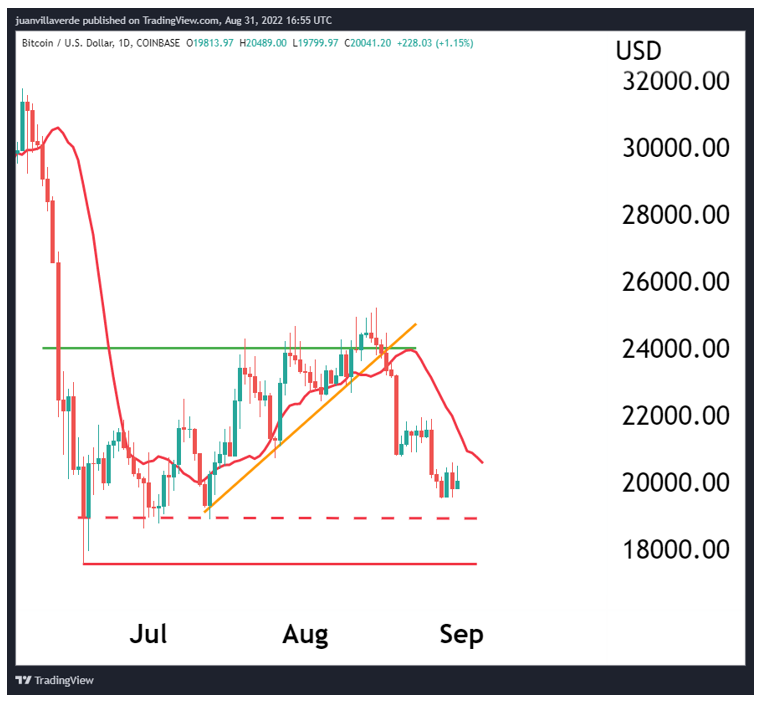 The shift in momentum means that BTC has lost its bullish trend and is now in neutral territory, on the verge of shifting to bearish.
This $20,000 level will need to hold and BTC needs to reclaim its moving average soon to fend off the bears over the next few days.
I'm looking for a neutral Bitcoin as the mid-September action looms with the CPI print, the Ethereum Merge, and eventually the Federal Open Market Committee's announcement of potential rate hikes.
Needless to say, September will be a big month.
Ethereum has also fallen below its most recent uptrend line and its moving average. However, ETH has found support near the last bull market high of $1,480 and is fighting to reclaim $1,600 as support as well.
The Merge is certainly playing a factor in why ETH is holding up as well as it has. The last few days have been extremely volatile for Ethereum, and I expect that trend to continue leading up to the Merge on Sept. 15–16.
In the meantime, keep an eye on that moving average.
Here's ETH in U.S. dollar terms via Coinbase (COIN):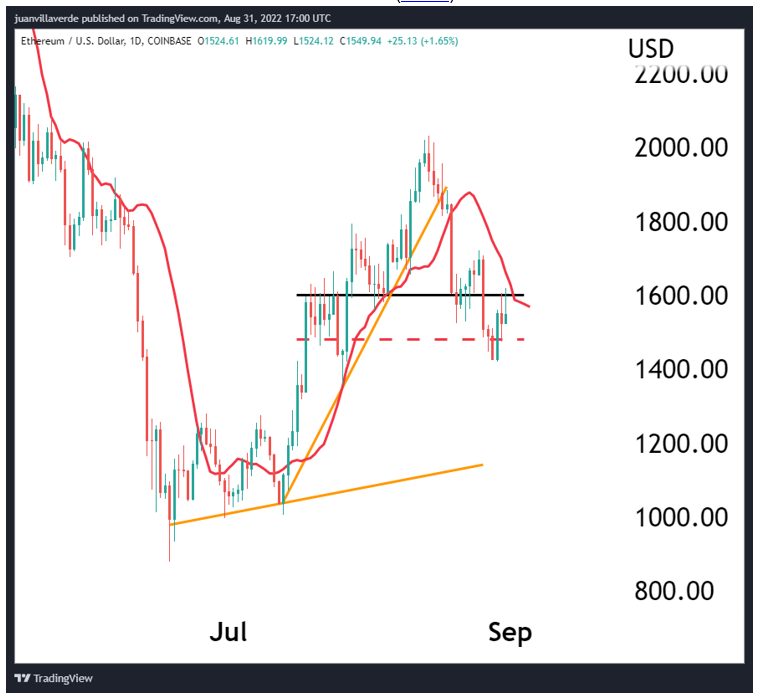 What's Next
Although I've mentioned a few times why September is shaping up to be such a pivotal month in the crypto market, it's worth stating again: The entire fourth quarter's fate will likely already be decided before it even starts as September will give us the data needed to determine the direction of the market for the rest of 2022.
The crypto market leaders will need to regain some of the ground they lost in the recent slide to fend off the bears in the meantime.
But the most likely status of the market over the next few weeks will be neutral. Investors are likely waiting to see how these upcoming events shake out before deciding what to do with their investments.
Stay patient and keep a cool head.
Best,
Alex