Investors Wait for a Bounce as Crypto Treads Water
Bitcoin (BTC, Tech/Adoption Grade "A-") is up 1% today, as it looks to cement last week's drop to $40,000 as a bottom. It's holding around $43,000.
Ethereum (ETH, Tech/Adoption Grade "A") is also up 1%, and it's trading around $3,275.
Bitcoin's market dominance remained unchanged this week at 40%, and it continues to shift inside its monthly range of 40–42% minus brief fluctuations.
Bitcoin's price action has stabilized over the past several trading days and … even saw a short-lived relief bounce!
However, it lost that brief momentum when crypto and technology stocks sold off in the days following the release of the Bureau of Labor Statistics' (BLS) December consumer price index (CPI) data. Inflation jumped 7% over the prior year, which is its highest rate since 1982.
BTC hasn't touched its 21-day moving average — roughly $45,300 — since New Year's Eve, and it has dipped in the few cases it's approached the level since then. It would need to cross above that level to build short-term momentum.
Considering how oversold the broad crypto market looks after inflationary outflows, we could see a bounce sooner rather than later.
Here's Bitcoin's price in U.S. dollars via Coinbase Global (Nasdaq: COIN):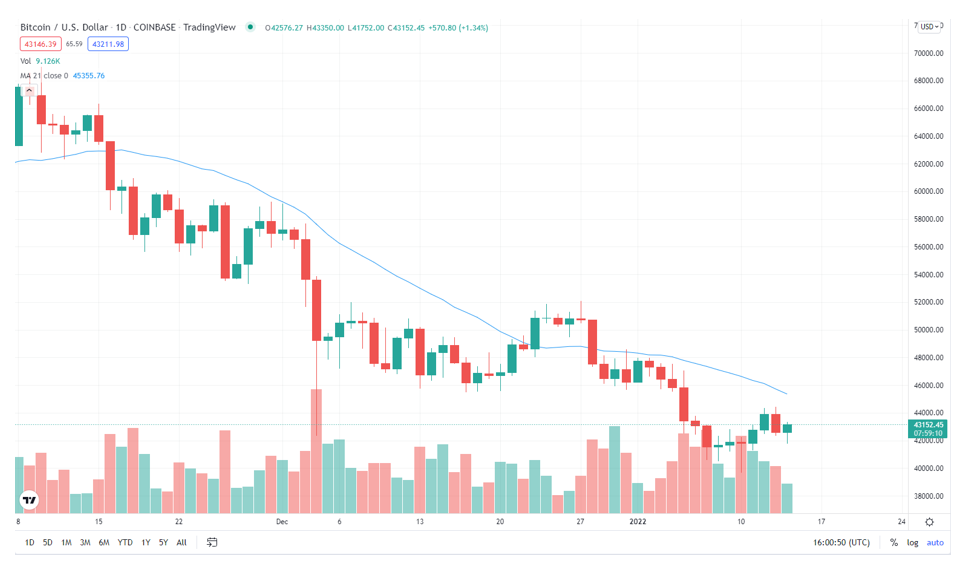 Ethereum is following Bitcoin's lead and looking to establish a floor before it rebounds. If it can manage that, it would likely drag altcoins along for the ride higher.
ETH is up about 3% this past week, but it's still down 18% over the last month. Ethereum's monthly sell-off is sharper than Bitcoin's, but its three-month loss of 14% is about half of BTC's drawdown.
ETH is trading below its 21-day moving average, and it hasn't touched the level since Dec. 28. However, markets won't remain oversold forever, and a rebound is historically expected after prolonged sell-offs. The asset would need to overtake $3,550 to regain short-term momentum.
Here's Ethereum's price in U.S. dollars via Coinbase: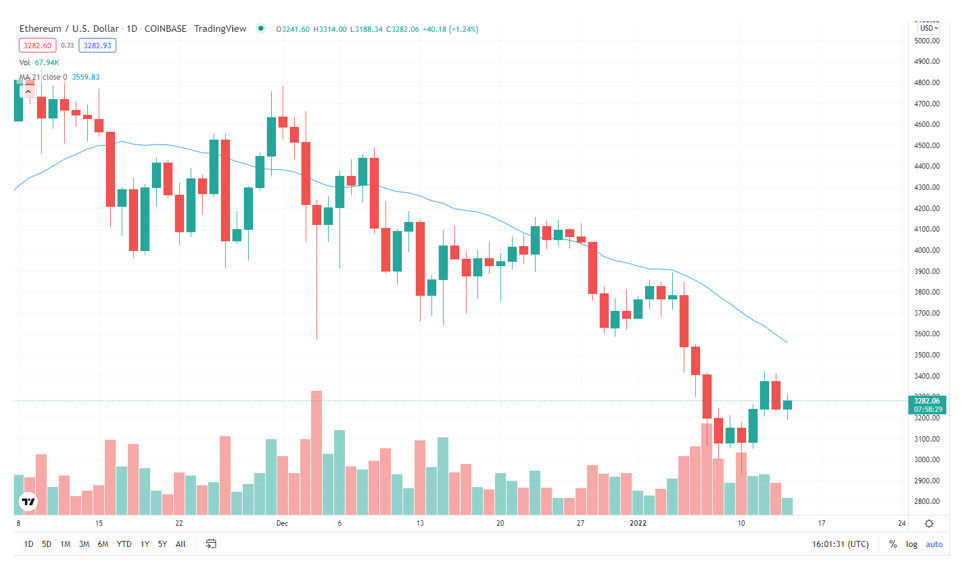 Index Roundup
This week's price action was largely mixed. Trading was volatile as investors grappled with negative inflation data.
The Weiss 50 Crypto Index (W50) slid 2.54%, showing the broad market moved minimally.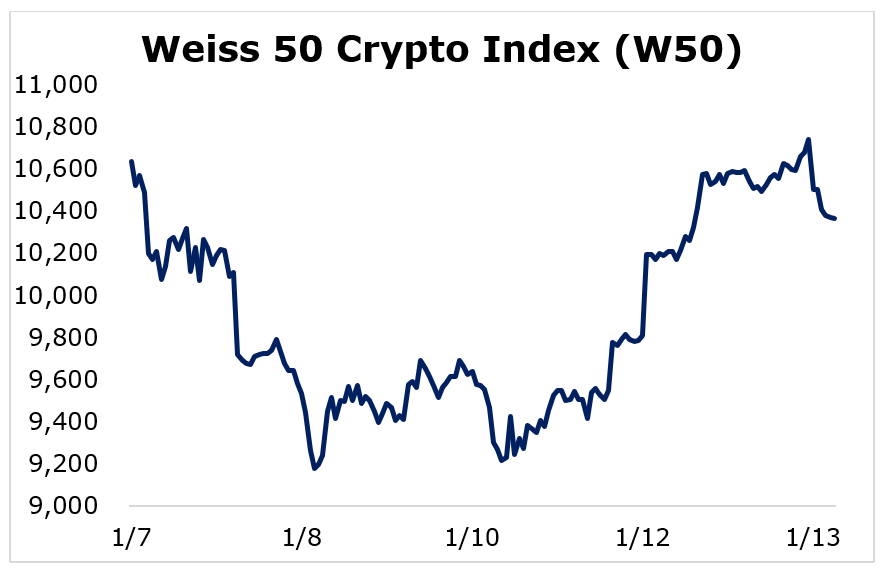 The Weiss 50 Crypto Ex-BTC Index (W50X) increased 2.00%, highlighting that Bitcoin struggled more than most altcoins.
Breaking down performance this week by market capitalization, we see that while mid-caps set the pace, none of the market cap cohorts made a major move.
The Weiss Large-Cap Crypto Index (WLC) managed to break even with a 0.93% gain despite Bitcoin's lack of momentum.
Mid-cap cryptocurrencies took to top spot, but the margin was close as the Weiss Mid-Cap Crypto Index (WMC) grew 2.78%.
The small-caps were the only group to finish the week lower, but the damage was minimal: The Weiss Small-Cap Crypto Index (WSC) slipped 2.65%.
Trading was muted this week despite the increase in volatility caused by expectations of hawkish Federal Reserve policy changes. The market still appears oversold, and it's rare to see a downtrend without notable relief rallies in between.
Notable News, Notes and Tweets
What's Next
In the short term, it is looking increasingly likely that the Federal Reserve's policy announcements will significantly impact price action in both traditional equity and crypto markets.
But that influence shouldn't last forever, as fundamentals for the established crypto assets are constantly improving.
Bitcoin and other crypto assets go through periods where correlation swings back and forth. Despite these periods, crypto remains a strong hedge against the traditional financial system because it provides long-term solutions to problems caused by reckless fiscal and monetary policies by governments and central banks.
Strong-handed investors recognize that the market cycle and short- to medium-term volatility cause inevitable drawdowns for cryptocurrencies. Regardless, the industry holds tremendous long-term potential, and adoption is rapidly growing.
Best,
Sam